I hope you found a bunch of inspiration in the first half of the tester roundup. Make sure to click over and read it if you haven't already.
Lets jump right in to the last half of my lovely Phinney Ridge testers. And don't forget to grab your copy of the pattern while it is marked down to $8.
Lanita really showed the versatility of this pattern with her version. Not only did she try out some solid sleeves with a patterned body, but she showed how great it is for work. So if you have an office to go to every day, this is a perfect garment for that.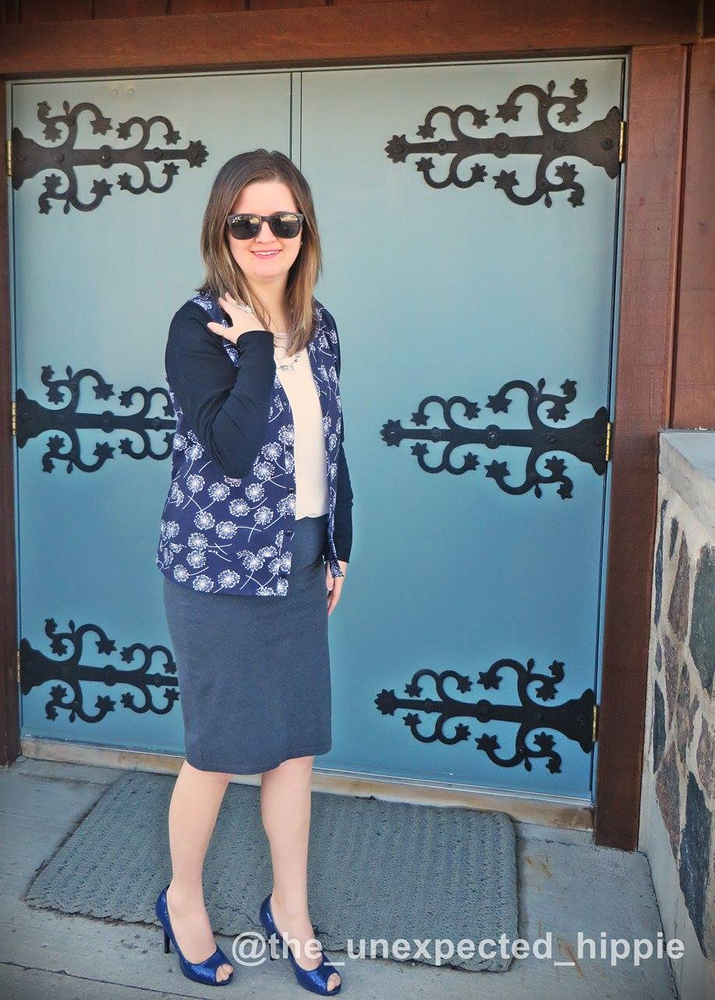 Krisha is a fellow Washingtonian and it was so great to get a chance to work with her. I have mentioned it before, but my favourite way to wear a cardi is with a tee and jeans. What I love about Krisha's version is the dark red rib knit, it's the perfect amount of cozy and the two layered necklaces complete the outfit.
Katie is a new to me tester and it was so great, I hope I can convince her to come back for more. The striped version she made with vertical bands is so great, and paired with a bright orange shirt gives a pop of colour we could all use right now.
The second Katie of the group is no stranger to my pattern testing, she has been here from the beginning and I love that she keeps coming back. Katie decided not to alter the length for her smaller frame so she ended up with a fun longer cardi. I love the way she styled it with jeans and tall boots, now I need to make a longer one.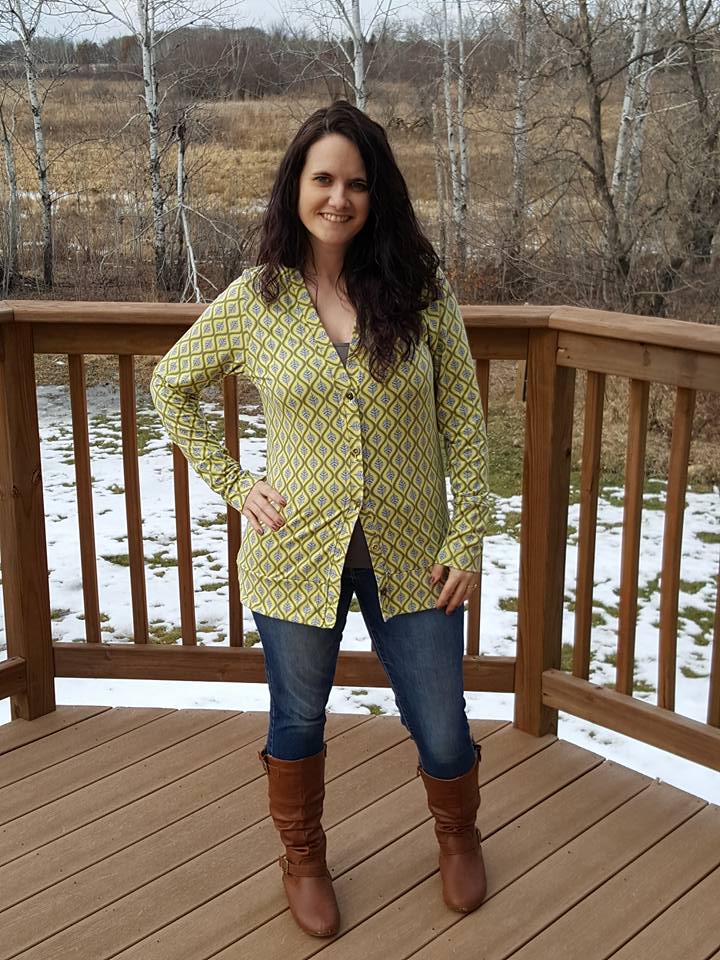 Katelin started the stripe trend in the testing group and I am so glad she did. This bright springy version has been dreaming of cropped jeans and sandals and iced coffee on the porch.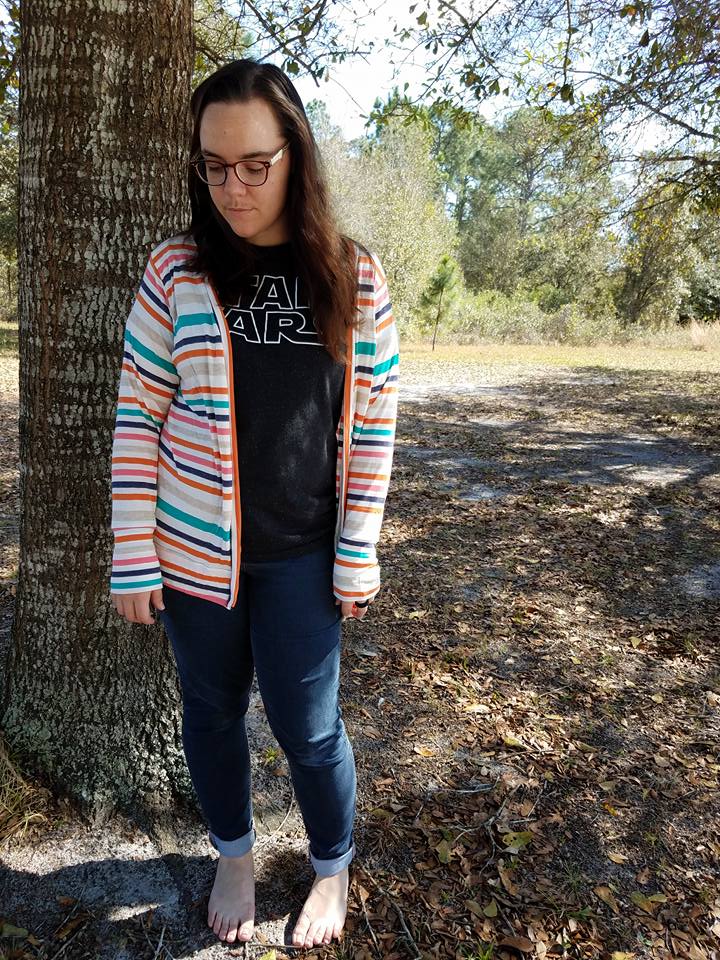 Kara had me waiting with anticipation to see the full look of this version. When she posted a pic of the sweater knit and pink pearl snaps I couldn't wait to see it on her. And the final result is the perfect combination of classic look and comfy cardi, I love everything about it.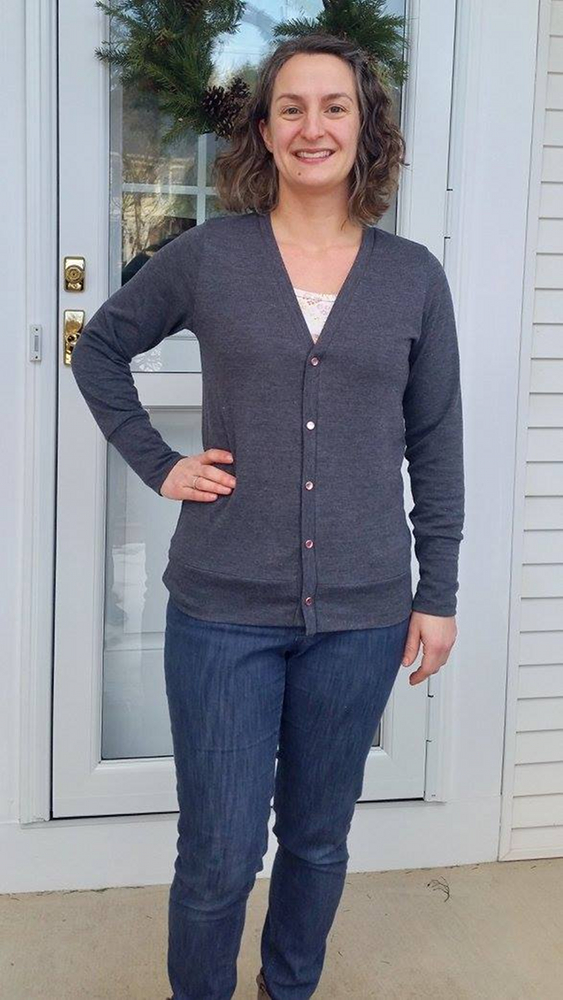 Jennifer is no stranger to my pattern tests but this time she is pregnant and the resulting pictures are stunning. I love the deep rich colour of her cardi paired with a fun bold print maternity Greenwood. Who needs closures when you have a cute belly and a fun belt. You can see why I wanted to be pregnant again with these pictures.
Jane of Buzzmills has such an effortless style that I just love. Jane decided to shorter her version to high hip and the result is such a cozy outfit, especially paired with a mustard tee and flare jeans.
Holly of The OK Southerner is such a joy to work with in testing, I am happy she keeps joining me. Holly sewed up two versions in testing and this one just kept drawing me in. I loved the way she styled it with a dress and boots and really just killed the pattern mixing. Make sure to check out her other version on her blog.
Heidi of Handmade Frenzy really knocked it out of the park with this test. She managed to make a shortage of fabric into a really great combination with the striped button band. When she paired it with white cropped jeans it was complete. Head over to her blog to read about how she mashed up two other SSD patterns to make her cute tank underneath.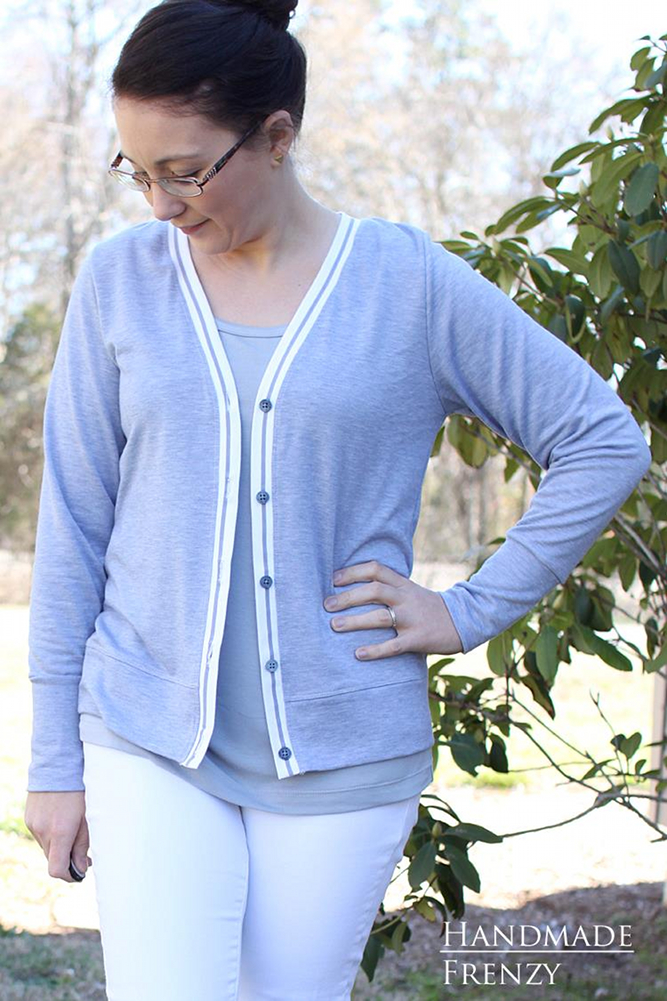 Cat just keeps coming back for more testing and I love that. The floral french terry version without closures is the perfect cardi as we transition from winter to spring. The length is just so great on Cat!
Alice is another Aussie who braved the heat to join me for this test. While I don't know Alice well I get the feeling that this fabric and snap combination is completely her personality. The purple bands with the teal body is such a fun combination, add in the star snaps and you have such a great cardi.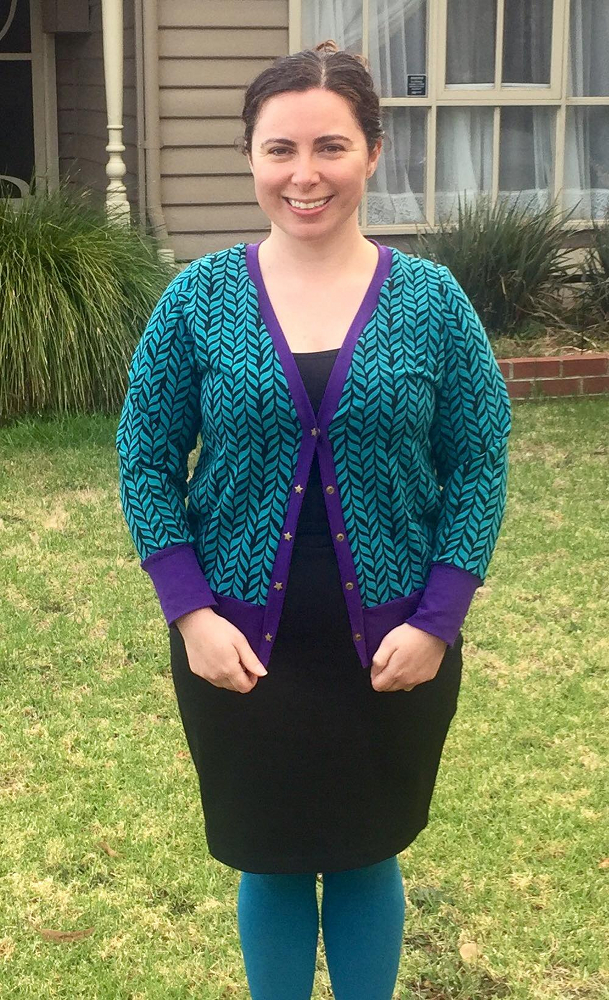 Abigail really let her life in Barbados show through in her cardi. The bright yellow looks so great on her and paired with a fun top completes the outfit.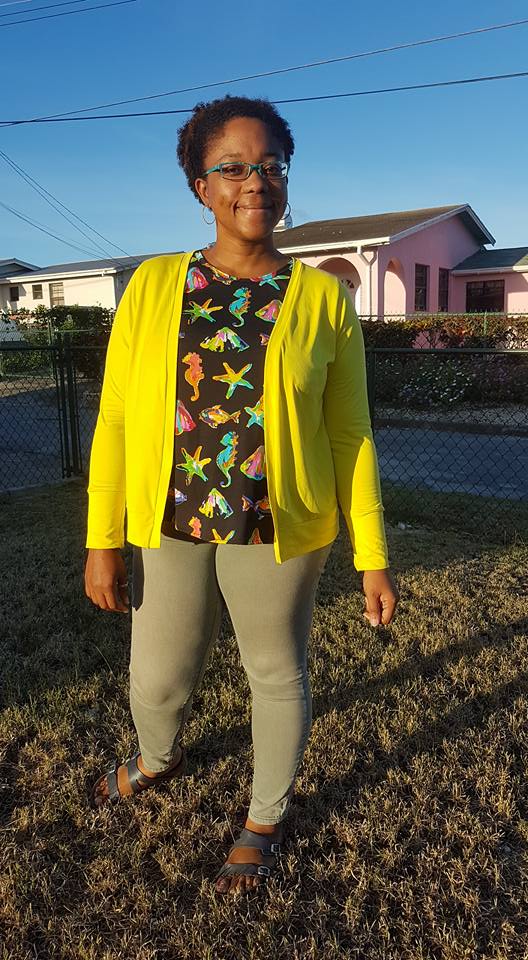 Last but certainly not least is Amanda of Turtle Birdies who has been with me from the beginning. When I decided to add elbow patches to the pattern she sewed up another one and I am so glad she did. The result is everything I wanted out of this pattern, classic and comfort combined.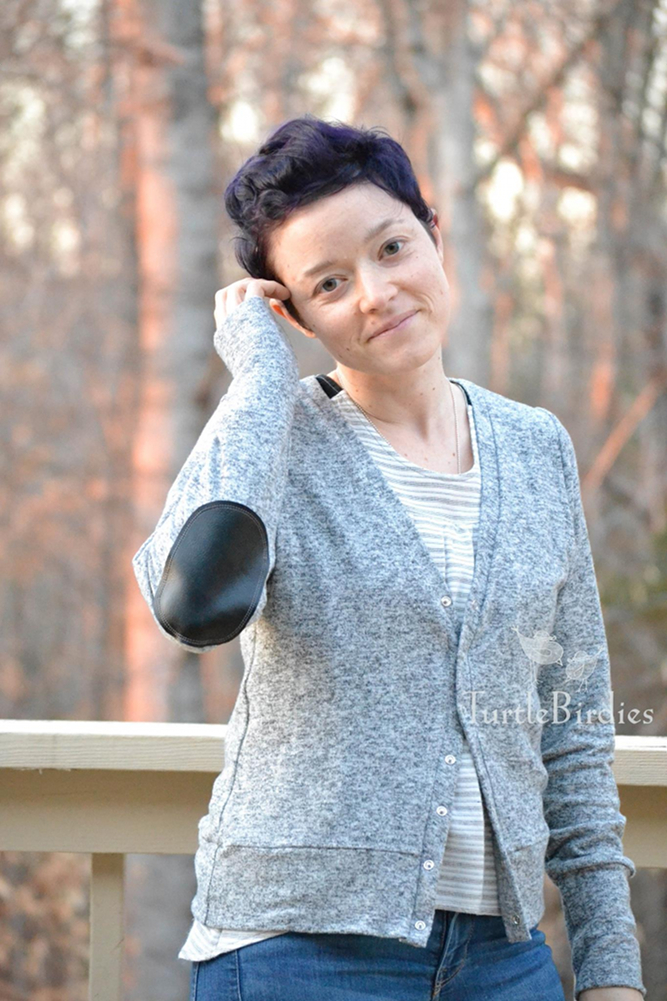 You made it it through all the testers! I really hope that both of these tester roundup posts has given you the inspiration to get the Phinney Ridge pattern.