The more I get to know Lauren Dahl the more I am blown away by her.  As I talked about in my big reveal post about my newest hobby Lauren is busy running a blog, a course for creating pdf patterns AND she is also designing patterns for her label Selvage Designs (affiliate link), she is a busy lady who clearly loves what she is doing.  Her newest pattern, the Foxglove Tank was released yesterday as a pre-order through Indie Sew and I had the pleasure of being one of her testers.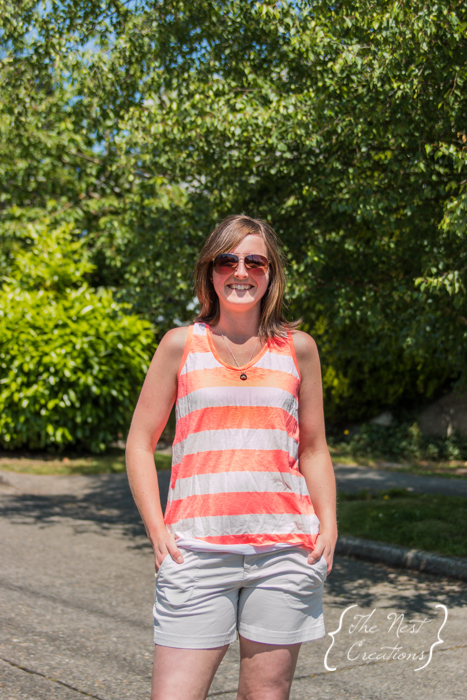 I love Lauren's philosophy on her patterns, she wants to design patterns for clothes that she actually wears, that are comfortable and have a variety of options.  That is a philosophy I can get behind.  Who doesn't love comfort and something you will actually wear on the regular.
As a stay at home mom I find myself wearing the mom uniform and rarely branch out from there.  This top fits right in with my 'uniform' but is so much more of a fun option to wear.  The tank top is super comfortable with a hi-low hem detail and a racerback, which is an all time favourite style for me.
I think this tank can be worn casual with shorts and flip flops or dressed up a bit with some skinnies and wedges.  The tank can be made in both knit and woven and Lauren gives you so many fun and different options for sewing it together including using french and clean seams as well as front and back seams and a blocked back.  There is such a wealth of knowledge included in this pattern as well as clear steps that leave you with a great finished tank.  The pattern also comes in sizes 00-20 so it fits so many different women.
For my test I decided on a fun neon coral and white striped knit that has been sitting in my stash for a year.  It just screams summer and I knew would compliment the pattern perfectly, I think everyone needs a little neon in their life.  I used knit strips to bind off the neckline and armholes, which is super quick and easy.  And as you can tell I got lazy and didn't finish the bottom, which I tend to do with knit tops because lets face it I don't have to and I am lazy at the end of a project 🙂
This pattern is such an addition to my collection, I can't wait to attempt it in a woven fabric, how glorious would it be in a voile!
Right now you can get it exclusively at Indie Sew and there is an added bonus, if you purchase it as a pre-order you get 15% off your next order at Indie Sew.  How great is that.  There are so many amazing patterns for sale there I know you will be able to find 1 or 5 more patterns to add to your collection.