I am what my husband would call a Serial Hobby Pickeruper, and yes I just made that up.  It's not uncommon for me to pick up a new hobby on a whim and be obsessed with it for a few months, like completely obsessed.  Some of the hobbies last and other do not.  Who would have thought a year and a half ago when I decided to dabble in sewing kid's clothes I would be here.  It's exciting when you find something that you love to do.
A few months ago when Lauren who is behind the blog Baste + Gather and the pattern company Selvage Designs launched her newest venture Pattern Workshop (affiliate link) I was instantly interested.  I had recently picked up knitting again after many years so I thought it would be a bit much to jump right into another hobby, plus my husband had put a month hold on any new hobbies.  I am serious people I have a problem with starting new hobbies.
Just before Mother's Day Lauren put out an email saying she was offering a discount through the Mother's Day weekend for the course.  It just so happened that my husband and I were going out of town for the weekend and would have some one on one time to talk.  Sean is very supportive of all the crazy ideas I have so I wasn't surprised when he said to go ahead and register for the course!  The second we got home from our weekend away I instantly registered.
I am still working away on the course but I thought it would be fun to give everyone a glimpse into what I have been working on.  I decided to take my first pattern and offer it for free in a few sizes on my blog.  At some point I may expand that pattern to all the sizes but at this point it will just be sizes 18M to 3T.
I would like to introduce you to my first pattern, The Mae Tunic!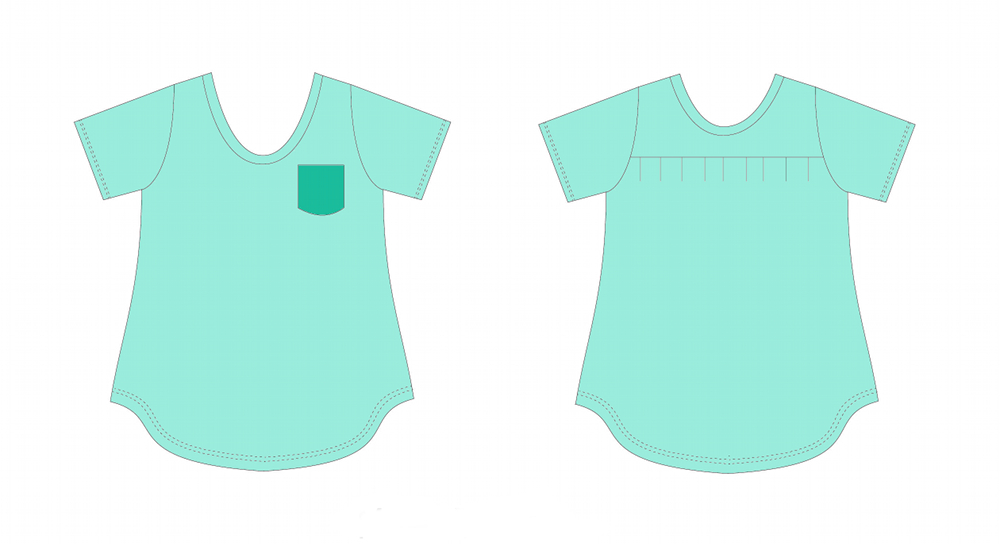 The Mae Tunic is a crew neck short sleeve knit top with an optional pocket on the front.  The front and back hemline are mirrored in a low hem coming up on the sides slightly.  (Is there a name for this?  I have no idea)  The back has pleating detail that could also be done with gathering.  The sleeve cuffs and bottom cuff are finished with a double needle or cover stitch machine if you have it.  The neck has a narrow band to finish it off.
I am pretty excited about this first pattern, it is sure to be something that Sophie wears all the time.  Watch for this pattern to be released in the next month right here on the blog.
Now that I have let the cat out of the bag about my new hobby and the result of a few weeks in the course I wanted to give a little bit of a review on the first half of the course.  Once I release the pattern I should have a review of the second half as well.
Originally I was worried that without any sort of pattern design experience or knowledge I would be overwhelmed and unable to follow along with the course.  A few weeks before actually registering I emailed Lauren to ask some questions about the course and how it would be for someone like myself who had no experience at all.  Let me tell you, she was so sweet and encouraging and I left from reading those emails completely empowered to do the course.  That level of commitment and enthusiasm for all of us in her course hasn't changed.  She is always there to help both in the Pattern Workshop Facebook group as well as by email.  Lauren has created a community around this course where you are surrounded by a group of encouraging and supportive classmates who are there to cheer you along as well as give you the kick you need to keep moving on the course.
This course is full of such amazing information and Lauren does a great job of showing that she is also learning more about it every day.  She is so relatable you just want to go over to her house and hang out with some coffee and talk about crazy kids and sewing.  She has struck a great balance of information and fun in all of her videos.  You don't feel like you are taking a course, you really do feel like you are hanging out with a friend on skype talking about drafting pdf patterns.
I can only imagine the amazingness that is in store for the second half of this course and I look forward to plugging through it all so I can get the Mae Tunic released to all of you.  I highly recommend checking out Pattern Workshop even if you were like me and had no experience and worried about being overwhelmed by the information.  You will not regret the decision to take the course with Lauren.
Are you a serial hobby pickeruper?  I would love to hear the hobbies you are into.