May has been a funny month for me which I will definitely be sharing more about next week, but for now I will finally get caught up on my weekly recaps of Me Made May '17.
If you haven't read my first two weekly recaps for Me Made May you can find them here: week 1 and week 2.
At this point we were half way through the month and still going strong with different me made outfits.
Day 15: My striped Phinney Ridge cardi with faux leather elbow patches is in constant rotation in my wardrobe. It's the perfect weight for a layer during the fall and winter and as an outwear layer in the spring. I like it paired with black jeans and sandals, but look forward to wearing this with shorts and sandals this summer.
Day 16: My outfit was all about comfort and warmth. When I want to look put together but also be super comfy I always grab for this Jasper Hoodie I made a few years ago. I get compliments from friends and strangers alike every time I wear this. It has such fun details which elevate it from being just a plain sweatshirt. It was the perfect outfit for a broken furnace and a field trip with my daughters kindergarten.
Day 17: On days that I get to go deep into life as a work at home momma and not even care or think about what I am wearing, I always wear my french terry Hudson pants. I made these pants 2 years ago for a moms weekend away and I haven't stopped wearing them since. I would love to make a lighter weight pair I can wear through the summer as well.
Day 18: When creating my Laurelhurst pattern a couple years ago this is pretty much the look I was going for. That relaxed comfortable feel that also looks stylish while still being an every day kind of garment. When made in this super lightweight jersey you can get away with wearing it year round, at least here in Seattle you can.
Day 19: It is no secret I am a fan of Hey June patterns. They have played a huge role in Me Made May this month. This sleeveless Cheyenne was begging to be made right after I got the pattern and it didn't disappoint. I didn't make any modifications to the pattern other than removing the sleeves and finishing the armholes with bias binding. This light blue chambray was the perfect colour for the pattern.
Day 20: Here is where I admit that I completely forgot to take a picture of my outfit like the rest of the pictures this month, so instead I will share a picture I posted on Instagram that day so you can see what I wore.
I made this black and white knit View Ridge shortly after releasing the pattern last spring. I like it a lot through the winter paired with jeans and a cardi but realizing it can be worn a bunch through the summer. I expect to wear this much more this summer.
Day 21: The last day of Week 3 I was doing a bunch of sewing for my new Magnolia pattern so I needed something that was easy to throw on and off while I checked fit. This early muslin of my Magnolia dress was the perfect Me Made garment for that day. The dress is so light and breezy I just love it. This version was far too short for a dress, but once I finish it I will either use it as a swim coverup or pair with some leggings and a long cardi. Either way I will get use out of this.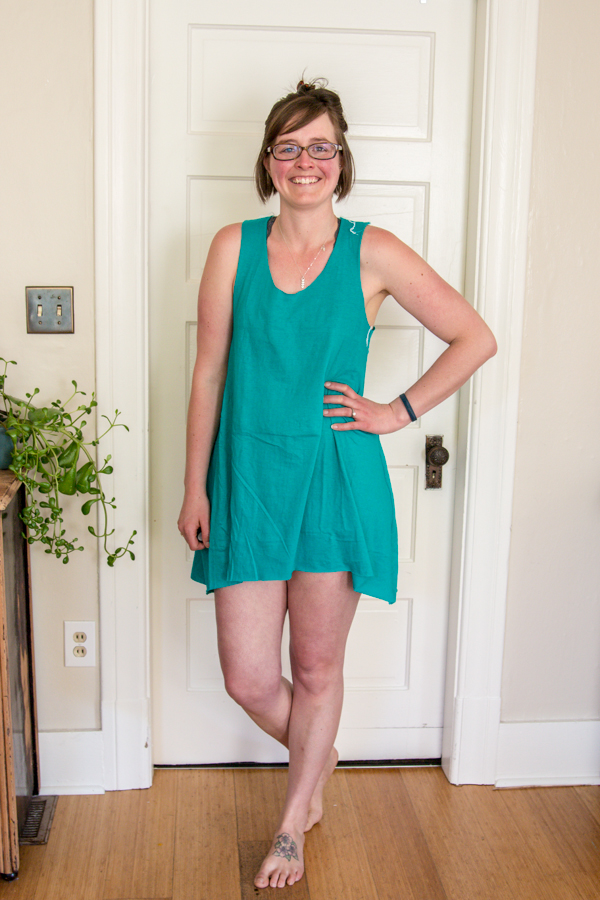 Me Made May Week Three Observations: I had such a great mix this week of both old and new makes. The older makes are ones that I have been wearing religiously since they were made which really gives me a look at the tried and true styles that I keep coming back to. Just a hunch but I think comfort wins out every time. I can already tell that the few newer makes will be still showing their face during Me Made May in coming years.