The tester roundup is everything when it comes to a pattern release, and the Leschi tester roundup is no different. Sure I love sharing pictures of my versions of the pattern, but I would much rather share the ladies that helped make this pattern what it is. Seeing the pattern on a variety of shapes and sizes helps all of you see just how great you are going to look in the pattern, because these ladies look stunning in their new Leschi blouses.
The was an obvious fall theme for many of my testers, I can't blame them in wanting a plaid Leschi, I have one and love it. Victoria of Very Blissful actually used an old Christmas tablecloth for hers and I love how it turned out. This fabric doesn't have a lot of drape but like my linen one it has a great structured feel to it. To read all about it check out Victoria's post here.
Terri of Blue House Joy used a flannel shirting and actually cut her collar, cuffs and yoke on the bias which is a fun element to the pattern.
Susi went for light and flowy with this yellow sheer version. She is quite tall so the entire shirt was lengthened and the result is perfect for her tropical location.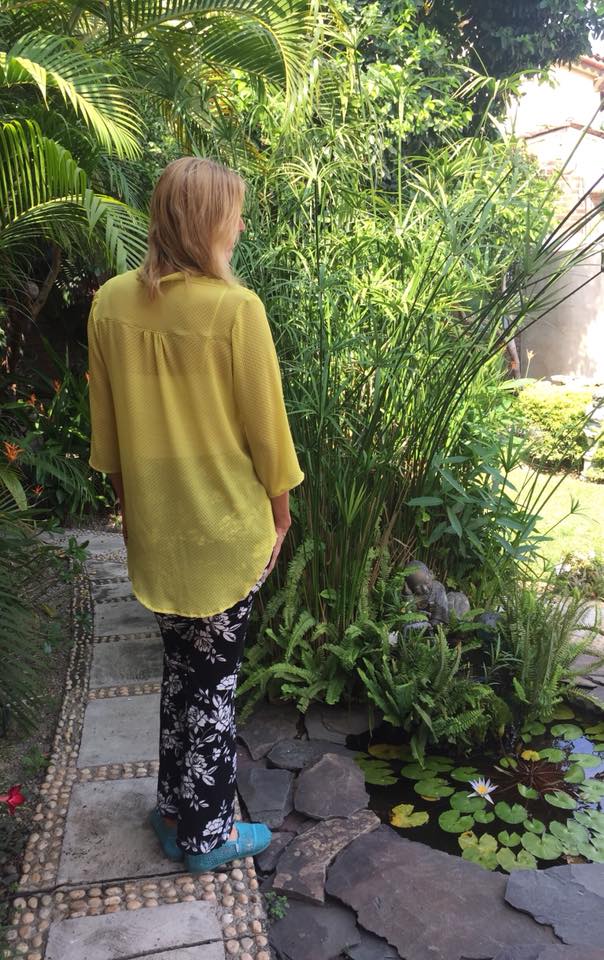 Michelle sewed up a few versions but I especially like this rayon version. It hangs beautifully on her body and the little hearts to the fabric make it a fun casual version of the top.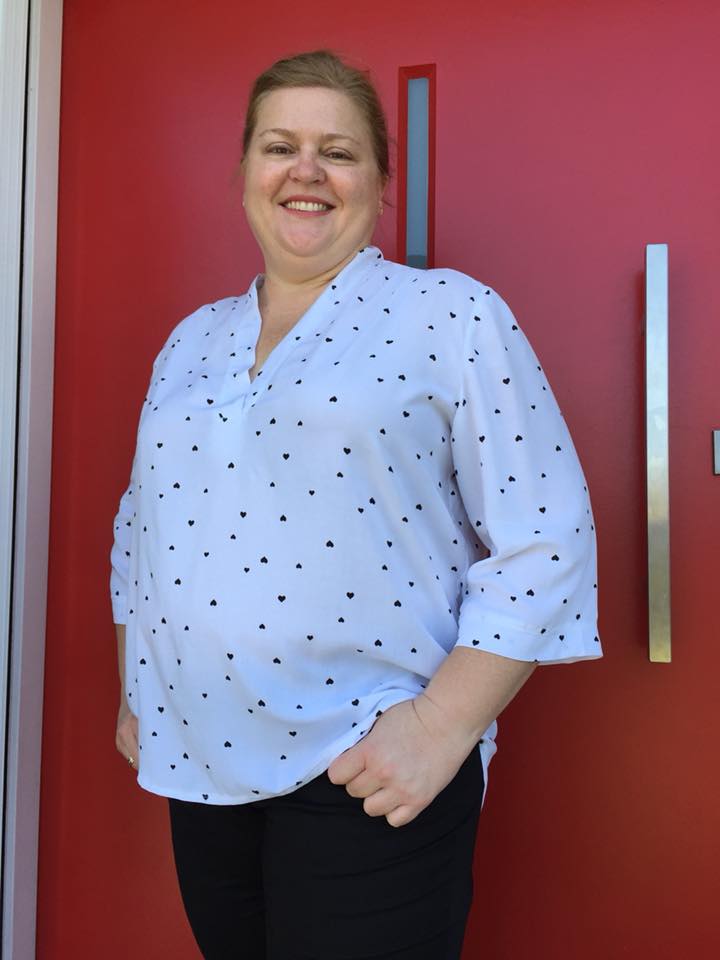 Kendra went bold with her choice of plaid prints in this lovely rayon and I just adore how she styled it with the distressed jeans and boots.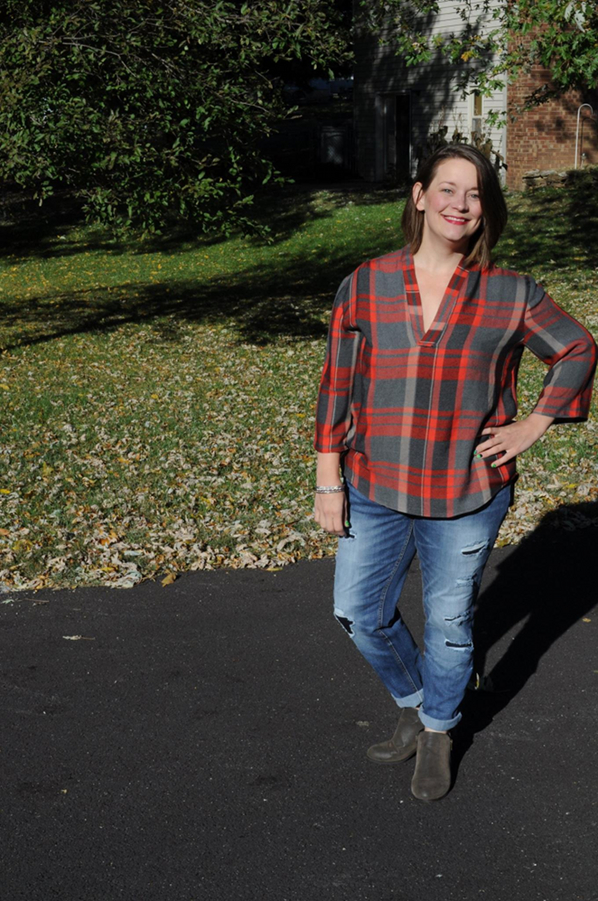 Katie went classic with this blue and white fabric that has the perfect amount of drape. I especially like how the shoulder gathers are highlighted in this fabric.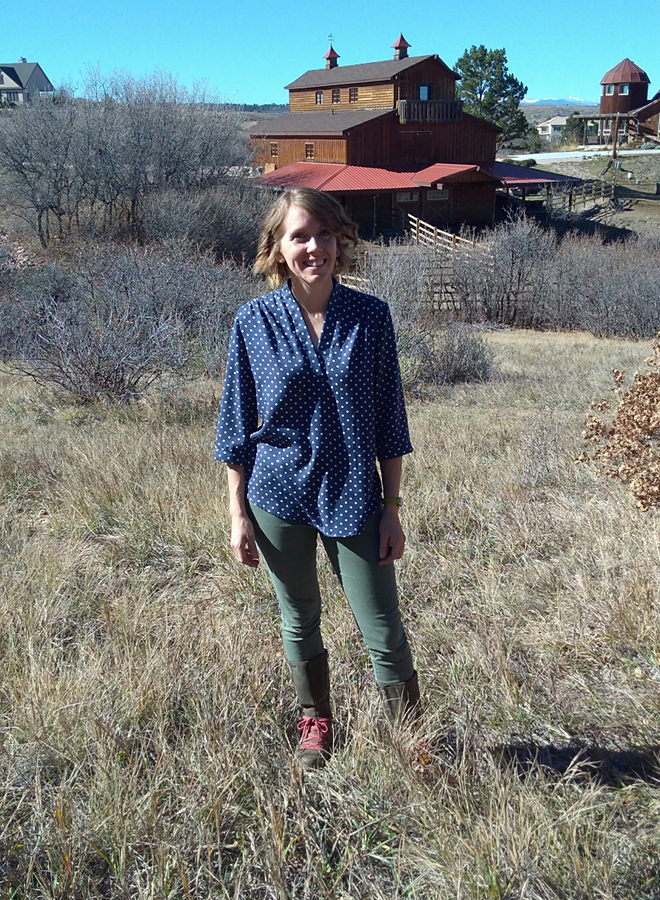 Jenny used a cotton wool voile in the most beautiful fall colour. Jenny did a Full Bust Adjustment on her blouse and the result is perfect for her body. It is fun to see the shoulder gathers larger thanks to the FBA.
Jennifer used a poly sanded silk for this light and airy version. Thanks to Jennifer's dedication we made some additional minor changes to the pattern after this version and I think the ladies in sizes 20-24 are going to love the end result.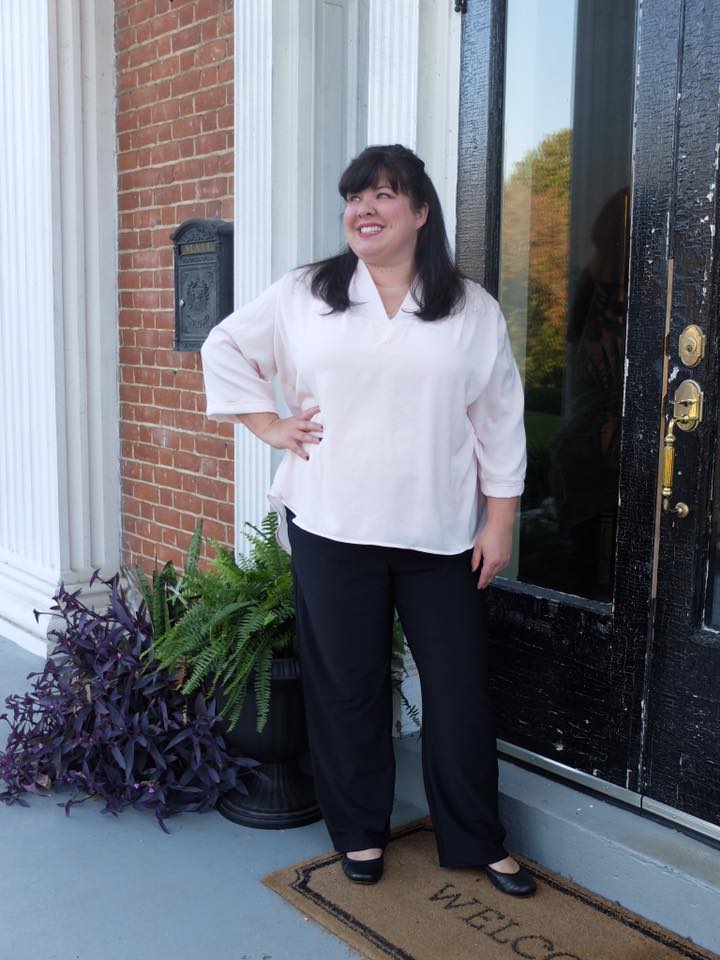 Jen sewed her Leschi in the same fabric from Indiesew that I did, and I really think it looks amazing on her. You may also notice that she tacked the front neckline together to give a little more coverage if you don't want to wear a camisole under your top.
Ilse of Sew Sew Ilse used this black floral crepe that really looks amazing. Ilse shows that you can really dress up the pattern with a fabric such as a crepe, but I think you could easily pair this with blue jeans and booties for a more casual look. To read all about Ilse's version check out her blog.
Heidi joined the plaid trend with this lightweight flannel shirting. The hi-lo hem looks great on her and I know this comfy top is going to take her through the winter in style.
Diane of Sewing with D made two versions of the pattern and each is great in their own way. I especially like this sheer top in a bright colour and print, that sleeve length on her is perfect! To read all about her two tops check out her blog post.
Chelsey of Dehl Designs went bold with this Art Gallery Fabric rayon and the combination of the two works so well together. Check out how well that back hem looks on her body, I just love the silhouette on her. To read all about her top check out her blog here.
Cat used a plaid lightweight cotton for the top giving it more structure but still great movement. By cutting the collar and the back yoke on the bias she really highlighted some of the fun details of the top. Cat is tall so she lengthened the front collar and overall length to better fit her body, and I think the proportions are perfect.
Annick of Flaxfield Sewing used a silk cotton in this beautiful blue print, and the styling is something I haven't see yet but I love. This would be a perfect work outfit for those of you ladies who like to sew for work. Annick shares all about her top on her blog so check that post out here.
Ana used the most floaty fabric for her top and I love how relaxed it looks. The fit of Ana's Leschi is exactly what I was going for when I designed this top, it's just lovely.
Amanda sewed up two versions but this chambray one had me so excited I had to share. It has the same relaxed feel of the other tops but that slight structure gives it such a polished look.
Alexis' excitement is contagious and her blouse looks amazing on her so I understand the excitement. I told you this top looks great on everyone!
I hope that all of these Leschi blouses have inspired you to sew up 1 or 10 for yourself. Leschi is marked down through Friday so grab your copy of the pattern now.