If you missed the big announcement yesterday, my newest pattern Leschi is now available for purchase. The pattern is marked down 20% through Friday so don't wait to buy the pattern.
When I started dreaming about this pattern a few years ago I knew I wanted a blouse that could be sewn in a variety of fabrics to either elevate my everyday momiform or rock on a date night. Leschi is everything I had hoped it would be and today I want to share the different fabrics I chose to use for my blouses.
With this pattern release I decided to do something a little different and sew 4 Leschi blouses in 4 different fabrics. This is a great way for you to see the pattern in different substrates to have a better idea of what your finished garment will look like. Make sure to read all the way through because I am also highlighting the online fabric shops I bought the fabric from, and each is offering a discount code on their fabric!
Before I get started showing the different versions I wanted to recap the intended fit of the pattern as a baseline when comparing the fabrics. Leschi is a relaxed blouse with deep v-neck, slight dropped shoulders, 3/4 sleeves, and hi-lo hem. With roughly 10 inches of ease through the body it is the an oversized blouse that still has shape and detail to it, the perfect combination. The back yoke comes forward over the shoulder with gathers to provide a hint of feminine details. Okay lets start with structured and move our way to floaty.
Linen was an obvious choice for a fabric that is still light and airy but has more structure than a straight rayon. The Brussels Washer Linen from Imagine Gnats in this lovely green colour caught my eye, and the fact that it has rayon in it perfect for this pattern.
One of my favourite parts about using a fabric with more structure are the pleats and the collar. The collar turned out crisp and those pleats complement the top so well.
What you will notice about this fabric is that it is much more structured throughout. If the top feels a little too oversized for the structure of the fabric you could easily size down through the waist and hips. Check out that yoke and back pleats, I just love this structured look. The topstitching through out the shirt really compliments this fabric.
Imagine Gnats has this Brussels Washer Linen in 8 different colours, all of which would be amazing for this pattern. On top of that you should check out her selection of double gauze, and rayon challis, any of which would compliment this pattern well. Rachael is offering 10% off store wide with coupon code LESCHI10 so grab some great fabric for your new Leschi.
The next fabric I chose was a rayon linen voile in Ivory from Blackbird Fabrics. When I purchased this fabric I had no idea it was going to be such a dream to work with, I am gutted I didn't order more before it sold out. While this fabric is also a rayon linen mix like the Brussels Washer Linen above, it has a much lighter hand to it.
Everything about this fabric has a softer feel to it, the gathers are more relaxed and the drop shoulder falls beautifully off the peak of your shoulder cap. This fabric lends itself well to a relaxed casual yet put together top that can be paired with jeans and flats or elevated with booties. This top is the one I have worn most since sewing, it fits so well into my every day wardrobe.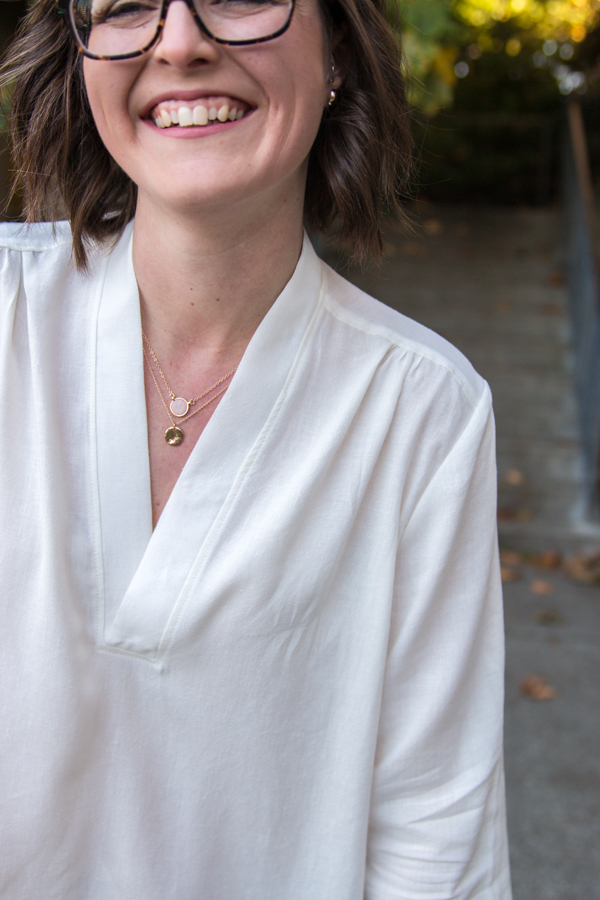 The whole shirt hangs differently than the higher linen content of the green fabric, but not quite as drapey as a solid rayon. The perfect combination of structure and drape in my mind. I realized something while wearing this top the other day and why this specific fabric strikes me so much, I never consider buying ivory fabric I always go for white. But the softness of the ivory paired with the design of the shirt is the exact look I was going for when designing this pattern.
Caroline of Blackbird Fabrics has offered 10% off all blouse weight woven fabrics with code LESCHI10. This coupon code is valid until November 7th at 11:59pm PST so make sure to stock up on fabrics. If you are in the US like me know that shipping is really reasonable and incredibly fast. Since this fabric is all sold out I recommend checking out the viscose poplin, while not the same hand as this fabric it would work lovely for the pattern. I also have some of her poly crepe fabric and it is so lovely to work with.
Speaking of crepe, when Allie of Indiesew released her Fall/Winter Collection I immediately snatched a few yards of this eggplant rayon crepe specifically for this pattern. I love that this fabric is a little heavier while still having great drape like the other rayon fabrics used.
As you notice from this picture the dropped shoulder is even more draped down my shoulder and that is due to the heavier weight of the fabric. In this fabric the top comes out as an effortless chic look, perfect for work or a date night.
Where the linen voile is floaty this crepe version has more of a weighted drape giving it a more substantial look. That back hem is perfection in this fabric, it fall straight from the back yoke giving it a lovely silhouette. Working with this fabric takes a little patience, especially when hemming, but the end result is so worth it.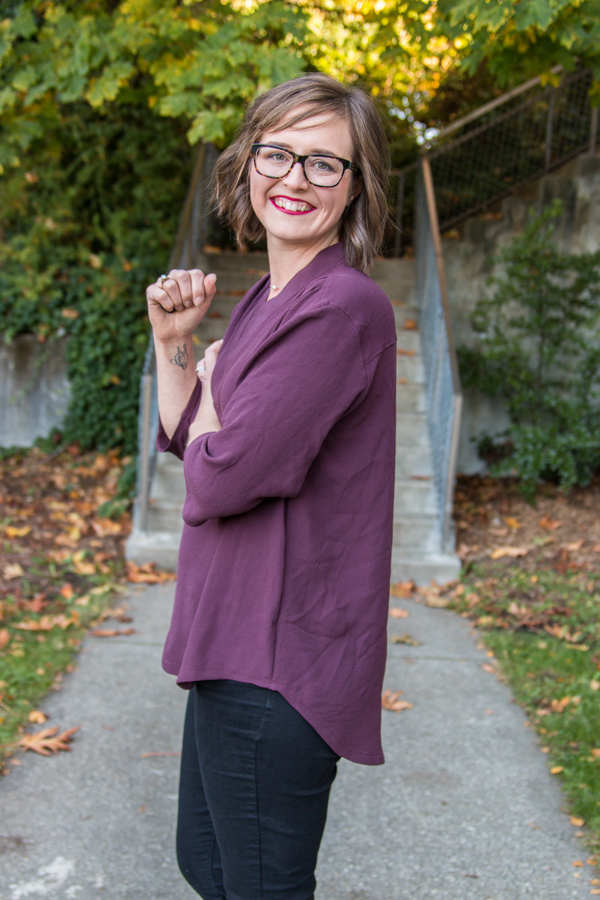 Allie of Indiesew is offering 10% off one cut of fabric through December 1st with coupon code LESCHI. Unfortunately this eggplant fabric is all sold out but there are some other great options available such as this crepe poly or even this 100% tencel twill. Both of these fabrics would be perfect for this pattern.
The final blouse I sewed was a rayon challis that has the ultimate drape. I bought this fabric from Style Maker Fabrics a year ago and just kept waiting for the right project, this top was worth waiting for. Since I tend to sew solids I thought a fun print would look great in this pattern.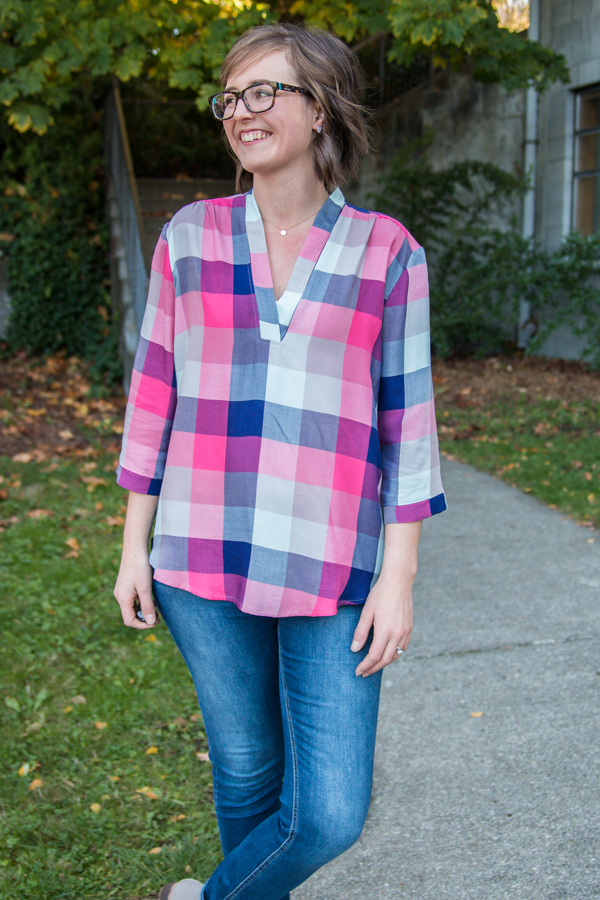 The main difference between this top and the others is the amount of drape throughout the top. Everything is more relaxed through the body especially the shoulders, I even find the front neckline opens a bit more than the other versions.
If you have worked with rayon challis before you know this fabric just want to drape and relax so I actually won't be surprised if the shirt 'grows' while hanging. I let it hang overnight before hemming which helped make sure the hems were even before finishing it, but it sort of has a mind of it's own. This pattern in a rayon challis is great because you just throw it on for an effortless look that is classic while still interesting.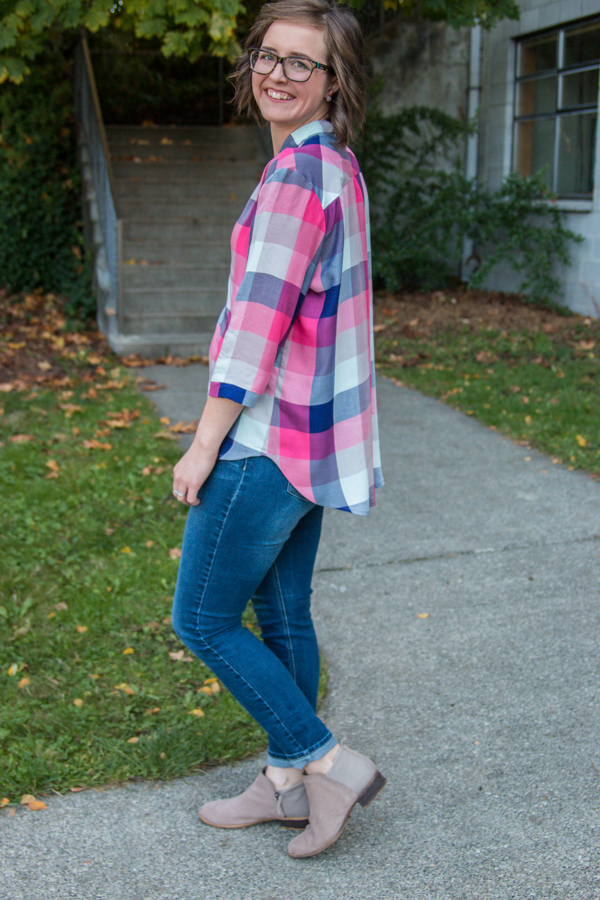 Michelle of Style Maker Fabrics is offering 10% off all fabrics (excluding sale items) with code STITCH17 through November 5th. This checked fabric is all sold out but the collection of other rayon challis and rayon crepe that Michelle carries is extensive. Another fabric that would be amazing in the pattern is the Sueded Modal Shirting that is available in 9 different colours.
I hope that this look at 4 different fabrics for the Leschi pattern has been helpful in deciding which fabrics to use for the pattern. And remember Leschi is marked down 20% through Friday so grab your copy now.
Come back tomorrow for the tester roundup where I will be sharing a bunch of the lovely versions my testers sewed up. This is a great chance to see the pattern on all shapes and sizes and in even more fabric options.