Leschi has been on my mind for over 2 years and from the beginning I knew it was going to be a pattern that could shine in a variety of woven fabrics. I am so happy to be releasing this pattern to the world today, it is everything I had hoped it would be and looks stunning on all different shapes and sizes.
This pattern comes from my love of relaxed fit woven blouses that pair well with skinny jeans and booties or flares and clogs. My favourite part about this pattern is that you can make it in a variety of fabrics resulting in different looks. If you want a casual top that has a little more structure consider sewing it in chambray, linen, or voile. But to dress up your blouse a bit consider sewing it in chiffon, rayon challis or even silk. Tomorrow I will be sharing 4 different tops I made to show just how different this pattern wears depending on the fabric you choose.
The deep v-neck collar was the most important part of this pattern. I wanted to create a pattern that was a little different from the placket closures on many woven tops. The collar looks intimidating from the pictures but is surprisingly simple.
When I think of relaxed tops the first thing I picture are slightly dropped shoulders. Think of it as throwing on your favourite oversized sweatshirt, but with a bit more style. The gathers where the back yoke and front meet give the top a hint of femininity without going over the top.
I spent the better part of a week trying to decide whether to have a long sleeve or 3/4 sleeve on this pattern. I know my personal preferences, but wasn't sure what would work best for the pattern. In the end I went with my gut which screamed 3/4 sleeve. To give everyone some options I included a cuff for the sleeve, so you can make one with a simple hem or add a cuff.
Where the collar was the most important part of the pattern for me, the hem was something that evolved from my initial design. I love the idea of a shirt tail hem, but wanted to try a pattern with two lengths for the hem. The end result is perfection.
Hemming a curve can be a challenge, but if you work slowly and press well you can definitely get it done.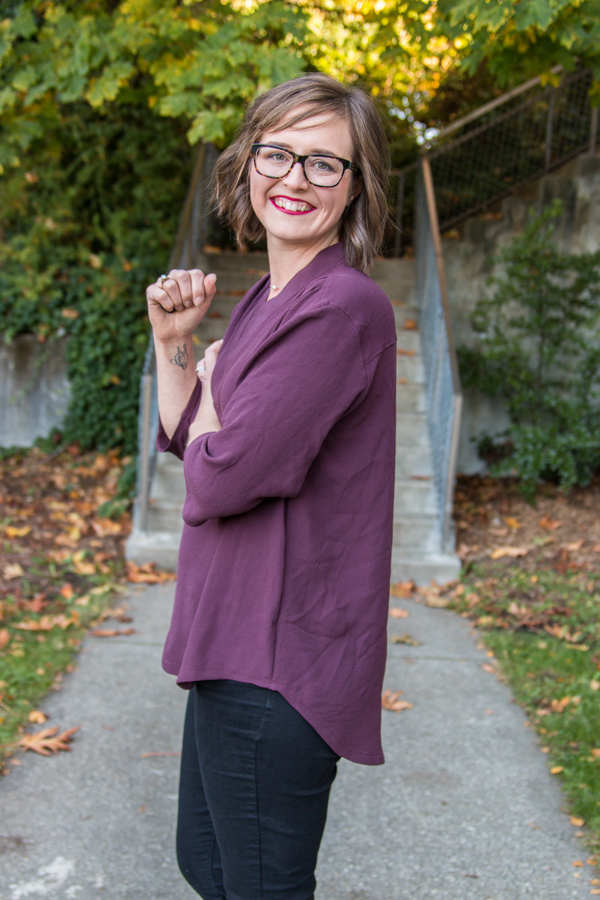 While every body is different, I really strive to provide a great fit for everyone. Leschi is available in sizes 0-24 and nested in a way that allows for grading between sizes for your waist and hips. If you are wondering what size to sew, the pattern includes some guidelines for choosing a size. The pattern is drafted based on my height of 5'9″ and a B sewing cup, but thanks to the amount of ease in the pattern even you D cup ladies can get away with the pattern as drafted.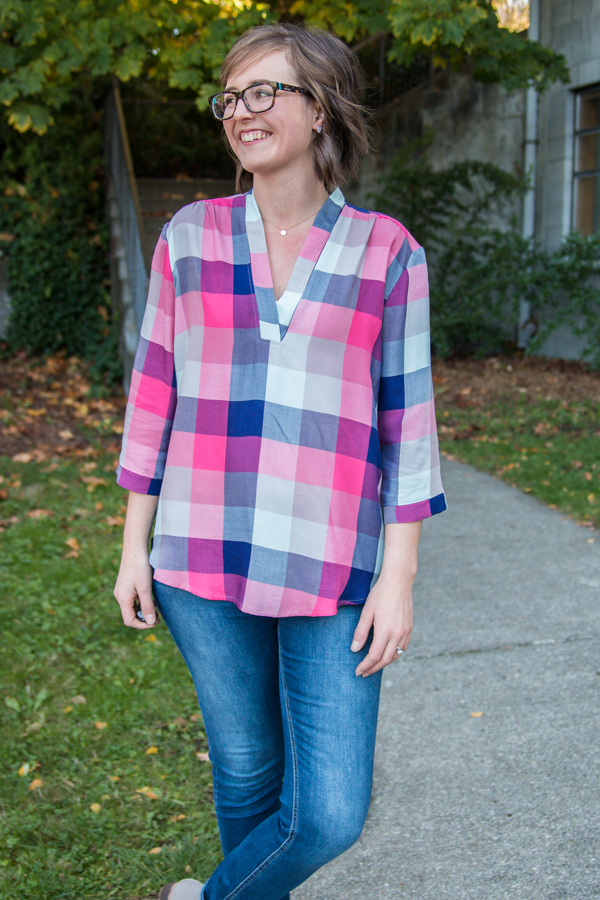 The pattern is marked down 20% through Friday so grab your copy now. Make sure to join me tomorrow on the blog when I am sharing the 4 tops I made and how different the pattern is based on the fabric you choose.