I am officially the worst ever! This post was started right before I left for Tanzania and then never actually posted, which is bad on two accounts. Not only did I not share the amazingness of my Fauntleroy tester roundup but I also didn't get the chance to make my testers feel loved and appreciated like they should. While no excuse, I did have a lot happening in those few days leading up to our trip so I can understand why it didn't happen.
There is nothing better than when your testers love your pattern just as much as you. It's the validation every designer loves because these are the women that are not only a part of making the pattern better but also represent the women that will actually be sewing it in the future.
Terry just makes me smile every time she tests for me. These two versions she sewed do such a great job of showing how different the pattern is based on the fabric you choose. The quilted knit gives such a great look to the collar, feels like a big warm hug for your neck.
Kyla is the cutest in this stripped Fauntleroy. I love the slouchy look of the cowl version with this fabric.
Maria had fun with her fabric by using a different fabric for the cuffs. I love the way she styled the top with a skirt and boots, it would be a great alternative my usual jeans and boots look.
Chelsey speaks my love language with the floral knit she used, such a great choice for the pattern. Read more about her top here.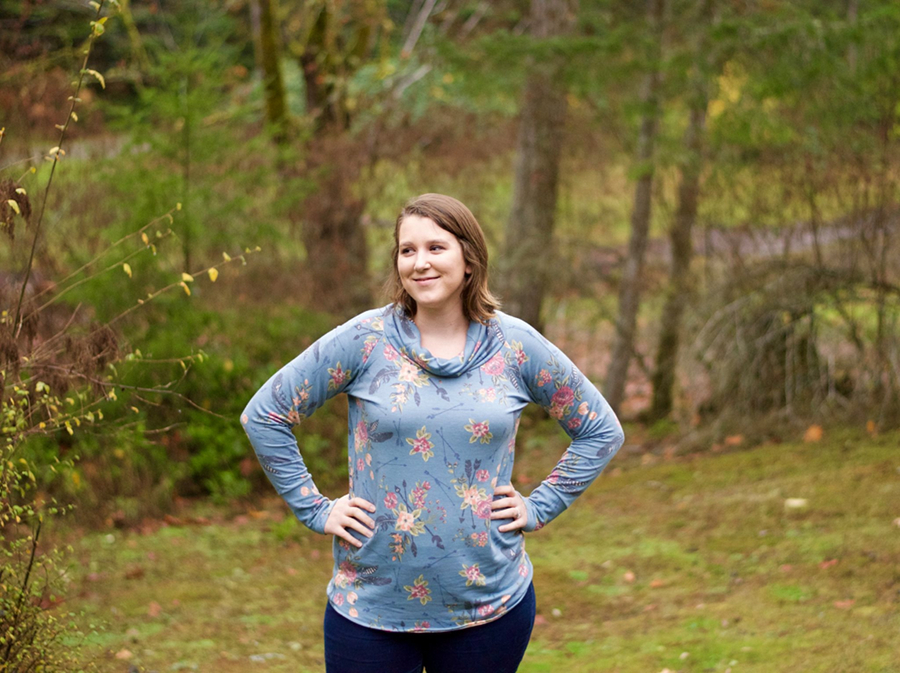 Alexis choose the perfect deep green for her Fauntleroy and I just can't get over how much I love it with the hat and raw hem jeans. Perfect casual yet put together look!
Jen sewed her version in french terry and it looks like she used the wrong side of the fabric for a contrasting sleeve and neckband. Such an easy way to add a little visual interest without too much of a difference.
Victoria killed it with these pictures, even if she was gutted to learn her white balance was on the wrong setting. I don't even care because this picture is fierce and shows my favourite elements of the pattern perfectly. That shoulder dart!!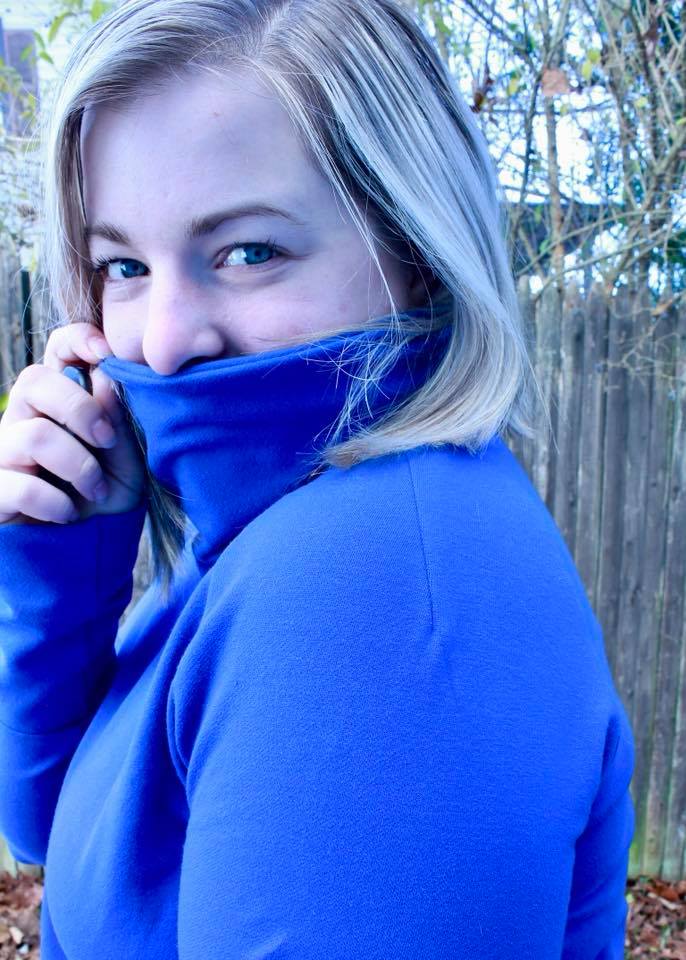 Jennifer played with fabrics and ended up with such a fun new top. Jennifer showed how easy it is to adapt the pattern to your body, by shortening the sleeves prior to adding the cuffs to account for shorter arms.
Jennifer joined the floral trend and sewed up this perfect winter basic. It is cozy without being too oversized or too tight, pretty much a must for my winter wardrobe.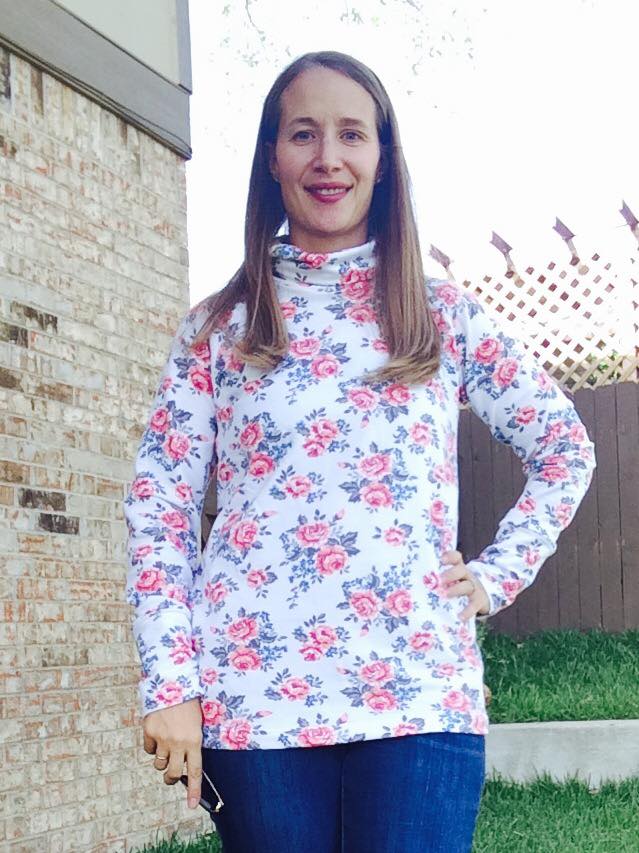 Ilse looks so great in this grey and white version which can be dressed up or down depending on your mood. Read more about her version here.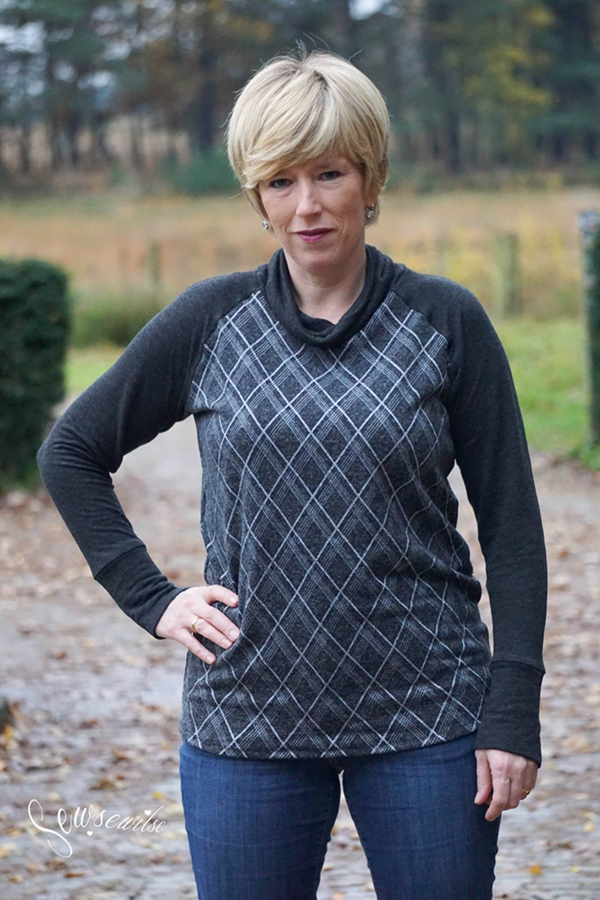 I think all of these florals show that we are ready for spring already, ha! Cat sewed a great version with these two fabrics, I especially love the darker floral.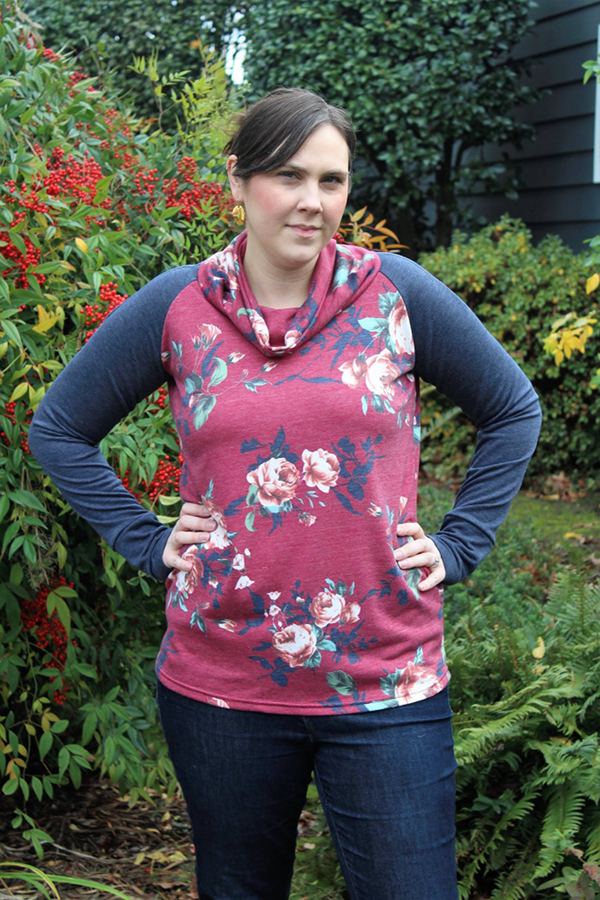 My first reaction when I saw Tracy's version was jealousy, such a great fabric. The fit is perfect and the wavy strip is a fun alternative to traditional stripes, and that burnt orange colour is so good!
There was so much discussion in the testing group about a plaid body with solid colour sleeves, I was so happy to see Amy sew this one up. I need one of these in my wardrobe layered with a vest and touk, perfect winter outfit.
The muted floral that Amanda sewed up is so beautiful. The weight of the fabric leaves you with a nice look for the collar either folded over or left standing up.
Katie picked the most perfect colour and fabric for her top. It highlights the details of the cuffs and collar so well.
I hope you have found some inspiration in all of these versions of my Fauntleroy pattern.