One of the elements of the new Bryant pattern that I didn't expect is the wide range of looks you can get simply by the fabric you choose. So today I wanted to show you how the pattern looks depending on your fabric choices.
Each of the tops I will be showing you was made with the exact same pattern pieces. This will be even more apparent tomorrow when I share the tester roundup with you. I actually have a few more tops that never got photographed, simply because the rain in Seattle the last few weeks has been insane. I will make sure to add them to this blog post as soon as I photograph them.
The first top I made was a long sleeve version out of this amazing speckled jersey knit I picked up from Style Maker Fabrics. What is so fun about this fabric is that the black dots are actually knitted into the fabric, giving it a really fun texture. The overall fit has more structure while still have the relaxed fit of the dolman.
The boatneck in particular really holds it shape in this fabric and has a closer fit than a relaxed fabric.
This next version is a super drapey rayon knit I got from Indiesew awhile ago. I actually discovered this fabric in my stash and couldn't believe I had been just sitting on 3 yards of this lovely.
The main difference you are going to see is how this version is so much more relaxed. A combination of the fabric change and the fact that the pattern is cut on the bias gives you this look. Now I will say that I am totally in love with how slouchy this version is, but if super slouchy is just not your thing you can definitely size down if you are working with a really drapey version.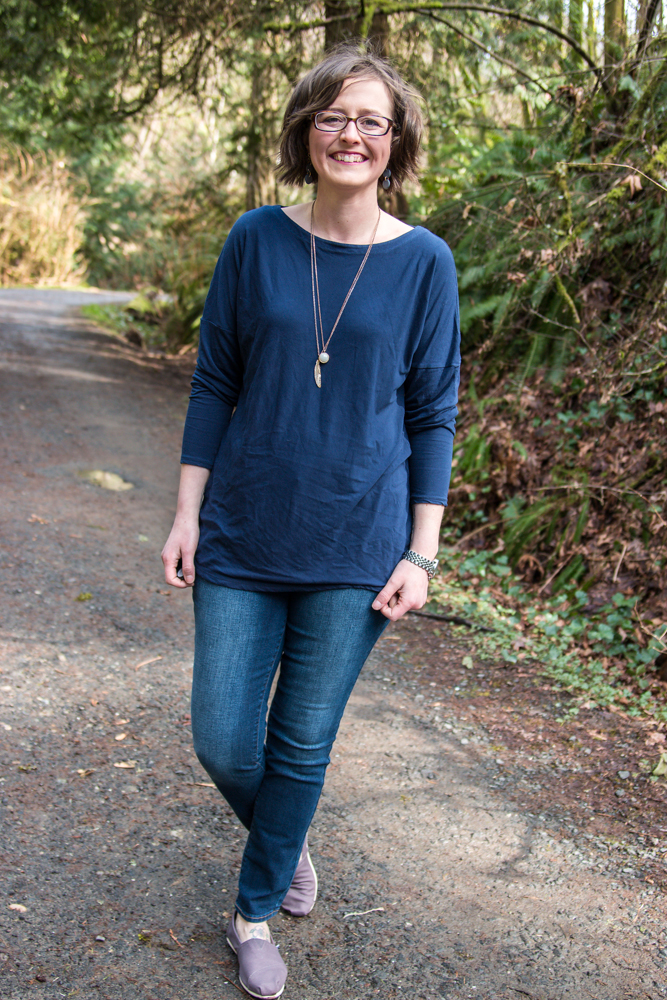 Everything about this top is relaxed including the boatneck. This fabric is one that you have to be extra careful about when handling or the neckline will stretch out, so don't forget to staystitch.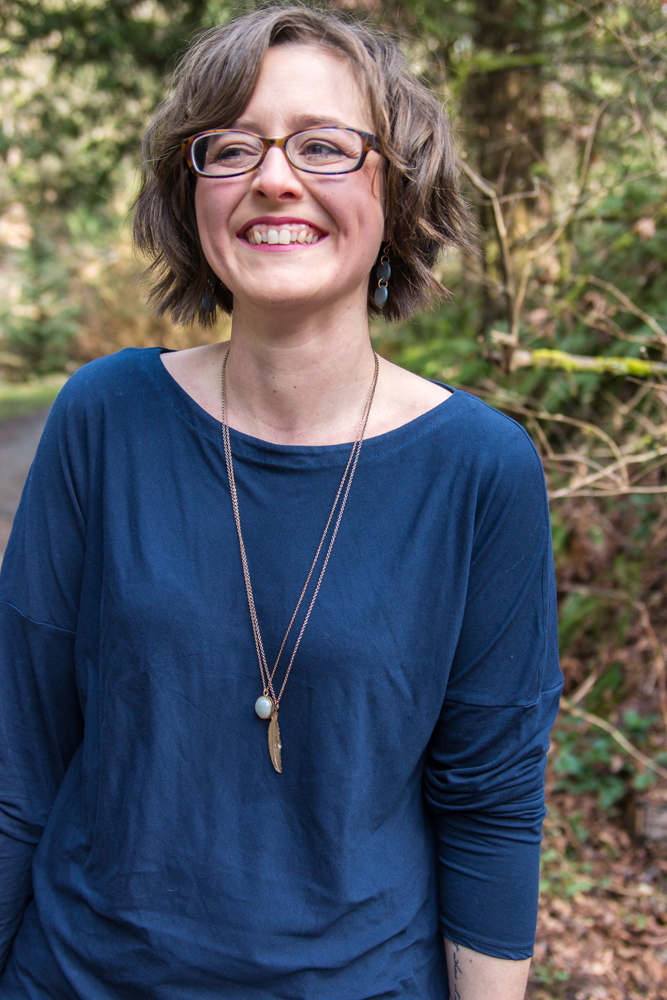 The last top I am going to share with you today is a short sleeve version made with french terry. This is also a fabric from Indiesew I picked up over a year ago with plans to make into a cozy sweatshirt or some Hudson pants. Well I just never got around to either and then I couldn't shake a vision of this fabric as a cuffed Bryant. And you know what, it turned out exactly how I thought it would. Seriously the ultimate comfort piece.
As you know french terry doesn't have a lot of recovery so the neckline ends up a little wider and the whole top is longer. Through the body it has a look that is between the other two I have shared, not quite as structured as the double knit and definitely not as drapey as the rayon jersey.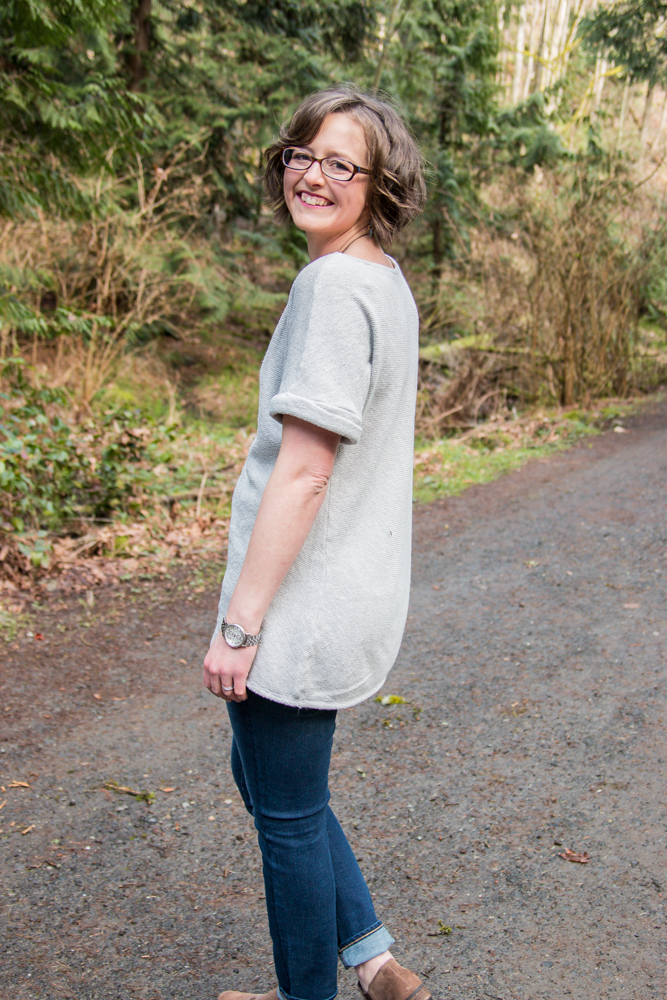 This version has been on constant repeat since I made it. My favourite way to wear it is pictured with skinny jeans and booties, but I have also worn it with leggings and Toms and it is like walking around in pajamas.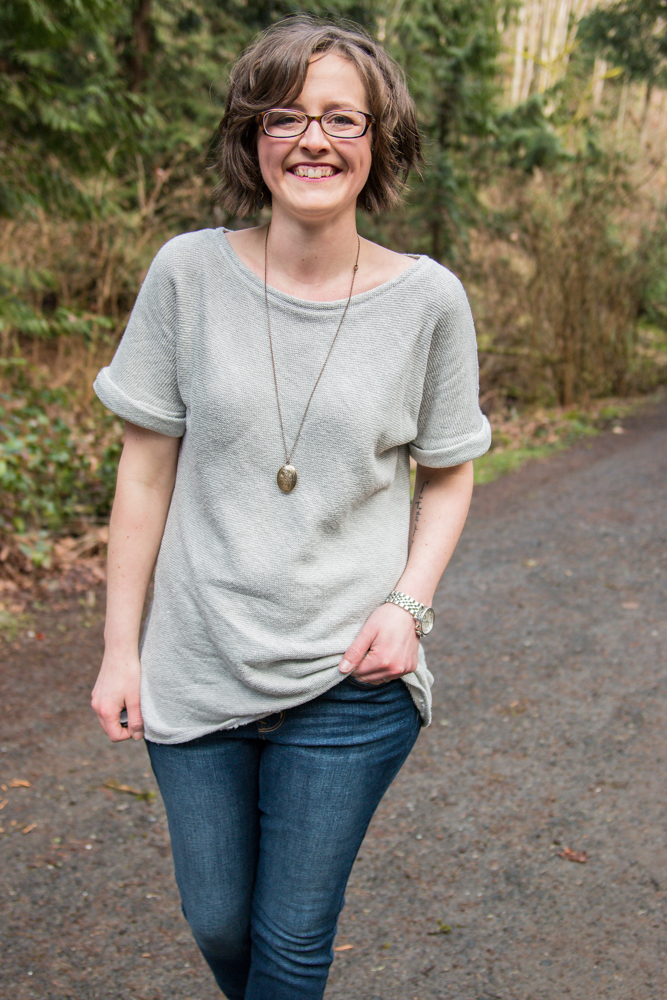 The best thing about the Bryant pattern is that you are getting so much more than a dolman top. You are getting a pattern that has so much variability depending on the fabric you choose, so it basically multiple patterns in one.
To see even more variety with this pattern I have some fun posts for the rest of the week.
Wednesday: Tester Roundup
Thursday: Notched 3/4 sleeve
Friday: Bryant Dress!
Pattern is marked down to $8 through Sunday so grab your copy today.