When Mandalynn of Striped Swallow Designs posted a picture of her first pattern, Coachella Shorts, I jumped at the chance to test them.  They are seriously cute and I was excited about supporting a fellow Pattern Workshop student.
Since I do my best sewing while the kids are napping I decided to see if I could get the pattern completed from start to finish while the kids were down.  You know what it was easy peasy to get done and I even had time to spare.
With only 5 pattern pieces to put together you get to cutting fabric and sewing so much quicker.  And Mandalynn's instructions are so clear and easy to follow that anyone could make these shorts and be left with a fun pair of comfy shorts for their little one.
The pattern is written for woven fabric but I decided to give it a go with knit.  And since my little lady had picked out this fabric that had just arrived I knew it was the perfect choice for these shorts.  I didn't have to make any changes to the pattern to make it out of knit and that just shows the strength of the pattern that you can move between fabrics and the pattern flows seamlessly.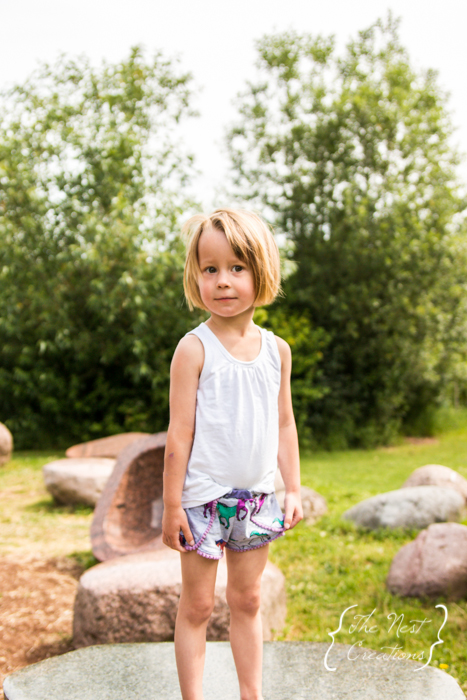 The sizing based on her waist was spot on for Sophie.  There was enough ease through out that the shorts are really comfortable while not being too wide.  With the 18 month shorts being the correct size for Sophie based on her waist they ended up being a bit short.  In the final pattern Mandalynn does an excellent job showing you how to adjust the shorts to get the best fit for your child.
With the many different variations you can do with this pattern including using your favourite trims and fabrics you will never get tired of creating new versions of these shorts.  I highly recommend you heading over to Striped Swallow Designs and getting your hands on the Coachella Shorts it's a really great pattern.
Do you ever challenge yourself to finish a sewing project in a very short amount of time?  Tell me all about it.