Today is the start of another round of Kids Clothes Week and I couldn't be more excited to sew some things for the littles this week.
Both kiddos are in desperate need of basic pieces.  Sophie is getting much taller so all of her pants and tops are getting short and while a midriff baring shirt was really cool in the 90's it's not so cool on a 3 year old now.  Benny is busy growing and is finally moving out of 12 month clothes and into 18 months.  So yeah, both kids need shirts and pants.
Ben is the one I sew least for so I thought I would take day 1 as the opportunity to sew a couple shirts for him.
I have had this gnome interlock knit laying around for months just waiting for the perfect project for Ben.  As I was piecing together the pattern for the Anytime At All Tee by Shwin Designs I knew it would be a perfect fit for this shirt.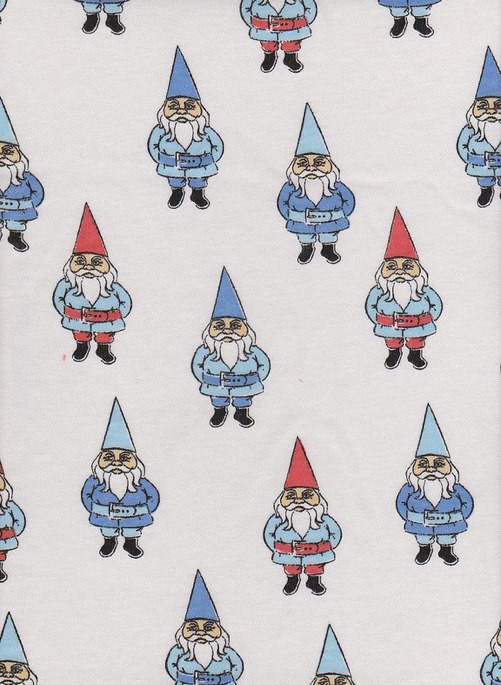 Once I got this shirt cut out I figured they were going to be such a quick sew and the kids were both still napping so why not cut out a few more while I was at it.  I should have known that rushing to get 3 shirts cut and sewn together while the kids slept was a recipe for disaster, or the seam ripper.
The gnome shirt came together wonderfully.
Ben loved it so much he put it right on and refused to take it off so these pictures are before I hemmed the sleeves and the bottom.  Had I know what was to come I would have just left them unhemmed 🙂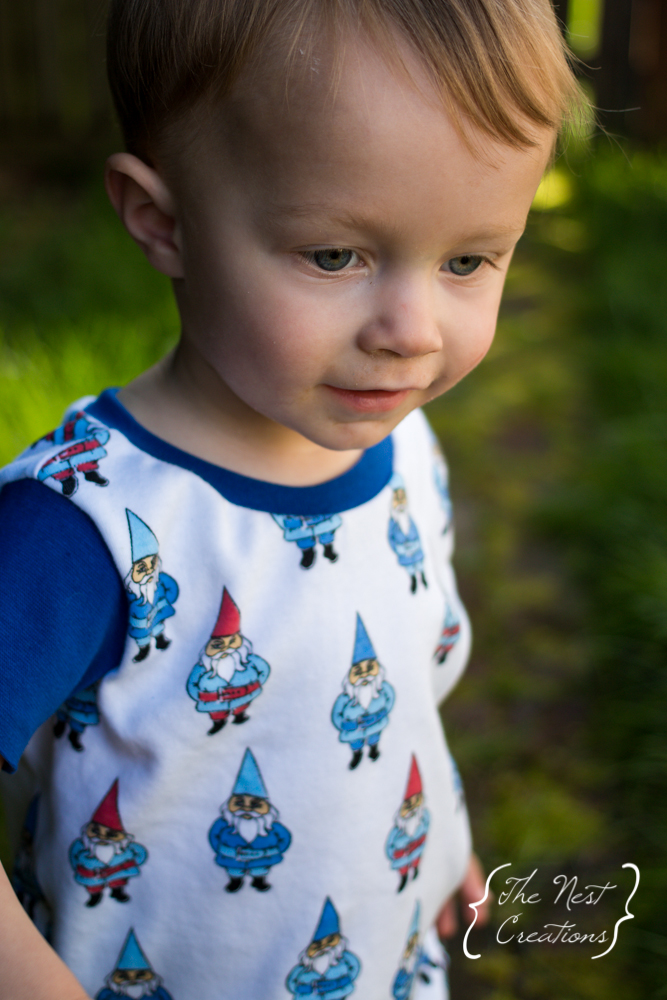 This t-shirt is so great and really a quick sew when you are just doing the basic tee pattern.  I can't wait to try it again for Sophie with the colour block option or even the ruffle sleeves.
As I moved onto the second shirt which was made with a very light jersey it was going just fine until I started the collar and then honestly I have no idea what happened.  Things got all twisted and pulled and into a big fat mess.  I am hopeful that I can salvage the shirt once I remove the collar.  But I just didn't have the energy or time to deal with it today.  Thankfully this shirt took so little fabric that if I have to end up scraping the shirt it isn't a huge waste.
After feeling a bit discouraged by the second shirt I was hesitant about starting the third shirt, but Ben needs a white shirt to wear under his vest for Easter so I decided to push ahead and sew it together as well.  And like the first it turned out beautifully.  I think what I have learned is that I need to take a little more time when sewing with lighter knits, especially around the neckband.
I finally managed to get the gnome shirt off of Ben by bribing him with ice cream so I could hem the sleeves and bottom.  After a few hiccups and a few holes in the fabric I had the bottom hemmed but it was not pretty.  I set this shirt aside and decided to try the white shirt.  Once I got the white shirt all done and only a small hole thanks to overzealous string snipping I decided to give the gnome shirt another try.  Due to my especially horrible double needle job the first time around I actually had to cut a few inches off the bottom of the shirt to 'fix' the hole.  Thankfully the second time around the hem looked great.
So there you have it 2 3/4 shirts completed for day 1 of Kids Clothes Week.  Here's hoping the rest of the week is a bit more smooth than today.
Do you ever rush to get a project done and then find yourself making loads of mistakes and constantly having to use the seam ripper?