Sewing jeans has always been on my list of clothing items I wanted to tackle, but there was always something that held me back.  The reality is that it was more fear than anything, they were just so darn intimidating.  The button fly alone was enough for me to only ever make elastic waist pants, ha!  When Lauren of Baste + Gather put out a tester call for her jeans pattern, Birkin Flares, I couldn't fill out the tester form fast enough.  Can I just quickly skip to the end really quick and say, my first pair fit like a glove!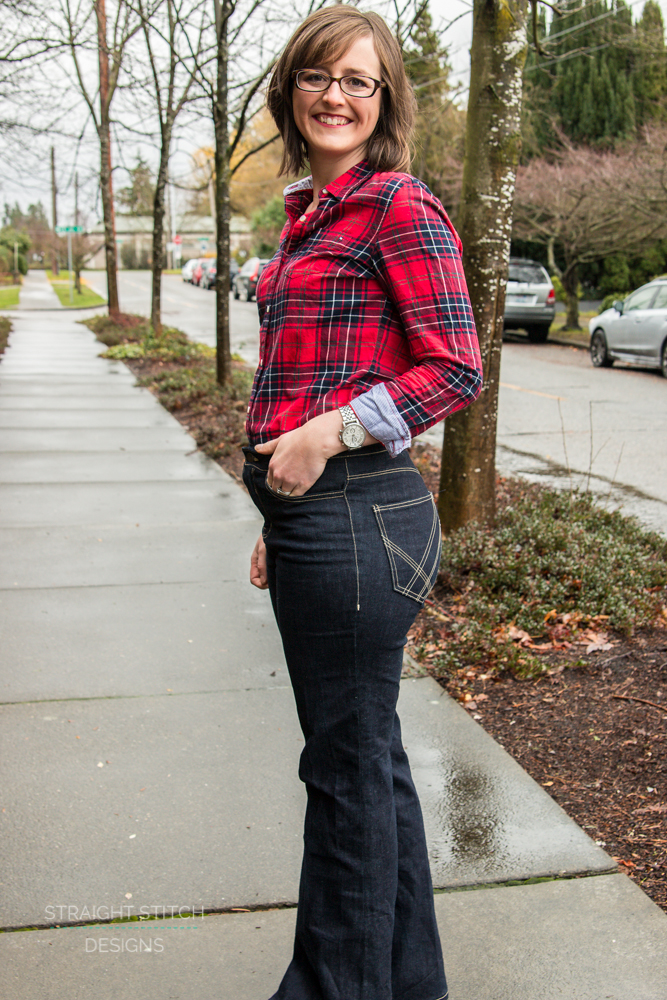 I am still surprised that I was able to EASILY customize this pattern to fit my body.  For a bit of size reference, I have a two size different between my waist and hips.  In this pattern my waist falls into the size 31 and my hips in the size 33.  Thanks to a couple tips for grading from Lauren, I arrived at a perfect fit, like no joke perfect fit on my first pair!
Here are some details of the pattern from Lauren herself "Inspired by the style of 1970s fashion icon Jane Birkin, the Birkin Flares feature a high waist, trim fit to the knees and a fashion-forward, flared leg. The Birkin Flares work wonders on all figures and make even the puniest of bottoms look fantastic (ask me how I know!).  Tall or short, thin or curvy, somewhere in the middle…I haven't seen anyone who doesn't look great in these jeans!  This pattern comes in waist sizes 24-35 and is suitable for the intermediate sewist."
If you have a lot of junk in the trunk like me, these jeans do wonders for your bum too!  I kind of want everyone to look at my bum when I wear these jeans, not to mention the fun I had with the pocket design.
The pockets are like a blank canvas just asking to be embellished with a fun design.  For my original pair I went for lines varying in number and width.  I am super happy with how they turned out.  I thought I would share my little trick at the end of the post on how to achieve perfect symmetry with the two pockets.  I am sure I would obsess every time I wore them if the two pockets didn't match.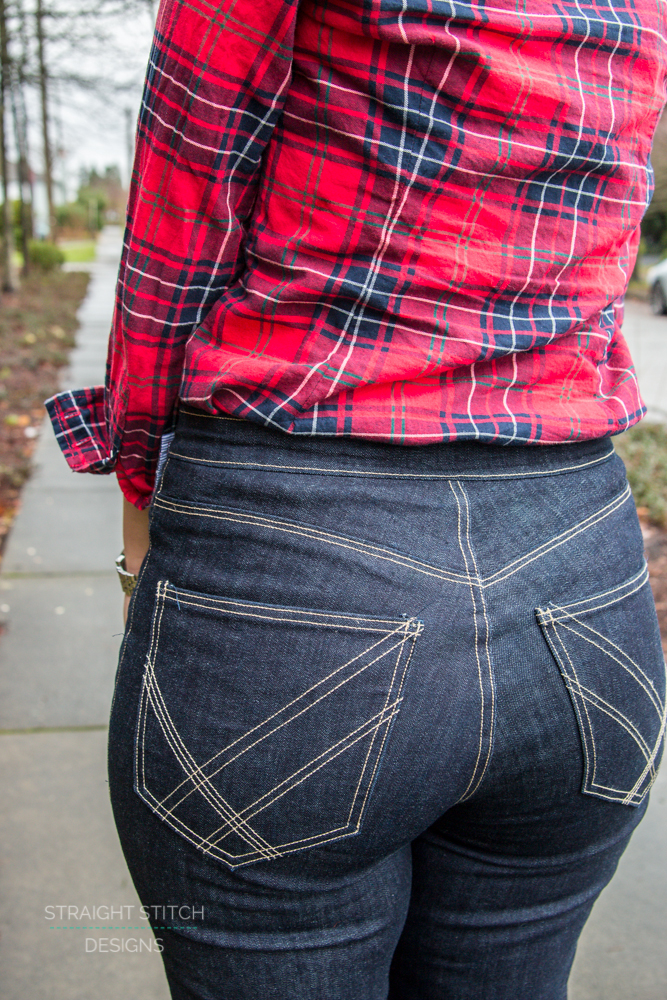 Okay enough with the bum pictures!  It's a pretty good looking bum though if I do say so myself.
You probably notice that my jeans do not have belt loops, that is simply because I rushed to get these done so I could wear them to Thanksgiving dinner and then never actually took the time to add the belt loops.  Otherwise these jeans are followed exactly as the pattern laid out.  And pay no attention to the wrinkles, that is simply because prior to this photoshoot involved getting two kiddos dressed and dropped off at school.
My favourite part of these jeans is that I didn't have to lengthen them at all, that is unheard of for a girl who is almost 5'10" wearing something other than flats.  But if you aren't this tall, the pattern has all the lines and instructions you need to lengthen or shorten your jeans in two different places.  Lauren was very thorough with the pattern.
Other than being the worst tester in the world (I never submitted pictures or filled out the feedback form) this was by far the most rewarding pattern test I have ever done.  I really didn't expect my first attempt at jeans to seriously fit like a glove.  I wish you could all come over and see these jeans in person.
I promise you will be nothing short of blown away when you make these jeans.  Lauren is also working on a sew along which will be found here when it's all done.  But in the meantime you can grab your copy of the pattern.  Also watch at the first of the year for an add on which gives you a skinny leg option for these jeans.  The same great high waist but a skinny leg.  Once my fabric arrives I will be sewing up the skinny version, with a little distressing!
If you are wondering what fabric I used for this pair I grabbed some 11.5oz Cone Mills S-Gene Denim from Threadbare Fabric, and I have to say it is totally worth the money!  I got some of the 9oz as well for my skinnies!
Happy Jeans Sewing to all of you!
*Pocket design tutorial*
I started with one of my pocket pieces and my favourite tailors chalk.
Design your pocket any way you want; lines, curves or your initials.  The skies the limit with this so just have fun with it and remember it doesn't have to be perfect.  Once you have your design drawn out in chalk take your other pocket piece and lay it on top with right sides together.  Apply a little pressure as you rub your hand across the pocket, this is transferring your markings to the other pocket.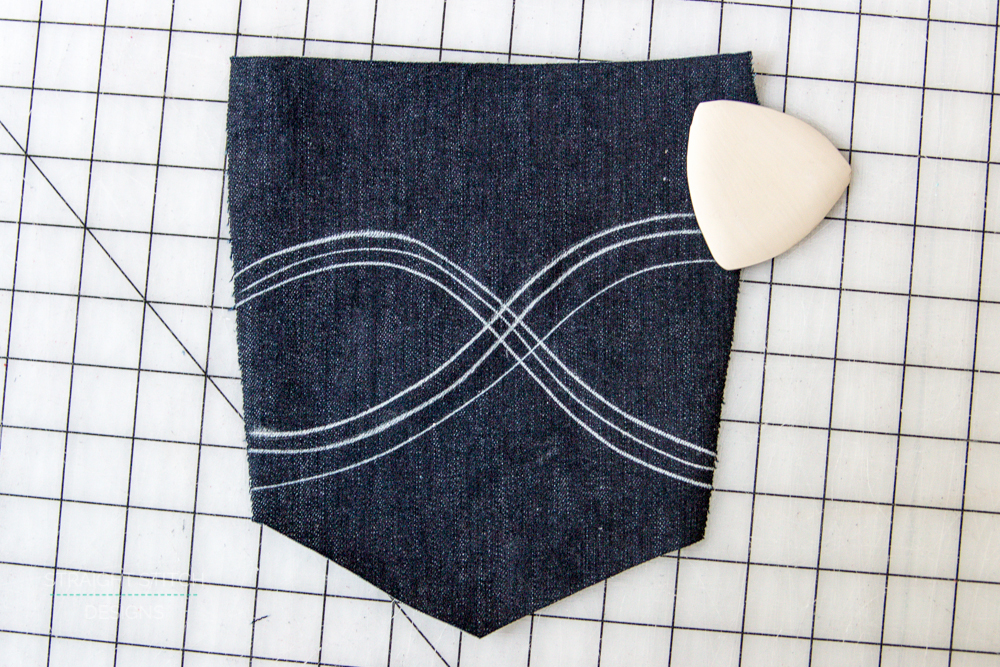 Now you have the same design on both pockets!  Seriously so easy.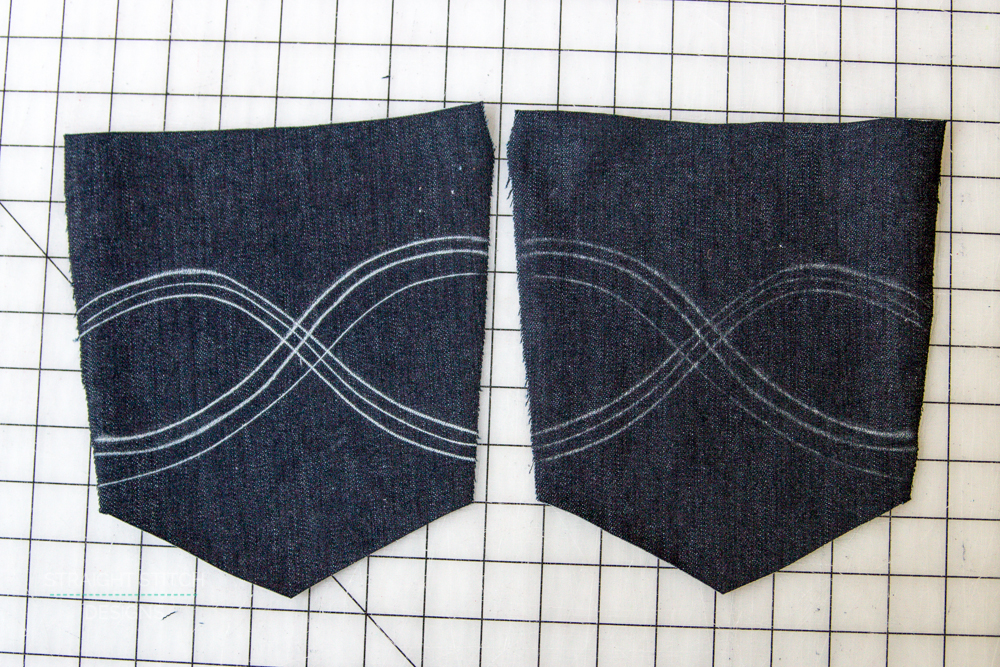 Final step is to trace over the faint lines left over by the transfer so it is easier to see when you actually sew the pocket detail.  Now you can happily look at your jeans and know the pockets match 🙂