As any stay at home parent can attest, when you are sick you rarely get time off.  A few weeks ago we were going to go on a last minute trip up to Vancouver to see my brother and sister in law.  The night before we left, which was about 5 hours after we decided to go I came down with a nasty cold.  The kind of cold where all you want to do is lay on the couch and watch tv.
My brave husband decided to still go on the trip which left me with 2 days to myself to get better.  I haven't had this much time alone in almost 4 years so it felt a bit strange but lovely at the same time.  Between laying on the couch and switching from movies to tv I decided to get a bit of pattern testing done that I hadn't gotten the chance to do during the week.
What I learned though is that sometimes you shouldn't sew when you are sick, mistakes happen…
The always lovely Kate of See Kate Sew was getting ready to release her Mini Me collection and I was helping by testing the Harper Top.  I had a great time testing the Garden Party Collection for her recently so I knew this one would be just as great.  Read about the two patterns I sewed up from that collection here.
I decided to use some of the Riley Blake fabric I ordered ages ago but haven't actually gotten around to using.  It was the perfect choice for this sweet top.
This pattern has all the elements of the womens pattern but on a small scale and just plain adorable.  The little cap sleeves make this top for me, they are the perfect coverage for little shoulders in the summer and such a fun shape that sets them apart from your typical cap sleeve.  The pattern for these sleeves is also pretty genius and come together like a breeze.
The front yoke has the option of adding a ruffle along the bottom but can also be swapped out with your favourite trim or left out completely.  I opted for a sweet simple look and used lace which I thought complimented the fabric perfectly.  The back has a button closure which makes getting over their little heads super simple.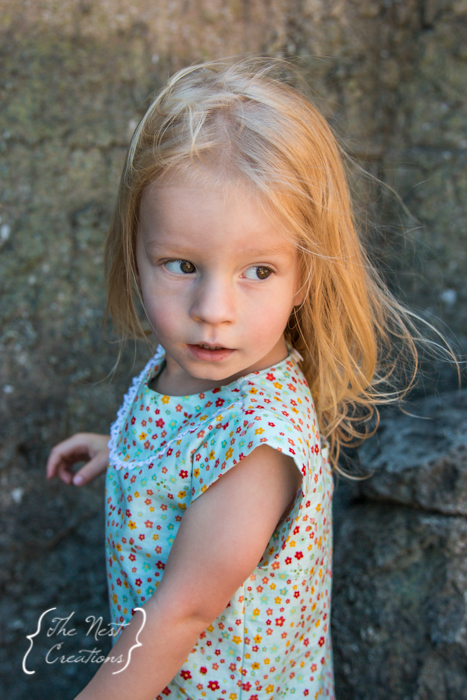 Once the pattern was all put together and Sophie got home I quickly put it on her and was baffled that it was too small.  Kate is usually spot on with her patterns.  After a few days of wracking my brain about this pattern I decided to submit the tester response form and let Kate figure out why it was so small across the chest.  I was two questions into the form when I realized I had sewn up an 18 month instead of 2T, no wonder it was too small it wasn't Sophie's size.
Goodness, such a tester fail.  Thankfully Kate has other people for each size and is just so sweet it wasn't an issue.  Clearly I shouldn't be sewing when I am sick because I can't be trusted to actually sew the right size.
As luck would have it my super cute and feisty niece is just the right size for the shirt and was super excited to pose for some pictures with me at the zoo.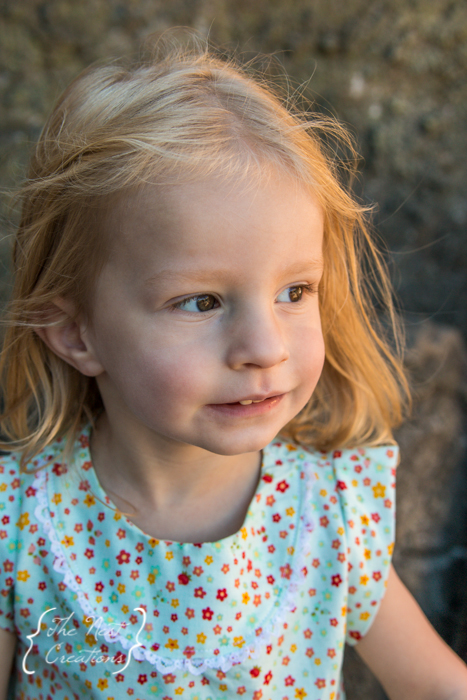 I think we have a little model on our hands, it helps that her dad is a photographer.
Despite the mistake on my part I had a great time sewing this shirt up and I am sure there will be many more of these made but this time I will make the correct size.  Make sure to check back next week for the second pattern from the Mini Me Collection I tested, the Maia Top and Dress.
Have you ever made a silly mistake when you are sick and still trying to sew?  I would love to hear what you did!