You may have thought I was joking when I said in my post here that I have been testing up a storm lately.  It was all true and to prove it I have two more patterns to show you that I recently tested from the amazing Kate of See Kate Sew.  I have a been a huge fan of Kates ever since sewing up the Recess Raglan from the Sew Fab Bundle last fall.  I was instantly hooked and made one of my favourite pieces of clothing for Sophie from that pattern, check it out here.
The first dress from her Garden Party Collection I signed up for was the Olive Dress which can also be made as a top.  This dress is so comfortable with elastic at the waist to give you shape as well as elastic at the sleeve cuffs for a fun style.  The peter pan collar just screams Kate and is a great addition to this dress.  I decided to make a contrasting collar in a grey chambray which was a nice compliment to the grey, purple, yellow and white of the dress.
Being so tall I have a hard time finding dresses that aren't too short for my comfort.  Since I am always running around after one child or another I need a dress that isn't going to show my underwear every time I squat down to pick up a child or a toy.  This dress is perfect and I know Kate really worked hard to make the length just right.  This dress can take you from a casual trip to the park with kids to dinner out with your husband or friends.
Kate does a great job of walking you through all of the steps, especially for easing in a sleeve.  Many of the testers, myself included, struggled with this step at first but if you follow her instructions and go slowly you can ease a sleeve in like a pro.  Check out the recent tutorial on her blog giving even more detail about easing in a sleeve.
Do you see my hands hiding in the POCKETS!  I absolutely love pockets in dresses so it's an understatement to say I was excited to see the addition of pockets on this dress.  This pattern is a great example of the parts all being amazing on their own but when put together make for a wonderful pattern.
The second pattern I signed up to test is the Emaline Dress/Top and this one is made out of knit.  I find I am gravitating towards knit patterns lately which always surprises me because for a very long time I was intimidated by knits.  As soon as I received the pattern from Kate I knew exactly what fabric to use and big surprise it is from Girl Charlee.  This french terry knit in an ethnic print is super soft and the perfect weight for spring and summer.
Since I made the first pattern I tested as a dress I decided to make this pattern as a top, and when the top is going to end up being a peplum I couldn't resist making it.  You know my obsession with peplum tops and this one was just as amazing.  The only thing I would do differently when making another one is to lengthen the bodice just slightly.  Kate give you a lengthening point in the bodice for doing that so it's an easy adjustment to make.  I have a long torso so I think bringing that middle band down just slightly would make this top fit even better.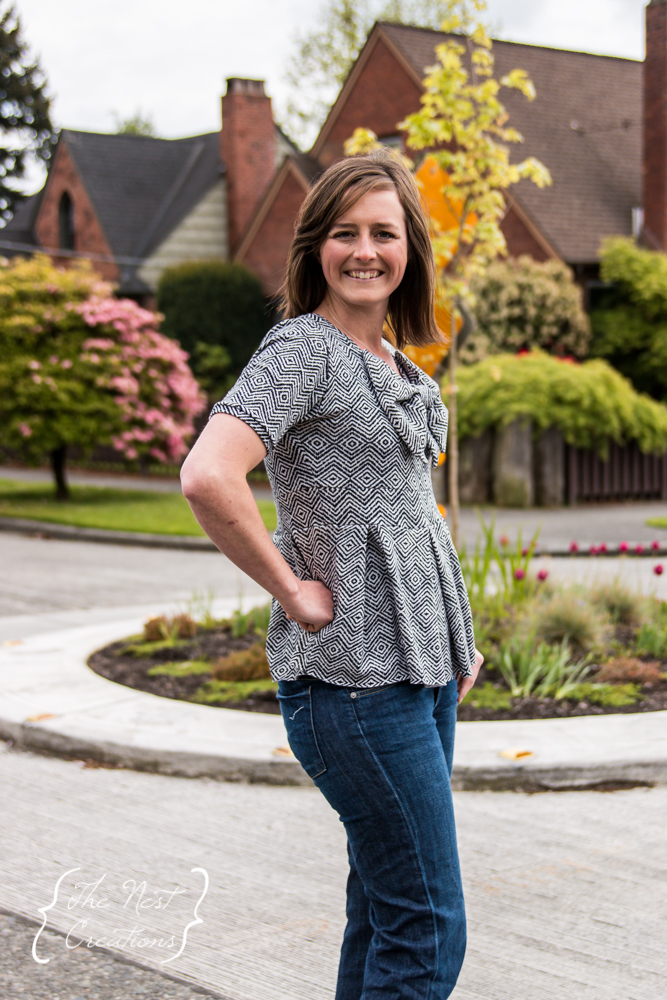 One of the elements in this pattern that gave me a bit of trouble was the box pleats, which as you can tell turned out fabulous, but not without a bit of hair pulling in the beginning.  I loved the detail of the box pleats because it led to a flat front and a different look than standard pleating or gathering.  Kate's instructions are clear but if you have never done box pleats before I found it difficult to wrap my mind around how to make them work.  I always ended up with one huge pleat in the middle.  Hopefully it all comes easier to you than it did to me, but if not follow Kate's instructions and pictures and I promise they will come together and you will end up with really great box pleats.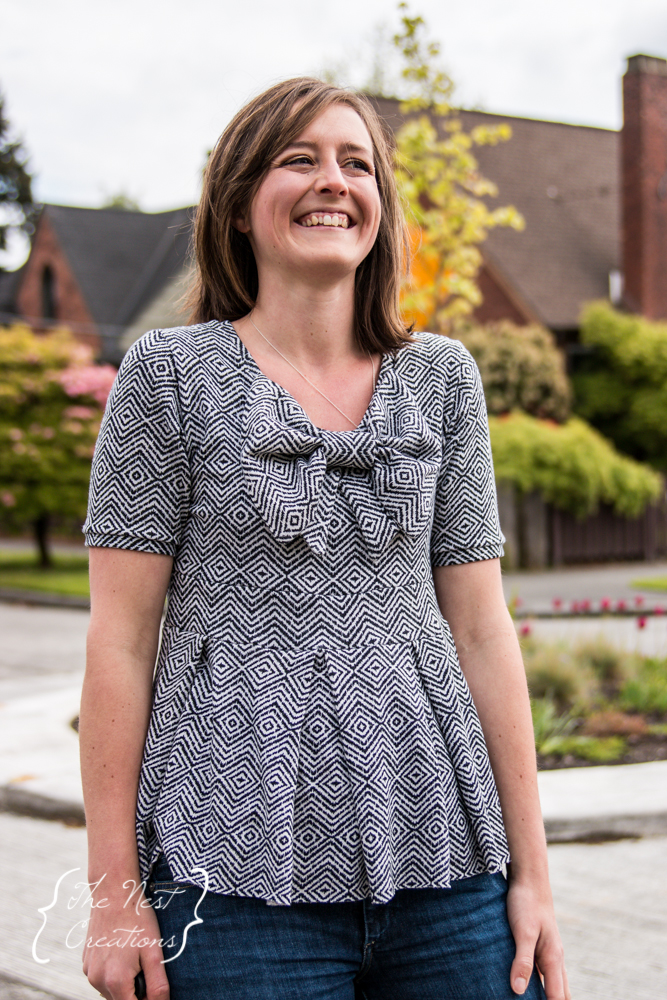 With Kate's patterns you can see her personal style stamped on each pattern and this top is no exception.  As soon as I saw the bow I smiled because I can see this top on Kate but also because it is not my style at all.  But in the spirit of testing I added the bow and I have to tell you I love it!  There is something to be said for a designer who can translate their own style into patterns that work for those who wouldn't normally wear something like this.  The combination of the box pleat and the large bow make this a fun top you look forward to wearing because its femanine and tailored and lends itself well to many different types of knits.
I had a great time testing these two patterns for Kate and I can't wait to snatch up the rest of her patterns being released today.
Do you push your style limits only to find out you love something you would have never tried on your own?  I challenge you to sew a pattern that is not normally your design aesthetic you may just surprise yourself.