As I am coming out of the fog of a 24 hour stomach bug I am reminded that my life is less than glamorous sometimes and I love that about my life, I could do without the stomach bug though.  Every morning I throw on my jeans that get worn far too many times between washes and the nearest shirt and my favourite pair of well loved moccasins.  If a necklace is within reach that goes on too.  I am pretty much a no fuss kind of girl and I really want my clothes to match that.
But there are those times when I feel like trying a little bit harder, maybe do my makeup and throw on a pair of leopard flats.  The thing is that I need my clothes to work for both kinds of days with ease.  I can't have my closet full of clothes that just sit there and wait for a date night because those don't happen nearly enough but preschool and soccer happen every week.
When designing my Bellevue pattern I wanted to have it chock full of options so you could fill your closet with many different versions of this shirt, versions that could take you from a playdate to a date night.
Thanks to one really easy modification to the pattern pieces you can make yourself a Bellevue top without the different accent pieces.
All you have to do is take your front bodice piece and your front accent piece and tape them together.  Because of seam allowance the accent piece is going to be slightly larger than the bottom of your front bodice piece.  Make sure the piece is lined up with the side seam.  Repeat this process with the back bodice piece and back accent piece.  When you cut out the fabric you will be left with a solid front and back bodice piece that still retain the shirt tail hem.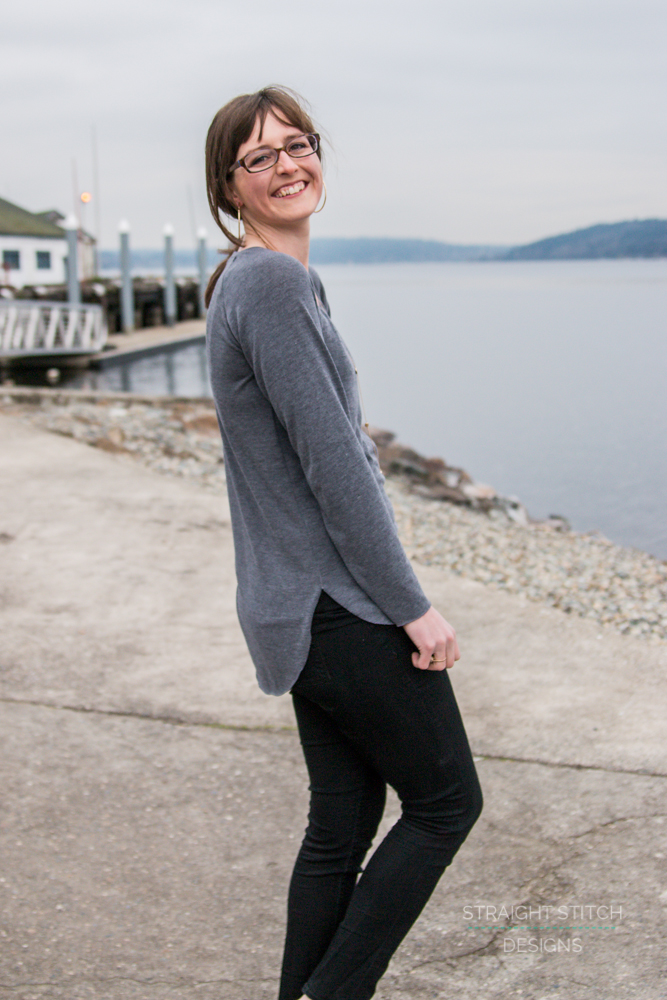 I decided to make the long sleeve version in this cozy sweater knit that will be a perfect layer through these winter days that feel a bit more like spring here in Seattle.  This top is the ultimate in comfort paired with my black skinny jeans and leopard flats or some boyfriend jeans and boots.  You may find me in this top every day this week.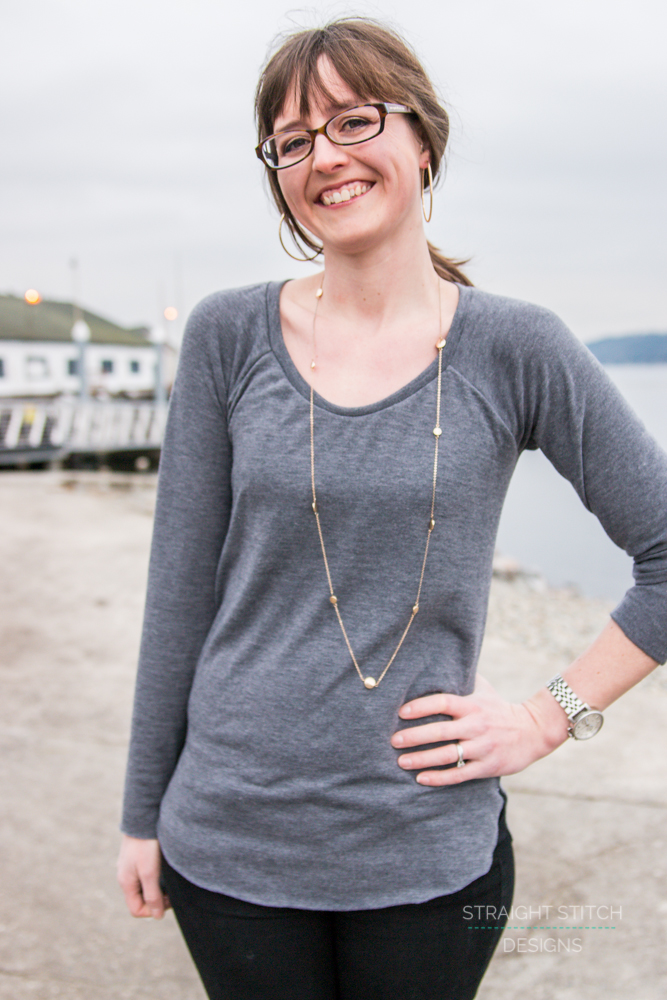 The exposed neckband gives the shirt a touch more casual look and I think it paired perfectly with this knit fabric.  For those looking for more coverage in the neckline leaving the neckband out like this is a great way to achieve that.
I have a little confession to make about this top, it's by no means perfect!  Those that follow me on Instagram already saw my mistake this morning.  Before the day got going I made this shirt so I could squeeze a photo shoot in after soccer.  I was patting myself on the back because I managed to eek out the pattern pieces with very little fabric leftover, something I consider a challenge with every project.  Seconds after cutting out the second sleeve I realized I hadn't done it mirror image!  Without enough fabric to cut another sleeve I decided to go for it and just have one sleeve inside out.  Thankfully the fabric is forgiving so you can't even tell, and if you can no one would probably say anything 🙂
I strive to be transparent on this blog and make sure other sewists know that no one is perfect and we all make silly mistakes, you just have to roll with it.  So the question is, can you tell one of the sleeve is inside out?
I will be back tomorrow with my tester roundup for you to see all of the amazing versions of this top.  But make sure to head over to the shop and get your copy of the pattern while it is still marked down 20%.  This is your chance to get it for less than $10 through Friday.