When it comes to picking the right fabric for a pattern sometimes the process is easy and other times you begin to question whether your vision is going to work in reality.  My recent test of the Schoolboy Vest by Sew Much Ado in Sophie's size was exactly one of those times where I started to doubt the awesomeness that I had envisioned.
Sophie has pretty clear wishes when it comes to the fabric for clothes I will be making her.  No surprise that has resulted in most of her clothes being either pink or with pink in them.  Because I can only sew so many pink things I decided to try and branch out and incorporate at least one of her other loves, flowers.
While browsing through Fabric.com I came across this amazing twill fabric from Premier Prints.  What a perfect fabric for a spring vest for Sophie.  I snatched the fabric up right away.  You know when you are so excited for a project that you begin to wonder if it could possibly live up to your vision, I totally experienced that with this sewing project.
Once the fabric arrived I quickly laid out my pattern and then the doubt set in, was this print too big for the pattern?  Then my husband came into the room and said that the print was too big for the project.  Serious doubt set in.  I decided to trust my original vision and hope that the end result turned out.
Oh my goodness I am so glad that I went with this amazing twill fabric, it turned out better than I could have ever imagined.  There is just enough of the blue flower for you to tell it is a flower and the colours just scream girly spring.  I pulled some sparkly grey polka dot fabric out of stash for the lining and used a grey linen for the back so the print wasn't too overwhelming.
Putting together this pattern was really straightforward thanks to Abby's wonderful instructions and pictures.  The pattern is very well written with detailed steps so great in fact that it helped me to complete my first ever welt pockets.  The welt pockets were so satisfying as they were coming together because the end result feels so professional and finished.
I had a bit of a hiccup putting the pockets together but that was totally due to sewers error and not the pattern.  Somehow I managed to miss the part where I was supposed to sew the pocket onto the right side of the front piece and did the whole thing on the wrong side.  In reading the steps again I see where I went wrong and managed to pick some seams and match everything up and continue on the correct way.  Just goes to show you should follow the instructions as they are written and not how they are interpreted.
Once I straightened out the pocket situation the whole thing came together really quickly and with such a profession finish.  Sophie was in love at first sight and insisted on wearing it for the next few days.  Picture taking for this project was a breeze.
This pattern is so great if you are looking for a casual vest to wear with jeans and cowboy boots in Sophie's case or if you are looking for a great piece for holidays like easter.  While the pattern is originally created as a boys vest the lines and details work great for a girl as well.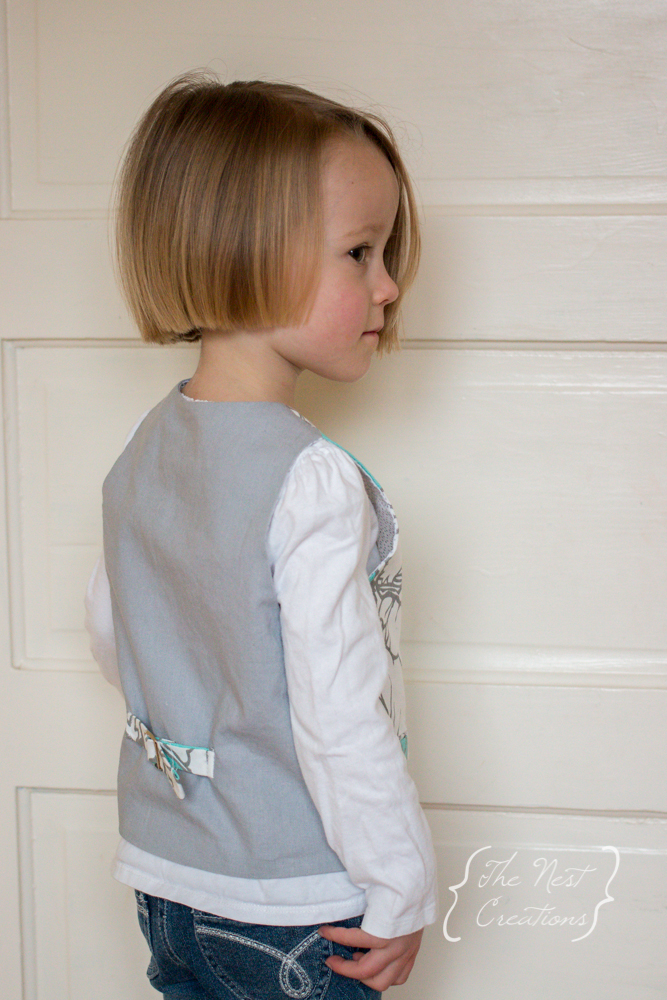 One of my favourite parts of this pattern is the ties on the back where I was able to use the fabric from the front as an accent on the grey linen.  It adds an element of interest to an otherwise plain back.  Such a fun and easy detail that adds so much  to a pattern.  It is details like this that Abby adds to her patterns to give them that extra little touch.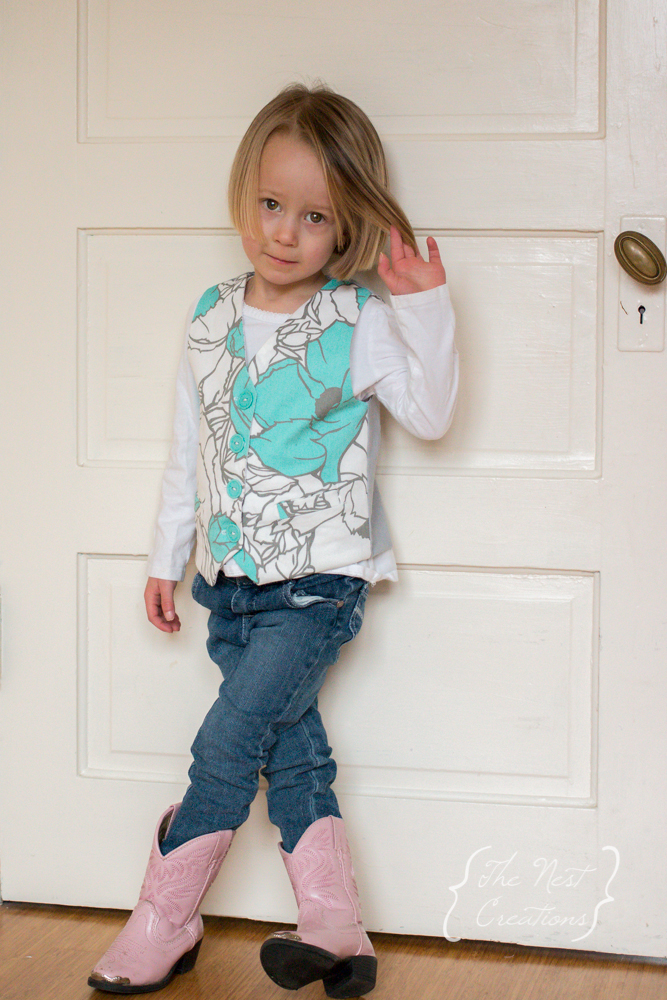 If you haven't sewn one of Abby's patterns before I highly recommend you check them out.  I hope to be trying out her Seafarer and Skipper top soon and they may even be matching for Sophie and I 🙂