Amy of Brownie Goose Designs has released a new dress pattern, Cricket and I was lucky enough to test this amazing pattern.  I have been a big fan of hers for awhile and was so excited to participate in the testing of this dress.  Because Sophie is such a skinny mini I decided to test the 18 month so that it would fit her in the bodice but would end up more a tunic length.
The pattern itself is beautifully written and if you haven't used a Brownie Goose pattern before be prepared to laugh throughout the whole process, Amy is hilarious.  The first few pages of the pattern are full of great information from size charts and materials needed to pattern layouts for cutting and suggested fabrics.  If you don't know what something means just check the glossary in the back it is full of really useful information.
The best part about this pattern is the way the sleeves drape, so a cotton voile or rayon challis would work amazingly, but knits and quilters cotton would also work well.  I went back and forth on the right fabric for this dress but when I came across this amazing ponte de roma from Girl Charlee I knew it was perfect.  It is quite a contrast to what you would expect with the flowy drape of the dress but I thought the modern pattern would be so much fun.  I couldn't be happier with the fabric choice.  In fact I wish this pattern came in my size because I would really like a Cricket in this fabric for myself.
The details on this dress are so much fun and very unexpected.  The thought of incorporating a keyhole into a dress was a bit intimidating to me but Amy walks you through the steps beautifully and you end up with a perfect keyhole in the back.  Throughout the whole process of creating this dress you are met with wonderful detailed pictures and even more detailed descriptions.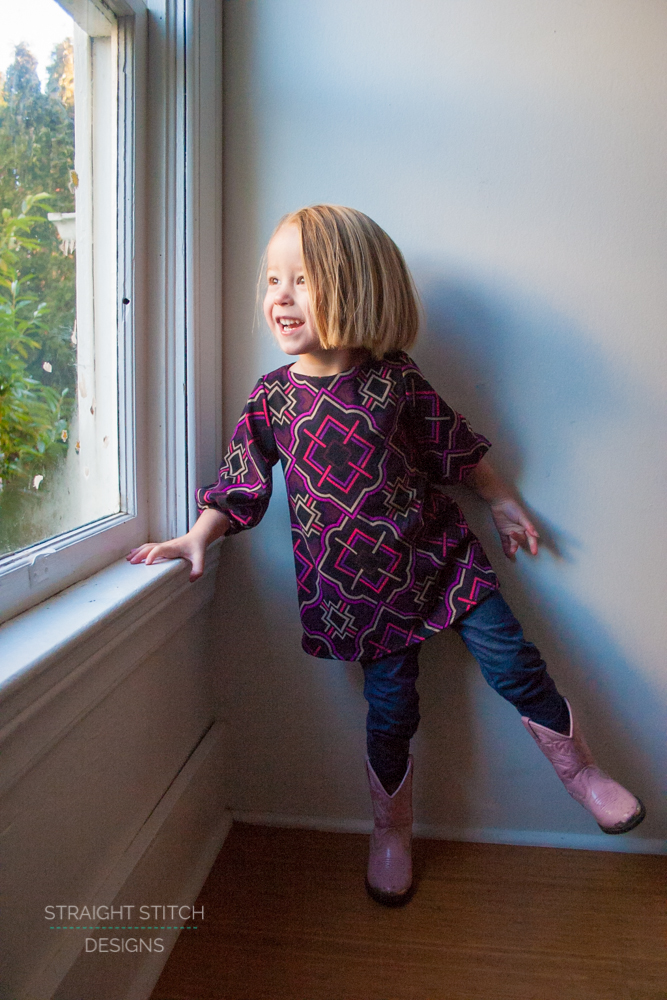 Since I was testing the dress I made it in all of the measurements for the 18 month, but because this pattern is so versatile next time I can make it completely customizable to Sophie with a 18 month bodice and 3T length.  Amy also offers tutorials on how to shorten and lengthen the sleeves and adjusting the curved hem.
This new pattern is sure to be a staple in my daughters wardrobe, I am even envisioning a summer cricket without the sleeves or a gathered cap sleeve.  The options are endless.
Go check out Brownie Goose Designs and keep an eye out for the release of this pattern very soon.