The key to successfully dressing for the weather, especially in the fall, is layers.  And if we are talking about layers all you need is a vest and everything is right in the world.  If that vest is plaid flannel with a sherpa lining there really isn't anything better.
When I saw the Hero Vest by Make it Perfect, it was just calling to be a part of my wardrobe.  Without even realizing it, I actually picked out fabric just like the pattern pictures on the website.
By making the vest out of a fun plaid flannel in bold colours it becomes a great piece that can be worn with the basics I already have in my wardrobe.  I can already picture this with a Bellevue sweatshirt, some skinny jeans and boots for getting my Christmas tree in a few months.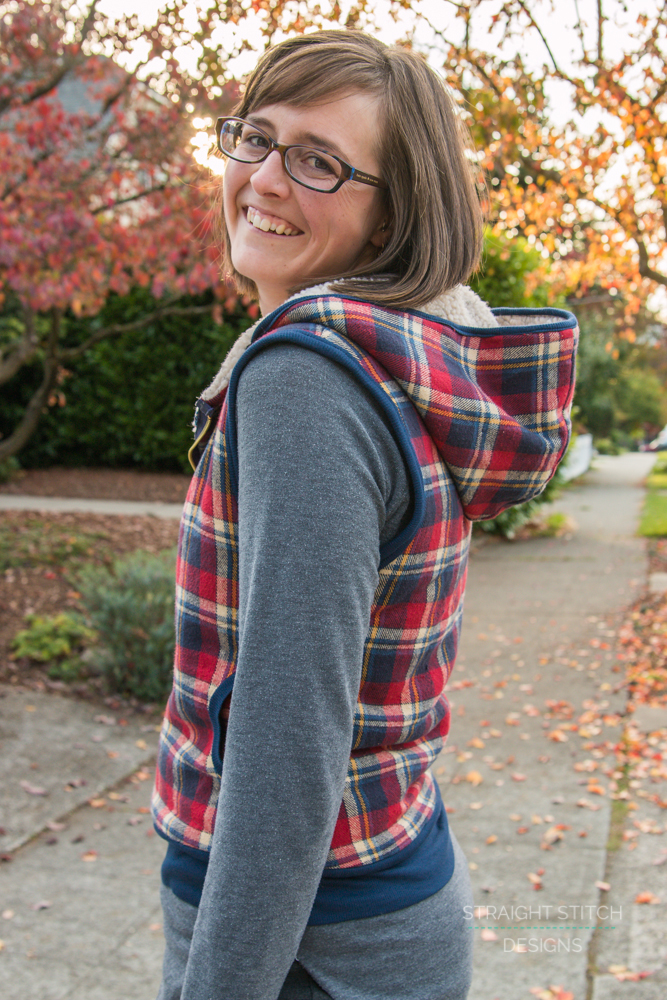 The hood on this vest is the perfect size to keep you warm and even better for those drizzly days when it isn't quite raining enough for an umbrella.  What you can't tell from these pictures is that it is currently in the 70's in Seattle so I was definitely a little hot.  But I know that once the weather finally cools down this is going to be worn on repeat.
I struggled a bit with the arm hole binding and it wasn't until I got out some interfacing tape that I could finally get the fabric to cooperate.  I also used the tape for installing my zipper, which is my favourite zipper method.  I will give you a minute to admire that pretty brass zipper!
Would you believe me if I told you that the pattern matching across the front was completely by chance!  You have my permission to hate me.
Sewing with the flannel and sherpa was no easy feat, it definitely added some bulk that at times was difficult to work around.  But the end result is just too good for words, it was worth all the hassle along the way.  Like I said, all you need is a vest!
Have you started sewing for the cold weather yet?  If not you should definitely pick up this pattern to add to your list.