Last year on September 18th I released my first pattern, Ravenna!  I was so scared that day when I hit publish on the pattern and the intro post.  I knew how I felt about the pattern, it was pretty great, but what a test in confidence to throw something out to the world and hope that people like it.  One year later I will tell you that I still get just as nervous putting a pattern out that I did last year, maybe more because people actually know who I am this year where as last year I was totally unknown.
So many things have changed for me over the last year.  Who would have thought I would find a love in pattern design after taking the Pattern Workshop (affiliate link) course on a whim.  I have created a company that I truly love and know there is so much more in store for me and this little business in the coming years.  Since everything is all heart eyes around here right now, why not celebrate what has become of Straight Stitch Designs in it's first year with an epic two week blog tour.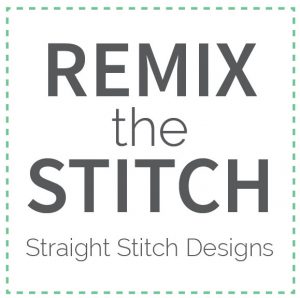 A few months ago I put together a list of my dream bloggers, y'all this list was filled with so much talent, a few of which I had never even interacted with.  I put aside my insecurities and emailed everyone on the list to see if they would join me for this tour.  I was so nervous that no one would want to join me, but do you know what I was blown away by the response, there was no hesitation by so many of these bloggers.  Not everyone could participate but that didn't stop them from reaching out to say congratulations, which meant a lot.  Without further ado here is the amazing lineup for the Remix the Stitch Blog Tour.
Tuesday, September 8th: Meg Cookin' and Craftin' | Jennifer Ginger Peach Studio
Wednesday, September 9th: Ajaire Call Ajaire | Heidi Handmade Frenzy | Stacey Boy, Oh Boy, Oh Boy Crafts
Thursday, September 10th: Melissa Rebel & Malice | Annika Näh-Connection | Abby Sew Much Ado
Friday, September 11th: Katie It's Hard to Hear Up Here | Jane Buzzmills | Lisa Mabey She Made It
Saturday, September 12th: Elena Randomly Happy | Allie Indiesew | Jess If Only They Would Nap
Monday, September 14th: Jaime Made By Jaime | Lauren BASTE + GATHER | Sara Made by Sara
Tuesday, September 15th: Audrey Skirt Fixation | Teri Fa Sew La
Wednesday, September 16th: Emi Just Add Fabric | Rachael Imagine Gnats | Teresa Dandelion Drift
Thursday, September 17th: Kaysie KZJO'STUDIO | Rita Conversas de Hermanas | Stephanie Swoodson Says
Friday, September 18th: Andreia In a Manner of Sewing | Nienke Pienkel | Abbey Sew Charleston | Hayley Welcome to the Mouse House
Each of these 29 bloggers were given a pattern or two and asked to remix the pattern however they wanted and as much as they wanted, no rules just to have fun with it.  I seriously can't contain my excitement over this, because if the whole tour is anything like the sneak peeks I have been getting on instagram it is going to exceed my expectations!  I was not kidding when I said this group is filled with so much talent.  Make sure to check out #remixthestitch over the next two weeks!
Every morning I will be sharing with you the bloggers for the day and link to go get all the scoop on what they did to remix the pattern, so make sure to check back here every morning for all the details.  You can also subscribe by email on the side bar so that the post gets delivered to your email every morning.  While you are at it, go ahead and sign up for my newsletter because there will be an additional 10% off coupon for newsletter subscribers in your inbox tomorrow morning.
And if this blog tour wasn't enough celebration I also put together a huge giveaway filled with patterns and fabric and gift certificates for some pretty great companies.  I will share all the details tomorrow but for now check out everyone participating in the giveaway!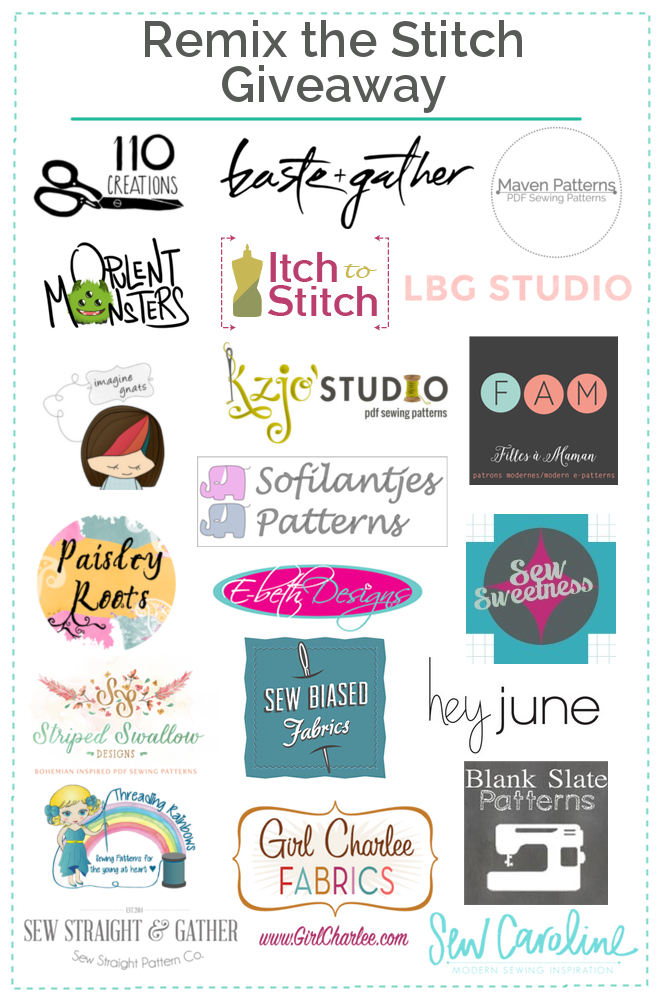 Starting tomorrow all patterns both pdf and paper will be marked down 50% and Stitch Kits will be 40% off in the shop through Sunday the 20th!!  I hope you are as excited about my First Anniversary Celebration as I am.