One of my good friends has the cutest woven joggers in the most perfect tribal fabric.  They are perfect for the summer when you want to wear something comfortable but also look a bit more put together.  She recently wore them over to my house for a girls movie night and I immediately knew I had to have some!  But that thought was immediately followed by why buy it when you can sew it.  The best part was that I knew exactly what pattern to use and had the most perfect peach skin fabric in my stash for them.
The tried and true Hudson Pants pattern was the obvious choice and I had just enough of this fun printed peach skin fabric from Girl Charlee for the pattern.  If you aren't familiar with peach skin fabric it is a lightweight fabric with no stretch that has a nice drape and a soft brushed finish.  It worked perfectly for these pants.
When deciding on the elements of the pants that I would keep or change slightly I made sure to check out Kelli's blog post where she explains the changes she made to the pattern when making a woven instead of a knit.  Thanks to her advice in the post I went up 3 sizes to give myself enough room in the pants since I would have no stretch to help me out.  Had I not read her post I would currently be crying over a pair of pants that would never have fit.
I decided to keep the pocket accent if anything because I love the finished detail it gives to the pants.  But to keep that it wasn't without a few glitches.  These pants very quickly almost never saw the light of day because I was having so many issues.  This was everything to do with me and nothing to do with the pattern.  Man it was one silly mistake after another.  Thankfully I got my head back in the game and figured out the pockets.  If you are going to keep the pocket accent piece make sure to cut it 1 inch longer than the pattern piece to account for no stretch.  After that everything goes together as normal.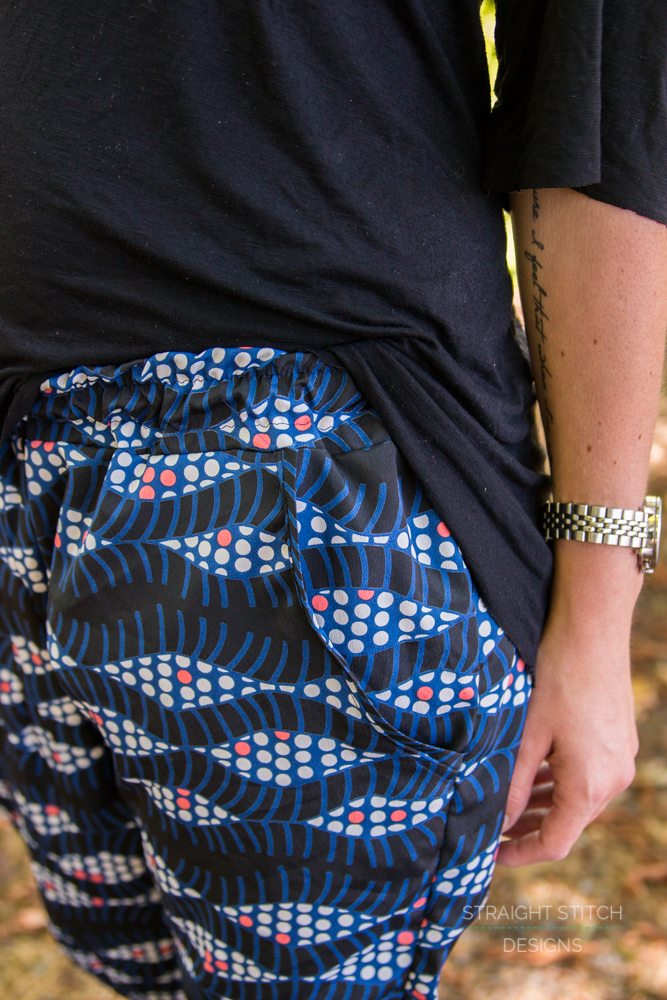 Can I just take a second to tell you just how difficult it is to take a picture of your ankles without looking like a crazy person.  I actually had someone 'gardening' while I was across from their house taking these pictures.  So imagine my embarrassment when trying to get a good picture of the ankle cuffs, and I look up and she is just standing there watching me.  So all of that is to say that this is the best I could get of my ankles to show you the modification I made to the pattern.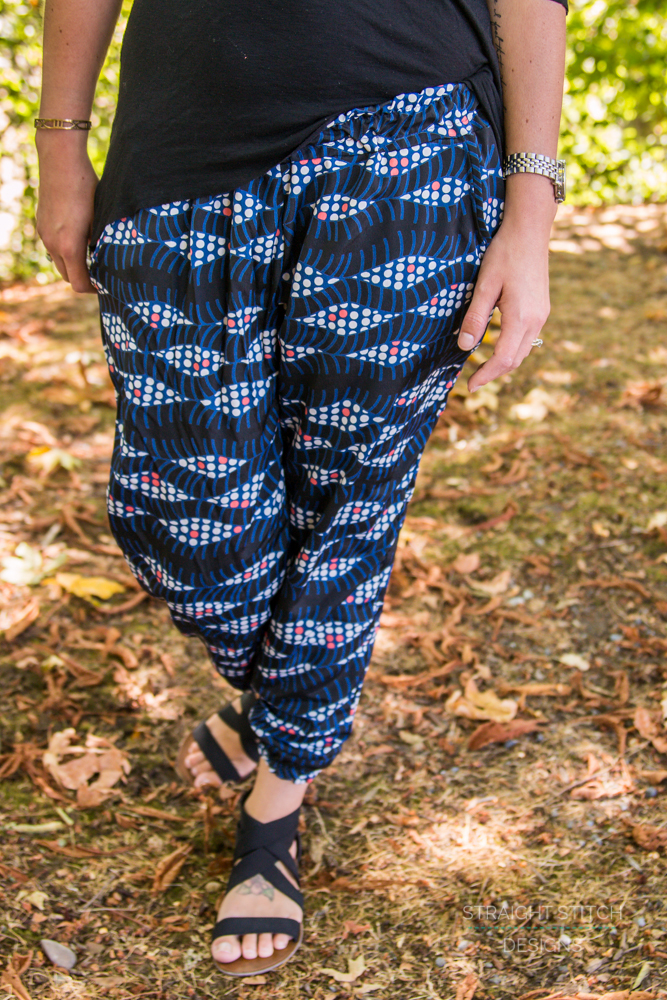 The pair of pants of my friends I mentioned at the beginning has elasticized cuffs at the bottom and I knew I wanted to replicate that.  The only issue with this pattern is that the ankle cuffs are designed for knit fabric so I had to do a little pattern adjusting to get the look I was going for with knit fabric.  I started by laying my front and back pattern piece on my cutting mat.  I got the bottoms lined up and overlapped them 3/8″ at the side seam to account for seam allowance on one side and then measured the length.  From there it was just a matter of adjusting the length of the bottom cuff piece to the new length I determined.
The woven version of these pants came together just as easily as the knit and I just love the finished result.  They can be dressed up with some wedge heels and a nice black top or dressed down with your birks and a tank top.  They are super comfortable and right on trend so people are sure to think you bought them in a store.
I am pretty sure I will live in these until the cool weather rolls in.  I already want to make another pair that is longer in a rayon I spied at Joanns the other day.