I am most definitely a broken record when it comes to the tester roundup for my patterns.  I am always so lucky to get such a great group of ladies helping me test my patterns.  So many of them keep coming back to help me so I guess that means I am doing something right.  I have made so many friends through this process and many of whom I can email with pattern questions because I know I can count on them to give me the feedback I need and want.
So without further ado, check out my amazing testers and their different interpretations of the pattern through fabric choices and styling.  Make sure to click over to the shop and grab your copy of the pattern while it is marked down through Sunday.
Abigail of Abbey Dabbles really showed how well this pattern can work with colour blocking.  And while her husband may not love the ruffled version, I think she looks amazing in it.
Amanda of Turtle Birdies has been a long time tester for me and I just love the way she helps during the testing process.  Amanda sewed up View B and also did some colour blocking with the front shoulder accent piece.
Andie of That Sew Andie also made View B and showed how great it is as a layering piece with your favourite denim jacket.  Love the choice of fabric she used for the top, such a fun pop of colour.
Carina of Dschniiderin, a german blog, was the first in the testing group to mention she would love it as a crop top.  Colour blocking and paired with some high waisted jeans it is the perfect modern outfit.
Christine is a new to me tester but it was really great working with her.  I love how she showed just how great this top can look on everyone.  And the fabric she chose is a really fun print.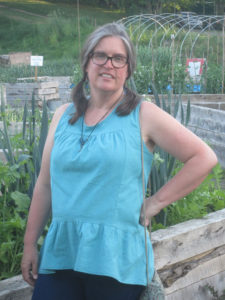 Cindy is a fellow North Seattle sewist who actually went to View Ridge to take her pictures, now thats dedication.  Her choice of solid is always a great way to really show the different features of the shirt.
Heather of Stitchinsquatch is back for another round of testing with me and I couldn't be happier.  Heather went with a bold print which is perfect for the summer.
Jennifer of Inspired by Amara really wanted to get that flowy look for this top so sew sewed it up in a peach skin fabric.  Not the easiest fabric to work with but the end results are wonderful, the perfect summer top.
You should be really used to seeing Katie on the blog, she has tested all but maybe one of my 9 patterns.  I just love the very nautical look to her top, the blue and white fabric for View B is perfect especially paired with fresh white pants.
Kaz of Sew Kaz decided to mix it up even further from the 3 views in the pattern and use both View A and B.  She did the straight front of View B and the ruffled back of View A, it was such a fun surprise when I saw her pictures.  I can't wait to try it myself.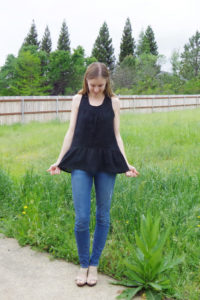 The always adorable Kyla of Life by Ky is back with me for this pattern and I just love the basic not so basic black top she made.  And really paired with skinny jeans and wedges is the perfect outfit.
Lanita really went for the bohemiem/modern look with this top and styling and I absolutely love it!  I need to go find some eyelet and make one as well.
Lauren of Lauren Durr Design was instrumental in getting a really great fit for the upper sizes of this pattern.  There were quite a few changes following the version in this picture, but I just had to share the fun fabric she chose for this top.  She also taught me a new method of adding design elements through reverse bobbin.  Make sure to check out her blog post where she shares about it.
Lauren went for a bold modern fabric and paired with the style of the pattern gives a really fun look.  Makes all my solid versions look so boring.
Maria went for ultimate drape with this silk satin version and I couldn't be happier how she styled it to show just how great it works with a cardigan if you need a little more coverage for work or comfort.
Marie-Fleurine of Sew Mariefleur is a new to me tester but far from new to testing.  The crisp and classic eyelet paired with this pattern is perfection.
Rachel of The Wild Stitch couldn't have chosen a better fabric and setting for this top.  Rachel helped work on the sleeves which weren't quite right for release but will hopefully be ready to go in the coming weeks.
Sarah definitely has the summer vibe going for this top especially paired with the straw hat.  Sarah sewed up a shorter version that looks great with her long flowy pants.
Shawna is finally back as a tester and I couldn't be happier.  Shawna showed that the top could be sewn in a flowy fabric as well as something a little more stable.  Her styling is perfect for these tops, as usual.
Last but certainly not least is Terri of Blue House Joys with not only View A as a top but a second one made into a dress!  I know it was such a fun remix that popped up in the testing group.
Well there you have it, so many amazing testers showing just how amazing this pattern, in all it's views looks.  Make sure to grab your copy of the pattern while it is marked down to $8.  If you prefer paper, there is a pre-order of the paper patterns that I expect in the shop on the 20th.  Grab it while it is also marked down.