When you have a tried and true pattern there are so many ways to you can remix the pattern to be just about anything you envision. The Fauntleroy raglan pattern is definitely a tried and true pattern for me. The fit is the perfect balance of fitted yet relaxed and when it can be sewn up from fabric to finished garment in under an hour, I call that a win for any wardrobe.
When I released this pattern last November my testers all tried to convince me to put a kangaroo pocket with the pattern. I honestly don't remember why I didn't include it at the time, but I can tell you that was a big mistake on my part. The pocket adds such a fun relaxed look to the pattern and is so easy to add it should be a part of the original pattern. Make sure to read through the post to get a copy of the pattern piece for the kangaroo pocket.
Taking a bit of a tangent here for a minute to tell you about these shoes. Other than the pair of espadrilles I posted about yesterday, shoes are the one part of my handmade wardrobe that gets left out. Where I can literally make everything else I wear I just can't or don't want to make shoes, so they are my biggest spending weakness. But these shoes were such a find at a local Goodwill that I feel like I need to tell everyone I see about them. You see they are Dansko clogs in the most beautiful colour brown and they had never been worn, like ever! So I snatched them up for $24 and honestly felt like I was stealing them. Now back to the pattern, ha!
What makes this a tried and true pattern for me are the details that give me a great fit. When designing this pattern I really focused on the sleeves and the underarm. If you have sewn a raglan sleeve before you know that sometimes you can end up with lots of extra fabric in the underarm. And while you can't totally get rid of that I definitely did my best to focus on the shape of the sleeve to give the most flattering shape. Also, those sleeve darts are everything. This really helps the sleeve contour around your shoulder and it looks so pretty.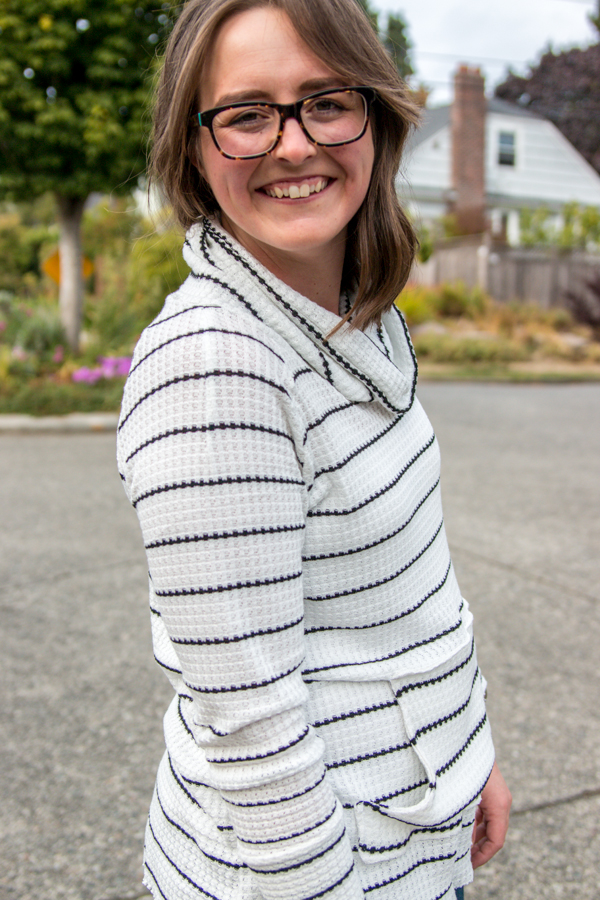 Let's talk about this fabric because it is everything I wanted for this pattern, waffle knit. If you have been watching my Instagram stories over the last few weeks you know I am OBSESSED with waffle knit. I don't know what it is about this fabric but I literally want to make all of my clothes in it. Thank goodness I have 8 yards arriving from Indiesew in 4 ridiculously amazing colours so there will be no shortage of waffle knit sewing.
This fabric I got from Threadbare Fabrics during her Black Friday sale last year. I bought her out of what she had and never regretted that decision. Katie obviously doesn't have this fabric anymore but she does have a couple other great options if you want to copy my Fauntleroy.
It is taking every little bit of control for me not to buy that grey and cream double knit. How amazing would it be for this pattern because you could use the reverse side for the sleeve cuffs and kangaroo pocket. Clearly I am on a stripe kick because the army green and white striped french terry would be perfect as well. Lastly having worked with the burnt orange chenille knit for my secret project last week I can attest that it is just as amazing in person as it is in this picture. And it would be the coziest sweater in all the land.
Basically this pattern is a great transitional piece in the fall when sewn up in a light knit and warm and cozy through the winter in something with more substance. The pocket is a fun addition and a chance to play around with coordinating fabrics.
Head over to the shop for your copy of the Fauntleroy pattern, if you get the pdf it is 30% off right now for Remix the Stitch. You can find the download for the free pocket piece here.