Peplum tops and dresses are everywhere and while I have always loved them on other people I just never thought it was a look I could pull off.  I have the body type most typically called pear shape, small on the top with larger hips and thighs.  But I decided recently to embrace my shape and sew things that work for me and even try things that I normally wouldn't try.  I have been quietly stalking the Out and About Dress by Sew Caroline since it was released.  I have even gone as far as to put it in a cart but never actually hit purchase, I just wasn't sure I could pull it off.
I am now kicking myself for all those wasted months of hemming and hawing over this pattern and whether it would work for me because oh my goodness I absolutely love this pattern and how it fits me.  Seriously people I am still shocked at how much I love it.  I may even go as far to say that I am obsessed with it.
Since the kids had new easter outfits I threw together at the last minute I thought why not make myself something as well.  The weather is still a bit cool so I thought making an elbow length peplum top would not only be perfect for the weather but also something I will wear over and over.  I picked out a grey heathered hacci sweater knit I had laying around in my stash since the kids were in grey as well.
 Caroline's instructions on her blog on how to make the dress pattern into a top are wonderful.  Because I have a very long torso it was great to be able to customize the length of the peplum to work for my body.  She also has instructions on how to make this pattern into a sleeveless version which will definitely be getting use for the summer.  I can see sleeveless dresses and tops in my future.  My mom loved this shirt so much she actually tried it on before dinner and requested one for mothers day.  Done!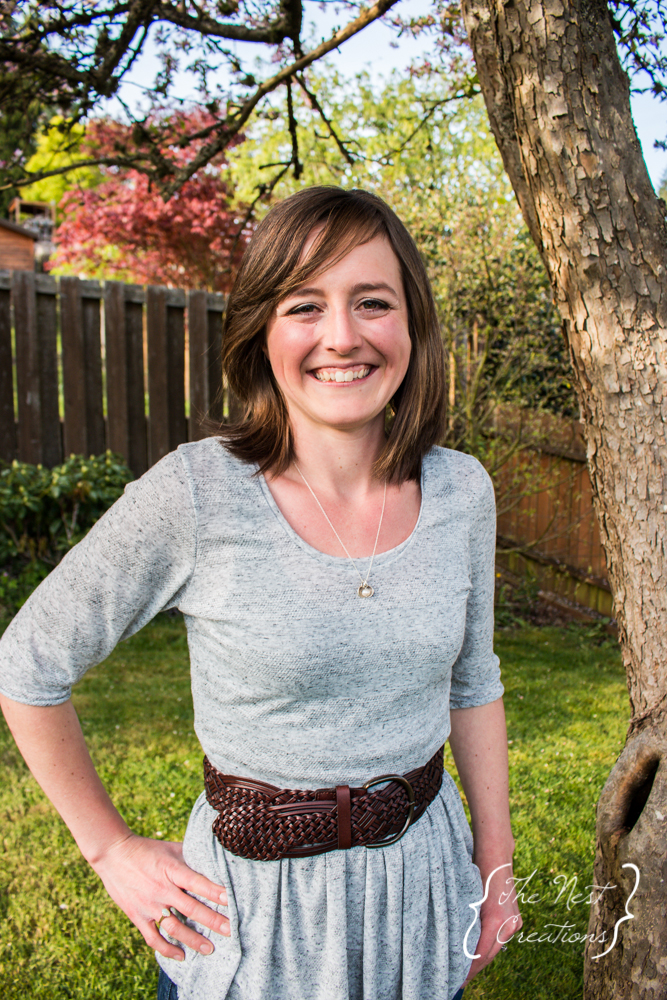 So when I said I was obsessed I was not kidding.  I actually came home from Easter dinner and started cutting another one out, this time from some glorious ikat stretch sateen I had in my stash.  There was literally just enough of it to get a top cut out.  I even had to shorten the peplum a bit due to lack of fabric which in the end works perfectly.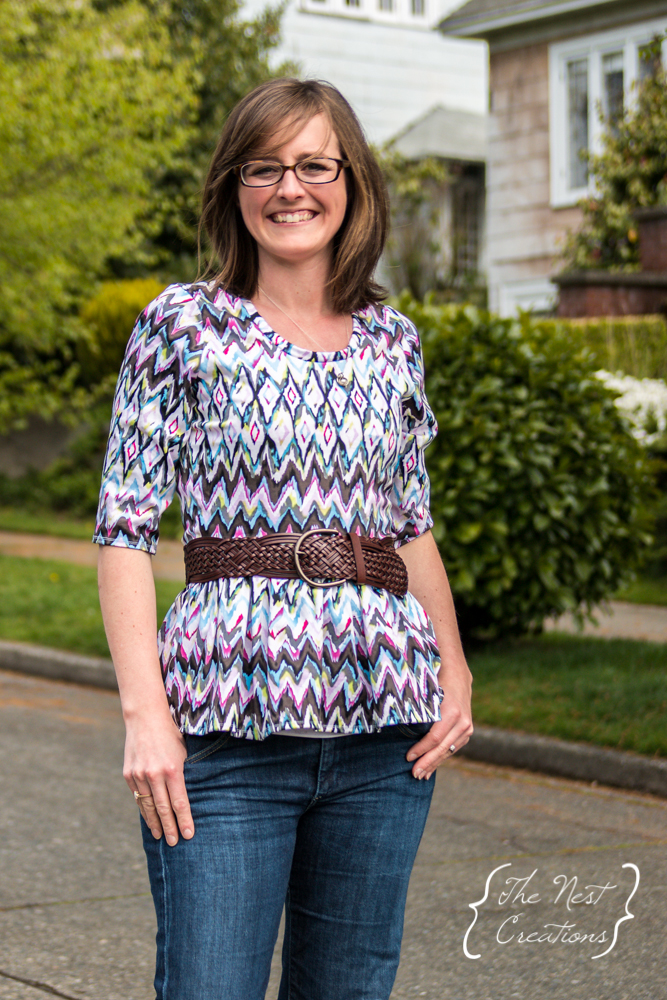 I have never worked with stretch sateen fabric before but was pleasantly surprised to see how great it all came together.  Because this fabric doesn't have as much stretch as a knit it is pretty tight getting it on but once everything is on it fits like a glove.  And just as comfortable as the first one.  I can already see this top paired with some white cropped jeans and some cute sandals this spring.  So versatile.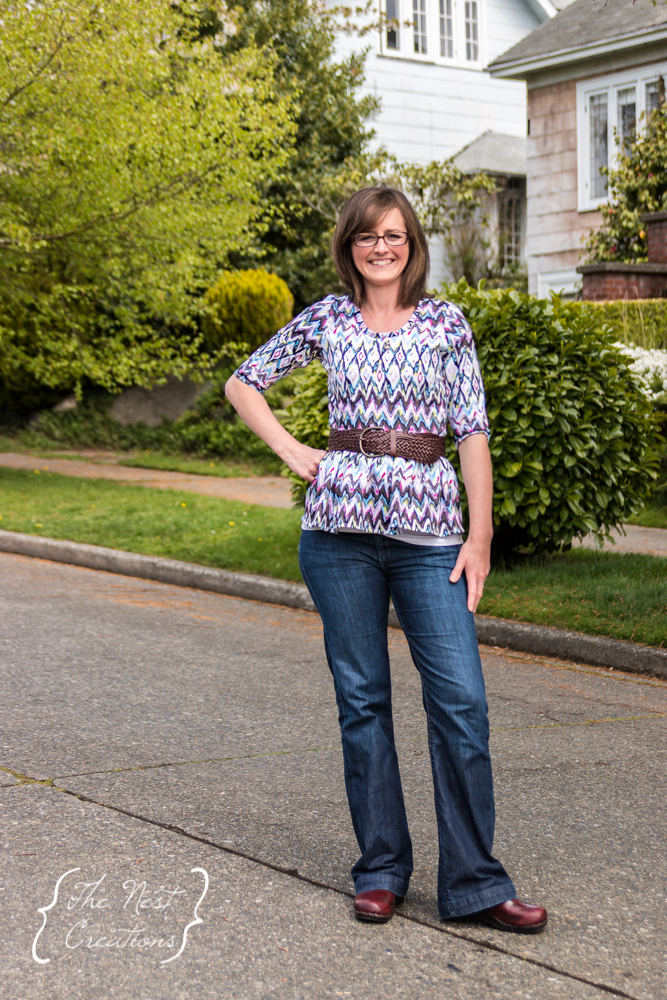 This pattern is a must for all of you looking for something that is super comfortable, easy to sew and totally customizable to your needs.  It works with all kinds of knits and such a versatile piece.  Go visit the amazing Sew Caroline and get this pattern, you can thank me later 🙂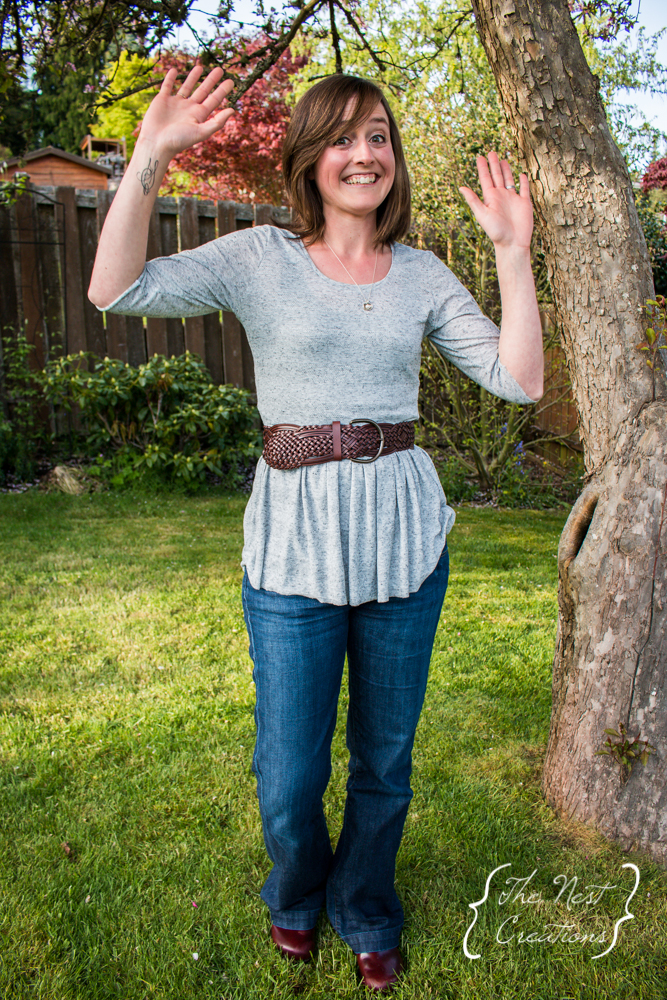 Do you ever have a piece of clothing you are convinced will never work for you but when you finally break down and try it you are in love?  Don't be scared to try it you may surprise yourself like I did.