The always amazing Amy of Peek-a-boo Pattern Shop (affiliate link) released her newest pattern today, the Seaside Scallop Shorts.  I was lucky enough to test this great pattern, and you can tell Sophie was pretty happy about getting some new shorts.
These shorts have some really great details that not only give it style but also make it even more wearable for your little ones.  The waistband is a flat front with an elastic back which is especially great for skinny mini's like my kids who never seem to keep their pants up.  You can add a fun accent fabric for the pocket lining as well which is a great way to add a bit of fun to the shorts.
Amy's instructions are clear and really easy to follow leaving you with an amazing finished product.  Because sewing around curves can sometimes be a bit daunting (I know I usually have the same face as Sophie when I think about sewing around a curve)  But don't worry Amy gives really great tips for the best way to sew around the scallops.  I learned a few new things in the section that I will be sure to use the next time I am sewing a curve.
The Seaside Scallop Shorts come in sizes 3 months to 12 years and are easily customizable to your little one by adjusting the length of the elastic.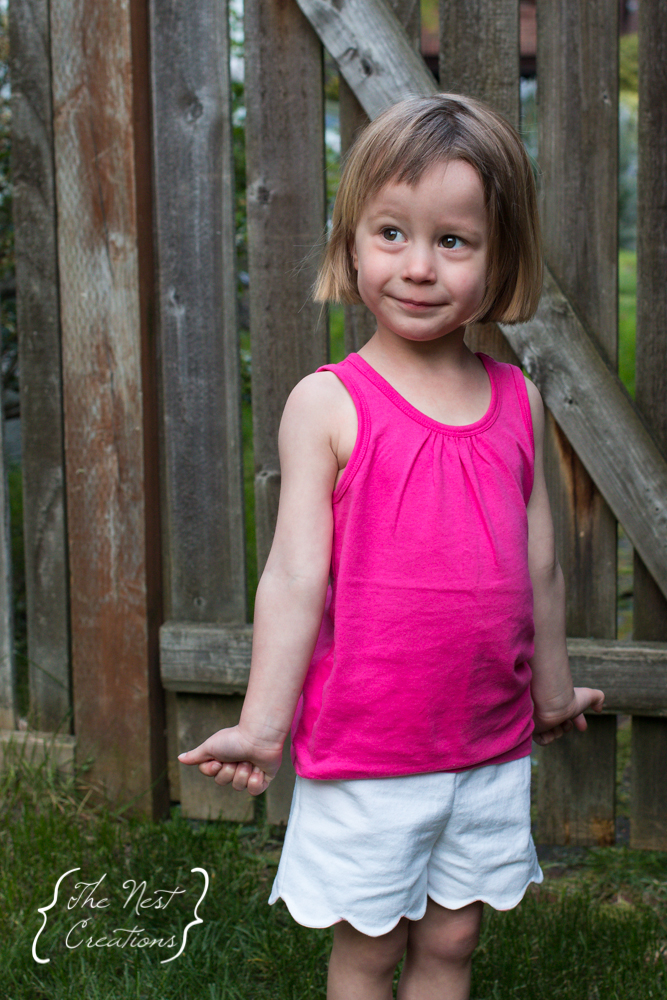 If you can't tell Sophie adores this shorts and actually insisted on sleeping in them and then wearing them again the next day.  They are sure to be in constant rotation as the weather warms up here in Seattle.  And for today only you can snatch up this great pattern for 15% off the retail price.  You will definitely want this pattern in your kids sewing arsenal, it is a great staple piece of summer clothing for your little girl.