Last week I introduced you to my first pattern, Ravenna, and I couldn't be more excited for the response it got.  You are all so great!
The real people to thank for this pattern are my amazing testers who stuck through MANY revisions and helped me to refine the pattern in a way I never could have done on my own.  When you look at a pattern for weeks you stop noticing the details.  The steps all make sense to you because they make perfect sense in your head, you forget that every person who makes the pattern isn't going to be in your head.
This lovely group of women are almost all fellow students of Pattern Workshop, such a community of support and encouragement.  I am going to be a doing a full, possibly mushy :), review of the course soon but for now let me just say that the course has changed my life.
Now onto the pictures!
Mandalynn of Striped Swallow Designs, you may remember me testing her girls Coachella Shorts as well as the women's version.  She sewed up an amazing version with the elbow length sleeve and the hi-lo hem that included such a fun pop of colour with some of the new Cotton and Steel fabric.  The shirt couldn't have fit her better and her back is everything I had hoped the pattern to be.
This top is a great example of how to use a different fabric for the ruffles and cuffs to mix up the pattern a bit.
Kaysie of Kzjo Studio showed how you can make a super cozy version out of plaid.  She chose the hi-lo hem and the 3/4 sleeves.  I am a bit obsessed with plaid this year so it was such a fun surprise to see my pattern sewn up in it.  Now I have to make myself one in plaid, thanks for the inspiration Kaysie.
Donna one half of the dynamic mother and daughter duo over at Once Upon a Sewing Machine sewed up one of the first versions of the pattern.  Her version helped identify some key changes to be made that helped turn the pattern into what it is now.
That silky rayon floral pattern is so great.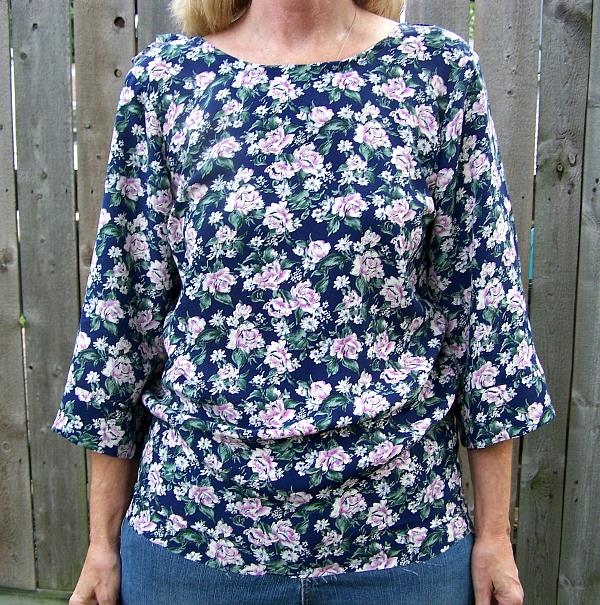 The other half of the duo from Once Upon a Sewing Machine is Rachel who was such a wealth of knowledge when making changes.  She didn't seem to mind my endless questions and really helped when refining the pattern.  Don't you just love the pop of colour she used with the zipper.  My favourite part of this pattern is expressing yourself through pattern mixing and matching or using a fun zipper, whatever you do make the pattern your own.
Amanda of Turtle Birdies knocked it out of the park with this ruffle fabric.  It was completely unexpected and such a fun surprise when I saw her pictures.  She was what ever designer asks for, complete honesty while still being nice about it.  We worked together back and forth by email to refine the things the had concerns about and end up with a better pattern.
The tester that gets the award for most patient goes to Katie, I am pretty sure I asked her every question in the book about measurements and sizes to figure out what ended up being a file download problem.
The chiffon version is so gorgeous and I love the straight hem and 3/4 sleeves.
Darcy of Mimi's Mom made a version out of a lightweight gauzy linen in the elbow sleeves and hi-lo hem.  Darcy was a great help by sewing one of the last versions helping to see if the changes were for the better.  The verdict is that the changes made between versions were greatly improved.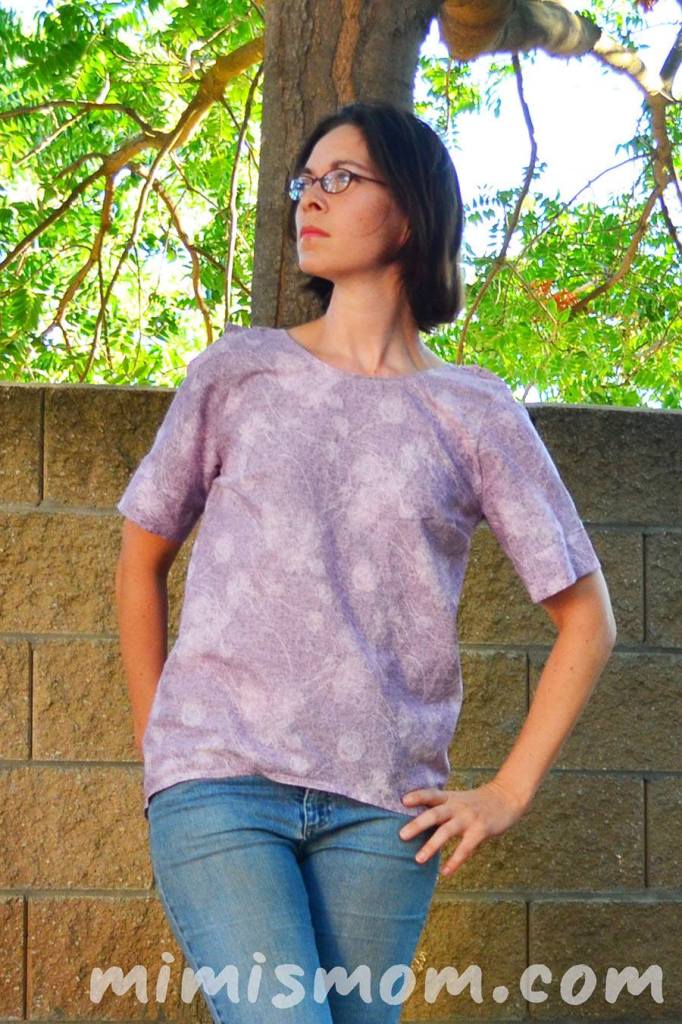 Lastly, Rita of Conversas de Hermanas sewed up a fun and girly version with this pink polka dot in lightweight woven.  This version is a perfect example of how you can take the pattern and make a shirt that can be thrown on with jeans and boots and pick up kids at school or do your grocery shopping.  Or dress this up and wear it out.  The possibilities are endless.
As I said above my testers were amazing and patient.  They put up with multiple versions and I would be lucky to have them back for another test.
There is still time to get the Ravenna which is on sale through Friday.  Plus you can also get an additional 10% off if you enter the coupon code, first100.
Watch tomorrow for my knit version for more inspiration and options with this pattern.