Choosing fabric for a pattern is my favourite part of sewing.  I love walking the aisles of a fabric store feeling and stretching the fabrics to see how they will behave with the pattern.  When designing my new pattern, Montlake I realized very quickly that depending on the fabric chosen the final tee would have a different look.  The more stretch in a fabric leads to a deeper scoop neck and relaxed fit.  For those fabrics that have only slight stretch it is a more fitted tee.  All the looks are great, it's just a matter of what kind of mood you are in when sewing up your Montlake.
I went ahead and searched the internet to find some of my favourite fabrics that I think would make amazing Montlake Tees.
FRENCH TERRY
A few of my testers decided to try making the pattern out of french terry and boy were they successful.  It's a cozy sweatshirt that looks like a tee, perfect combination if you ask me.  Because some terry doesn't have a large stretch percentage you are going to have a slightly higher scoop with the shirt.
To get started I headed to Girl Charlee where I know they always carry some pretty great french terry.  These two prints caught my eye immediately and if I wasn't on a fabric restriction I would definitely grab a few yards of each.  The floral is so great and would be a great opportunity to stay warm while pretending it is actually spring.  I am a sucker for stripes so it was no surprise that the classic navy blue and white stripe got me.
If you are looking for solid coloured french terry you definitely need to head to Imagine Gnats where she has this amazing apple green that I am loving right now.  I worked with some of the french terry from her shop when I made Sophie some cozy sweats and it was really great to work with.
After making my Bellevue Sweatshirt with some blue french terry from Raspberry Creek Fabrics I became mildly obsessed with their terry and I think this purple heathered terry they carry would be so good!
SWEATER KNIT
The green striped top in all the photos for the pattern is a sweater knit and has such a lovely drape.  Once I made that version I decided that everyone needs to have a sweater knit version in their wardrobe.
I am really into whites and creams right now so when I came across this cream pointelle knit from Stylemakers Fabric I was totally on board with how amazing a Montlake would look in this.
Following along with the neutrals this charcoal grey wool sweater knit from Mood Fabrics just might cause me to break my no fabric purchase rule, because a Montlake in this has me all heart eyes.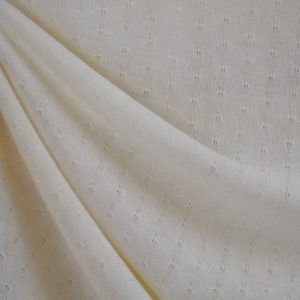 DRAPEY KNITS
I am lumping all knits that have good drape in the this section.  These are knits like bamboo knit and rayon knits, drapey and lovely to wear.  You will find when you make your tee out of this fabric the scoop is lower than some of the other fabrics.
This bright orange viscous jersey from Mood Fabrics would be so much fun to wear this spring in the elbow length.  So bright and cheery.
I must be dreaming of spring and bright colours because I am also loving the geometric look of this orange and black rayon/spandex jersey from Imagine Gnats.
SSD FABRIC
For a little self promotion in fabric I wanted to remind you that I am still carrying some fabric that is left over from Urban Craft Uprising.  So while you are grabbing your pattern from the shop you should also check out the Art Gallery Fabric cotton lycra knits and Interlock knit from Cloud 9 Organic.  Any of the fabrics in the shop would work great for the pattern.  On Thursday I will be sharing what I made with just a small modification to the pattern in the brown striped interlock.
I hope you have seen the many different ways you can customize your Montlake depending on the fabric you choose.  Grab your copy of the Montlake pattern and have fun choosing a fabric to pair with it.
Head back here tomorrow where I will be sharing my amazing testers versions.  If that isn't inspiration for this pattern I don't know what is.