For every holiday I have these grand plans to make the kiddos clothes.  I usually go as far as to pick the patterns and buy the fabric and then all the sudden it is a couple days before and I haven't started and I just abandon the idea all together.  For Easter it wasn't much different, I purchased the fabric a few months ago and never really settled on a pattern.  Last week was spring break for the kiddos so I got even less sewing done than I normally would.  Somehow I arrived at Saturday morning with a pattern for Ben picked and still no final decision for Sophie.  Normally I would have scrapped the idea at this point but I was determined to make something, plus my in-laws were in town so I knew they would keep the littles occupied so I could get some sewing done.
Off everyone went for an easter egg hunt and I got down to sewing Sophie's dress, the Georgia Twirl Dress by Shwin Designs.  This is my new favourite dress pattern for Sophie hands down.
This dress is not only a really quick sew but you are left with such a fun and interesting dress.  The back of the bodice has a deep V shape and the sides wrap around to the front.  The pattern calls for buttons but I was having a heck of a time with my buttonholes so I scraped it and went with snaps.  The dress worked perfectly with the grey and lime green linen I bought giving it a bit of a colour blocked look by making the under layer of the skirt the green.  And you can't complain with the little fashionista's choice of fuchsia saltwater sandals, I couldn't have picked a better shoe myself.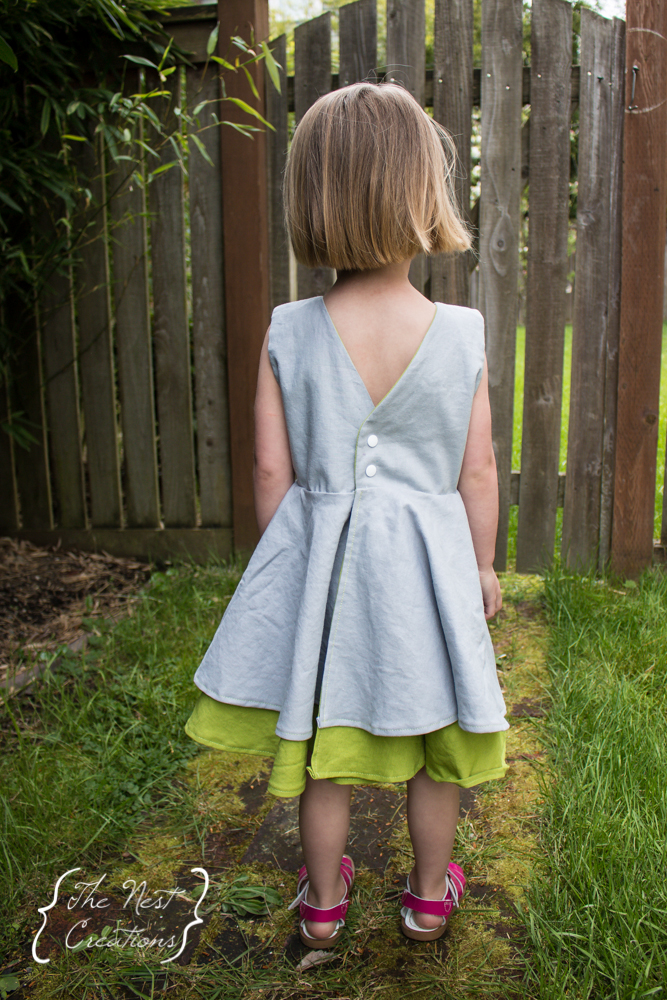 For Ben's outfit I knew when testing the Schoolboy Vest from Sew Much Ado, that it would be perfect.  My original plan had been to make Ben's vest out of the grey with green lining and green welt pockets, but no big surprise I wasn't really paying attention when I started sewing and attached the welt pockets to the green lining.  So green vest it was.
Since Sophie's dress ended up having the snaps I decided to continue with that idea on the vest.  This crazy boy doesn't stay still long enough for me to even show him there are pockets, oh well at least my second attempt at welt pockets went better than the first.
Back during Kids Clothes Week one of the shirts that I made Ben the first day was just a plain white shirt with the intention of him wearing it under his vest and it worked perfectly.
The back of the vest  has the option to add a tie but since I was by no means prepared I didn't have the hardware for it so I ended up leaving the back plain.
Trying to get a picture of the kids together was a hard fought battle, but in the end we got a cute picture of Sophie's reaction when Ben shared his laffy taffy with her.  That girl can be bribed to do many things with the promise of a bit of candy.
I am glad that I squeezed Easter outfits in because the kids looked so cute while they were running around hunting for eggs at my mom's house.  I think I will dress them in coordinating outfits as long as they will let me, it's just too cute.
Do you sew outfits for your kids?  or Is it just not worth the hassle for one day?