Thank you all for such a great response yesterday to my newest pattern, Greenwood, I was seriously blown away.  For those of you who entered the giveaway on the Betties blog, the winner has been chosen so if it wasn't you click over to the shop and get your copy of the pattern before the price goes back up on Monday.
Today I am excited to share with you the many amazing testers that helped me with this pattern, they made this pattern even better that where it started.  Seriously they were amazing!  Seeing a pattern on all shapes and sizes helps you realize this pattern really is for almost everyone.
My friend Jess of If Only They Would Nap, made two versions but I have to say I have a special place in my heart for the floral one.  I love floral fabric.  Jess modified the pattern slightly to work better with her body type.  Make sure to head over to her blog to read all about her two versions.
Katie has been a tester for me on 2 other patterns and I love every time I see her name on the sign up form, she always sends the best pictures.  This fabric make such a fun tank, I loved it so much I order some fabric to make my own.  Head over to Katie's blog to get all the scoop on her tank and her thoughts on the pattern.
Amanda falls under the category of dedicated tester, she has been with me since the beginning.  We have a really great testing relationship because she is comfortable telling me concerns and I appreciate the feedback so much.  When she posted her pictures I was pretty much in love!  I also have this fabric so I now know what I am going to make with it.  The wide open back displays her tattoos perfectly!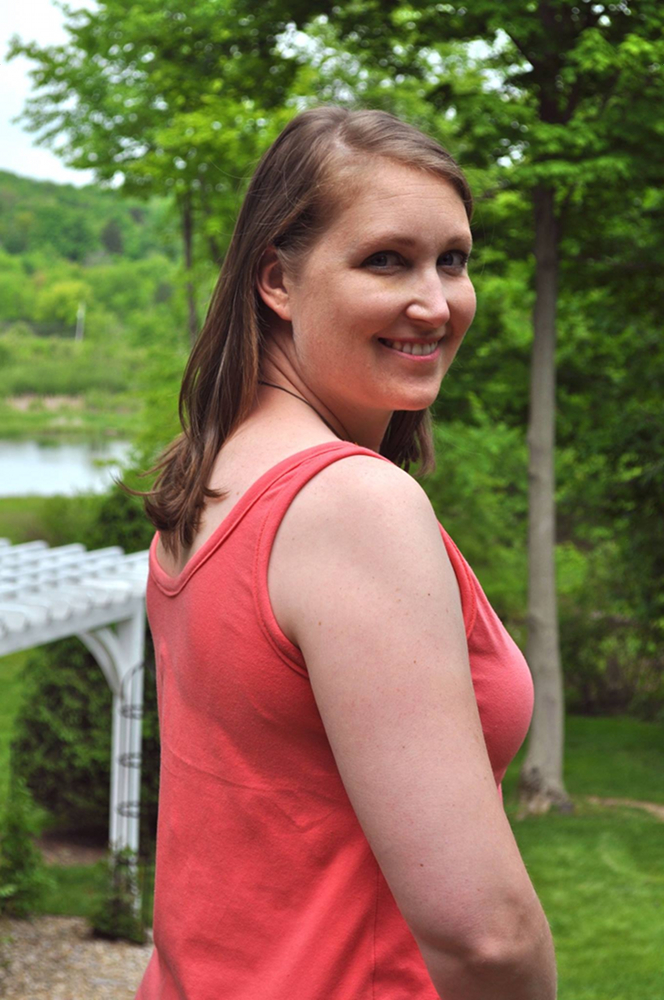 Andrea is a new to me tester and her basic coral tank is lovely on her.  She didn't want anything too clingy so she modified it slightly to be straight down from the underarm instead of curving in towards the waist.  She is what inspired me to make my modified version I will be sharing on the blog tomorrow.
Jennifer shows off the high back version in that lovely floral fabric!  She shows that if you change the fabric you get a different look out of this tank, you can dress it up or down!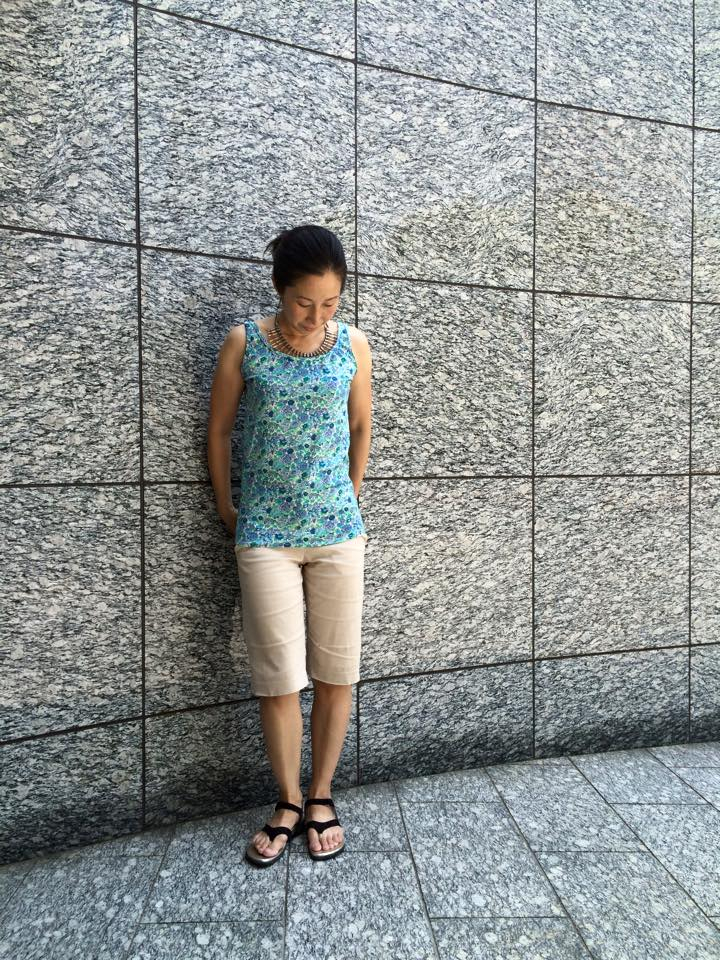 Emi actually broke into her stash of Liberty of London knit to sew up a Greenwood and the finished product is just as perfect as I imagined it would be.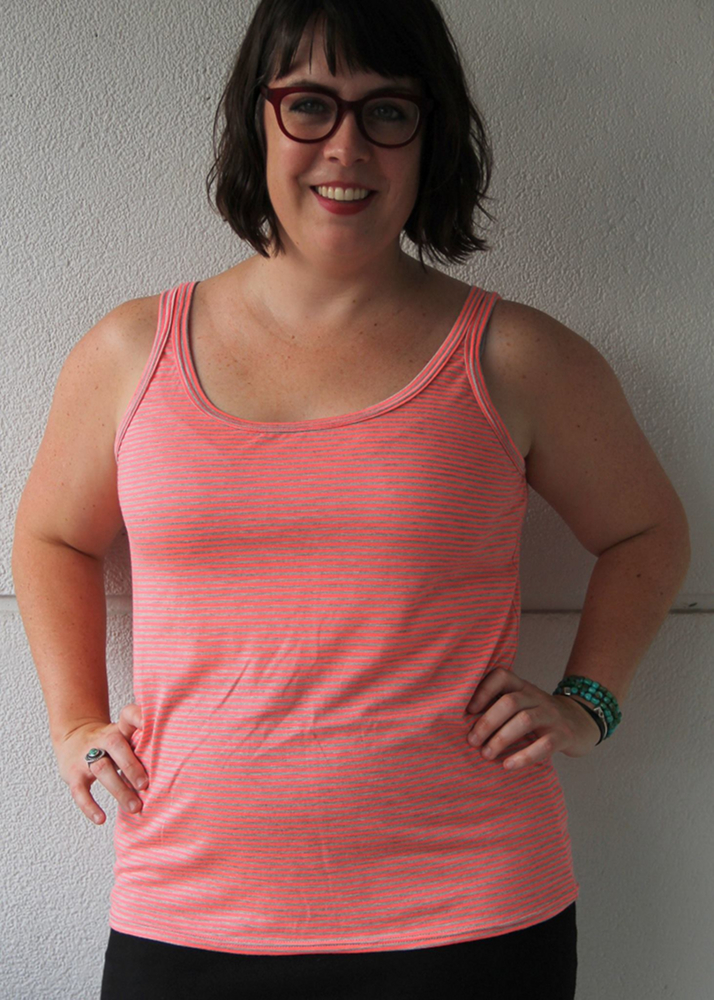 Meg's striped version is the perfection!  The fabric has a great drape and relaxes enough so that it drapes on her body leaving her with a perfect silhouette.  For continual pattern inspiration make sure to check out her instagram feed.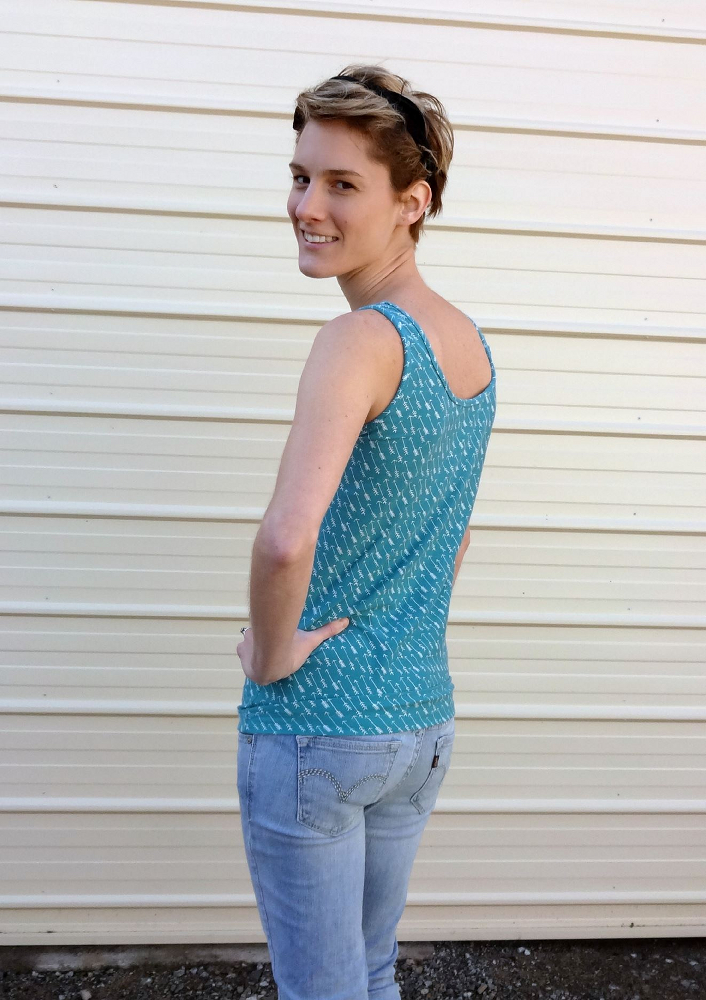 Esther used this great aqua blue and white arrow knit for the perfect casual Greenwood.  I can picture this paired with some cutoff jean shorts and sandals for the perfect running around town outfit.
Cat found this amazing striped fabric in a remnants bin and I think we can all agree she pretty much scored a deal!  I love the way she styled it with the earrings which compliment the colours of the tank perfectly.
Andreia couldn't have created a more beautiful ensemble with her Greenwood, between the lace skirt and the simple gold watch I am firmly in love!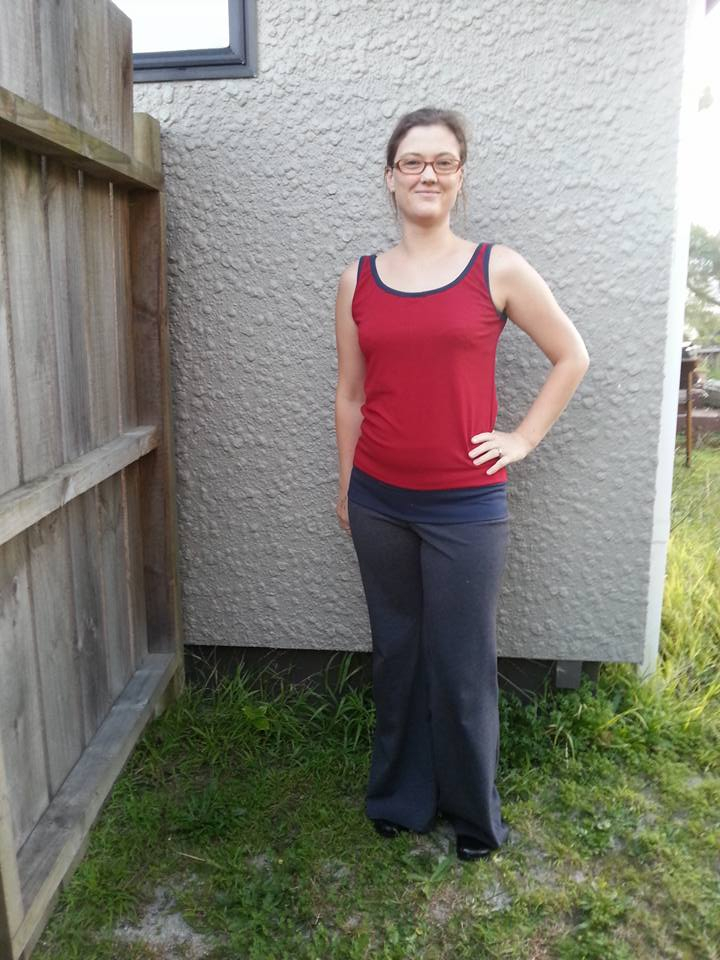 Lydia of Little Kiwis Closet modified the pattern slightly by adding a band at the bottom when she didn't quite have enough fabric.  The end result is a really fun twist on the basic pattern.
Jessica is another returning tester that I look forward to every round I test.  She sends the best pictures!!  Distressed jeans, super cute sandals and a love necklace complete this Greenwood look.
Another great version by another Jessica!  The triangle knit with the coordinating triangle knit on the bands makes a great combination.  Jessica is local to me so I am really looking forward to actually meeting up with her in person!!  Maybe we can even sew together!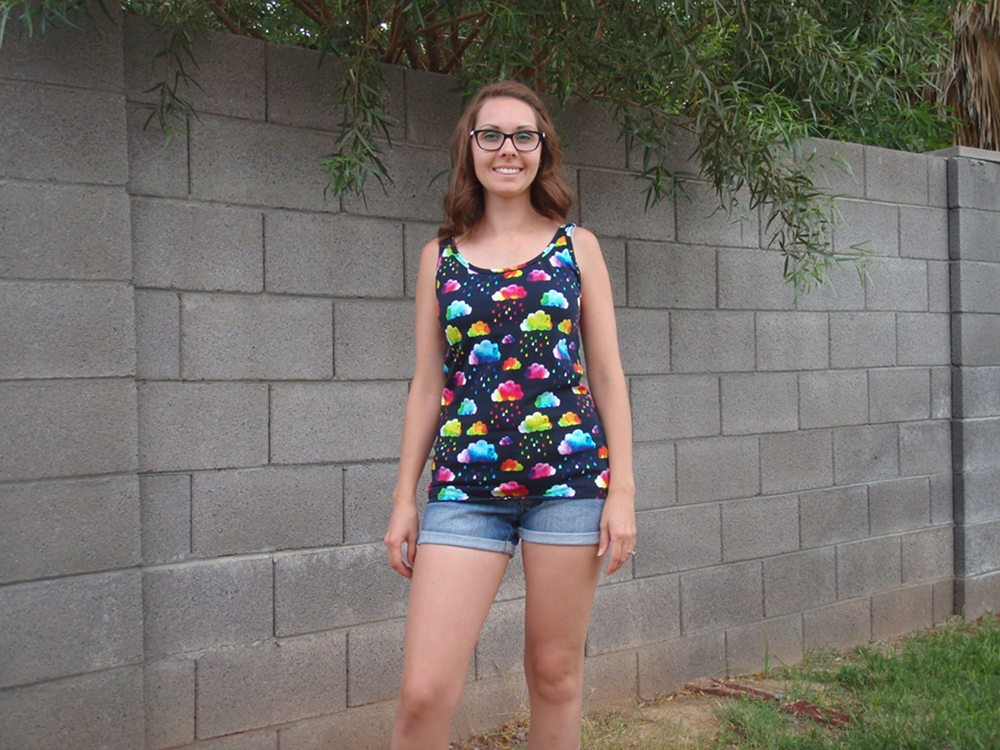 Cherie was incredibly helpful during testing as she helped navigate the best way to do the binding.  I think we can all agree her tank is really great!  So colourful!
Nycole is someone I have secretly stalked for awhile 🙂  She makes seriously amazing clothes for her girls so I jumped at the chance to work on this test with her.  The whole outfit is !!!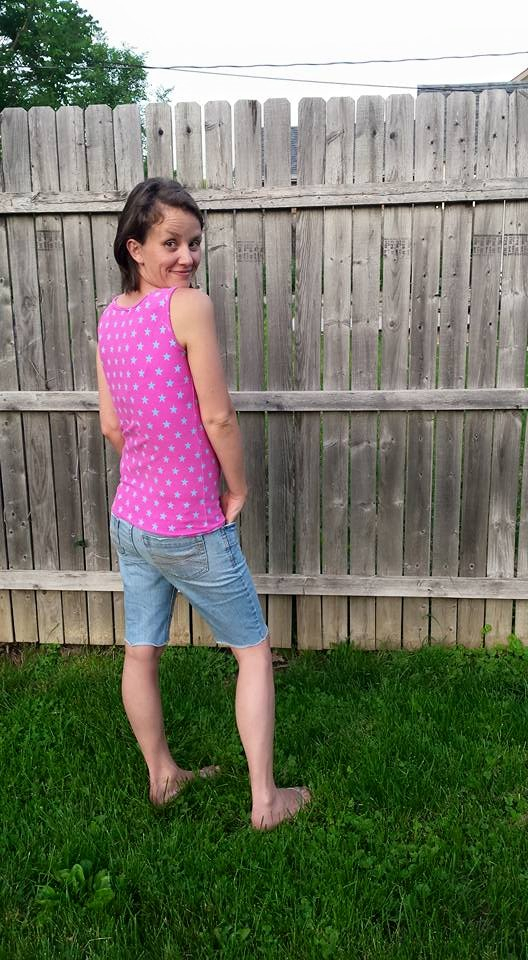 Shanna helped test out the high back version and I love the the comfortable casual version paired with the jean bermuda shorts.  This looks like something I would wear every day!
Vanessa is a new to me tester but I couldn't be more exciting to have her join me for this test.  Sometimes simple is all you need!  This tank with the necklace is so lovely, looks like the perfect date night Greenwood.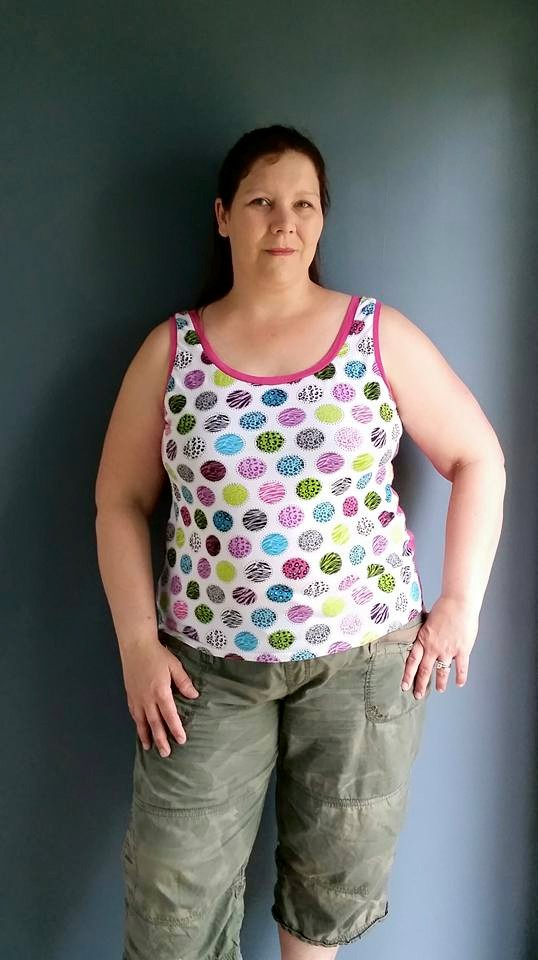 Rachel showed you can use a different fabric for the binding for a fun look on your tank.  Now I have fabric ideas swirling in my head, so many possibilities.
Victoria is rocking the animal print Greenwood!  I don't have any animal print in my stash, but I am pretty sure I need some now!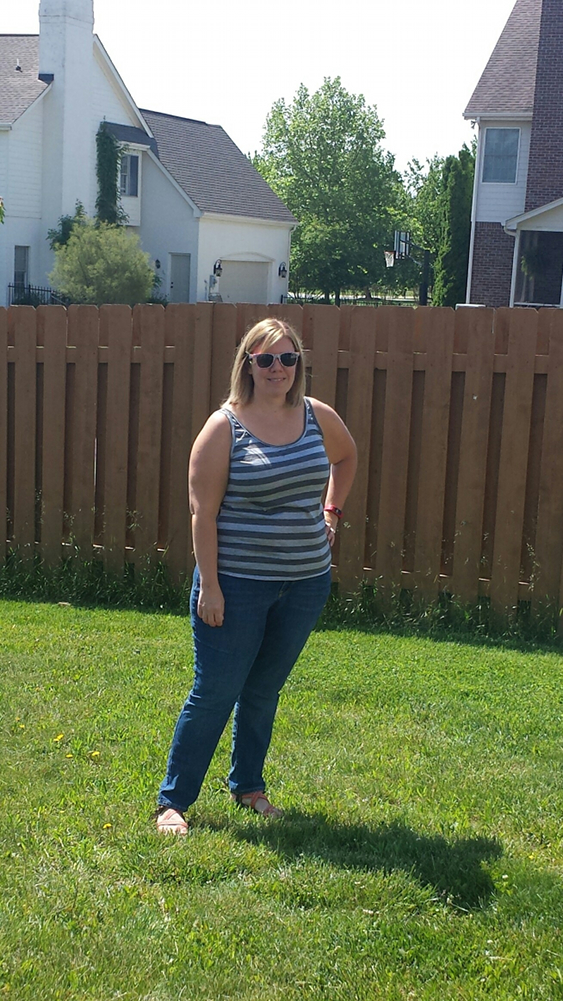 Heathers striped version is such a great fit!  This tank is such a great piece that can be rocked in the summer but also used as a great layering piece through the fall and winter.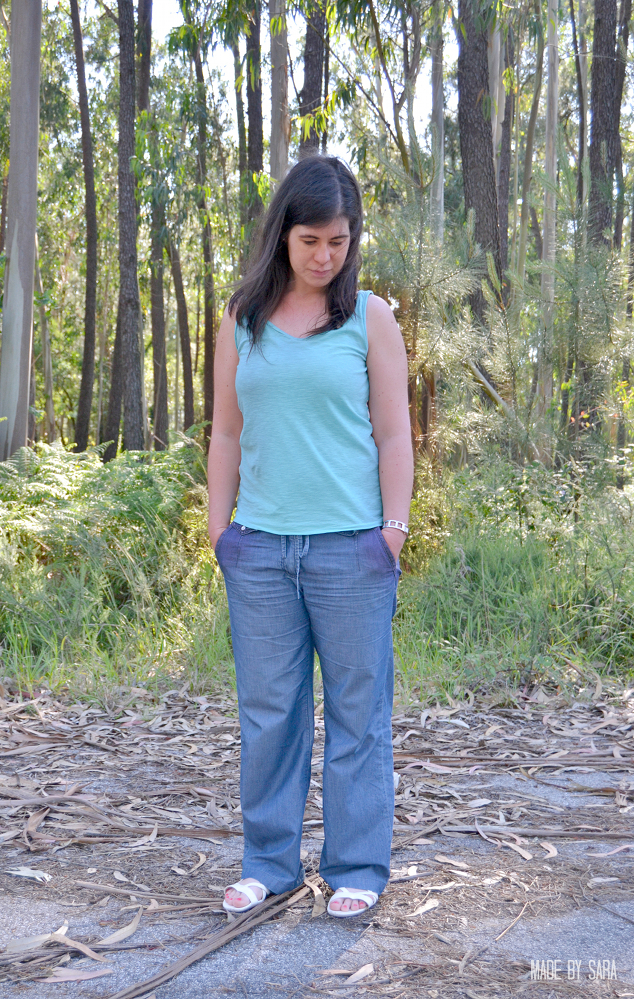 Finishing out the tester roundup is my friend Sara of Made by Sara has been with me since the beginning, as in even before Ravenna she helped me test my first free pattern!  We have worked together on other patterns so I was so happy to have her back for this round of testing.  Those pants with this tank is so great, something I would totally wear through the Seattle spring when the weather can't quite decide what it wants to do.
Wow!  That was quite a collection of testers, I couldn't be happier to have worked with all these lovely ladies.  If you haven't already gotten your copy of the pattern make sure to head over to the shop and get it.  Remember Greenwood is marked down 30% through Sunday.