Growing up with 2 sisters all I ever knew was girls.  When I got pregnant with Sophie I knew without a doubt that I was having a girl.  I just always pictured myself with girls, at least 2 but maybe even 4.  Clearly that was the no kids person talking, because reality is 2 kids is enough 🙂
When I got pregnant with Benny I knew without a doubt that it was a boy.  Before we found out the sex I tried to convince myself that it was a girl but knew deep down that wasn't the case.  Don't get me wrong I was so excited but still surprised I was actually having a boy.
Fast forward to a year and a half ago when I started sewing clothes for my kids and found that most patterns are marketed to girls.  Ben was still little so it didn't really matter but as he has gotten bigger I am finding myself searching out good boy patterns.  There are some amazing designers out there that have great boy patterns; Shwin Designs, Blank Slate Patterns and Fishsticks Designs to name a few.
Any chance I get to help test a boys patterns I love it because it just means one more pattern out there for our boys.  So when Suzanne of Winter Wear Designs put out the call for her new pattern, the Aviator Pants, I signed up immediately.  This pattern is currently being offered through the Bundle Up Sale along side many other great boy patterns.
Since it's still warm here in Seattle and will be shorts weather for another month at least I decided to make the shorts version of the pattern.  But in true Kimberly form I got distracted while sewing the shorts and just used the pants cuff the finish off the shorts.  Not the intended look but I absolutely loved them in the end.
This pattern has some really fun details such as 3 pocket options including a cargo, welt or slash pockets or any combination of the three.  You can also use wovens on the pockets leaving you with some pattern mixing opportunities.  They can be made as pants or shorts and if you want to be like me use the pants cuff on the shorts and you have a sort of bloomer style short.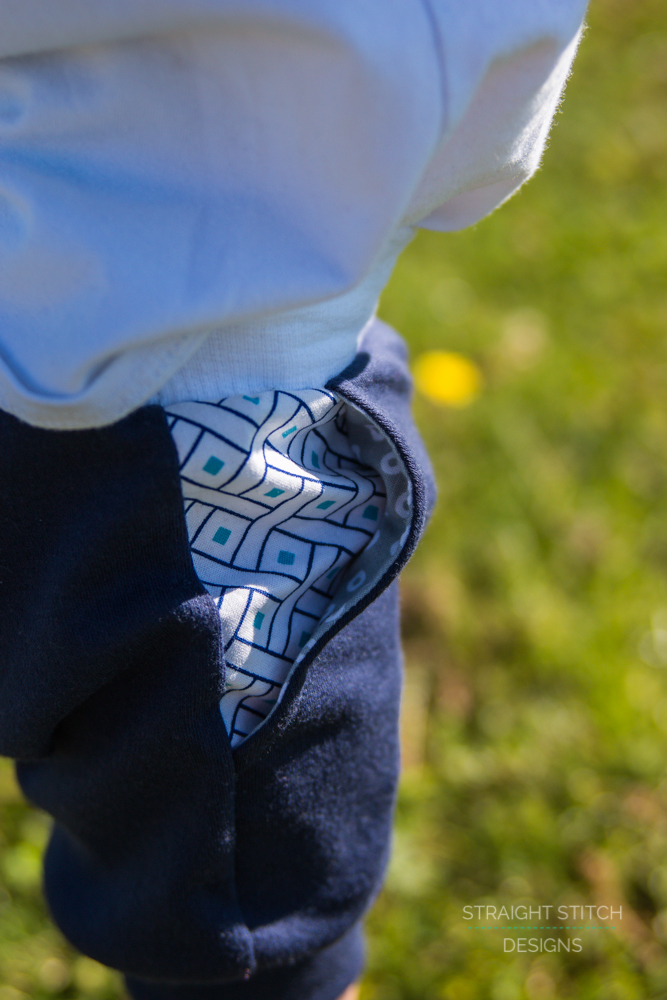 As soon as I let Benny loose in these shorts he was off running around and playing, clearly a sign of how comfortable they are.  They look so comfortable I secretly wanted to make myself a pair of these shorts.  Hopefully Suzanne heard my pleas and will add a women's version of these pants down the road.  You can never have too many pairs of shorts.
These shorts are a great addition to your boy pattern collection but they aren't just exclusive for boys, some of the other testers made some versions for their daughters that turned out lovely.  I think Sophie would love a pair of these pants for the fall, but for now I will make a pair of pants for Ben since I don't sew for him nearly enough.
Head over to the Bundle Up Sale and grab this pattern and the other amazing boy patterns for sale.