After what feels like a marathon of pattern testing with the greatest bunch of ladies around I am happy to be here today sharing my newest sewing pattern with all of you, Montlake.
This tee is everything you would want out of a new closet staple.  With clean lines and a great shape you can view it as a blank canvas to play around with different knits.  One of my testers couldn't have put it better when she described this pattern to me, simple fashion.  Sometimes we just need some simple fashion in our lives and the Montlake tee is that.
I designed this pattern to be slightly fitted at the bust but then loose through the waist and hips.  I have found over the years that I far prefer my tops to not hug all my curves quite so tight 🙂
My favourite part about this pattern is the deep scoop of the neckline and the thin neckband.  It's such a flattering look on so many women without being too revealing.  The more stretch and drape in the fabric has the deeper your scoop is.  It has been fun to play around with the different fabrics to see what the end result will look like.  This green striped one is the bees knees.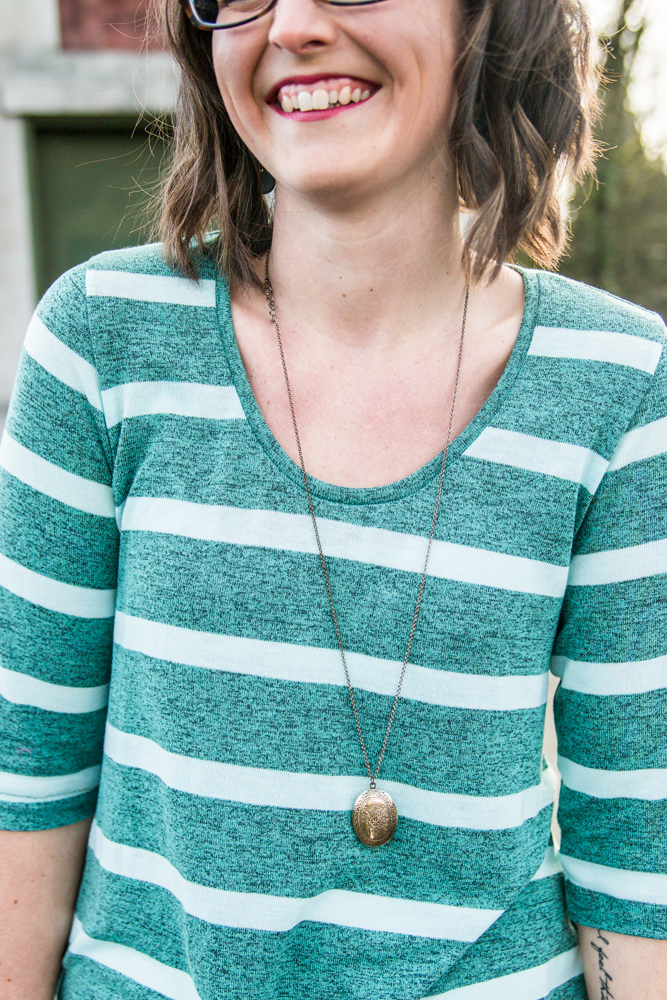 When putting together my outfit for the photoshoot I fell back to my basic daily uniform of straight leg jeans cuffed with boots.  It doesn't get more every day comfort than that.
If only I had snapped a picture because tonight for date night with my husband I took this same green striped top and paired it with my chambray Brumby Skirt and brown ankle boots.  Super cute and just a little bit dressed up.
I need versatility in my tee pattern so having the 4 sleeve lengths gets you through all the season, at least here in Seattle.  My current love is elbow length, it's just enough to keep you warm when you take off your coat but not too warm to make you sweat indoor (I am looking at your long sleeve).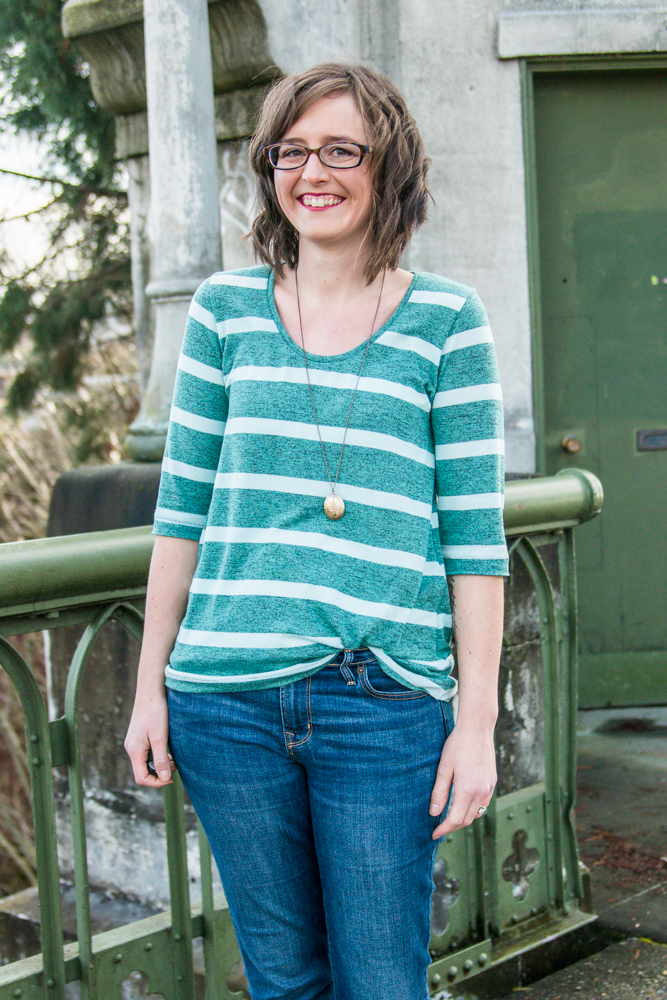 What you may not actually be able to see in these pictures is the hem allowance for the sleeves and bottom hem.  I chose to make the hem allowance 1 inch and it leaves you with a really fun detail to the shirt.  In most cases you don't even see it, but when I look down at my sleeve I love seeing something a little different.
I will be sharing more looks all week long with the other sleeve lengths not shared here today which are 3/4 and long sleeve.  And yes I do love a good long sleeve top but my heart belongs to elbow length 🙂
Okay the rest of the details on Montlake.  The pattern is available in sizes 0-24 which works for full bust size of 32″ – 50.5″ and the pattern pieces are all nested in a way that allows for grading between sizes.  For reference all the tops I am wearing are a 4 bust and 14 hip.
The hem has a slight curve at the bottom and slightly longer than your average tee.  Watch over the next few week for some fun variations to the pattern.
Head over to the shop and grab your copy of the Montlake Tee pattern while it is marked down 20% off.  Through Sunday you can get the pattern for $8 instead of the regular $10.
And don't forget that once you start sewing your own Montlake tee be sure to tag me on Instagram or Twitter with #montlaketee and #straightstitchdesigns.  I love seeing what everyone makes and also love the chance to repost your pictures.
Before I go I have to show you the hazards of doing a photoshoot in a very busy and public place.  If you aren't careful you can almost be hit by cyclists 🙂  Okay go buy your pattern!