Introducing the new Madrona Skirt! This skirt was a staple for me through last spring and summer and I am so happy that it is now a pattern for all of you.
Madrona is a modern wrap skirt that can be sewn in both woven and knit fabric and gives you a different look based on the fabric chosen and the way you style it. With the narrow waist band and two button closure you can easily adjust the fit of the skirt to match your body and where you intent to wear it.
My favourite version is this tencel twill paired with a chambray button down top. The slight structure of the twill really shows off the flowy front layer of the skirt, and really those two colours together are everything.
The narrow waistband which is drafted on a curve really helps show the feminine look of the skirt, and gives you a chance to have some fun with the buttons.
The pattern is drafted based on my height of 5'9″ with the skirt skimming your knee and then being slightly higher in the front where the layers overlap. This little peek of legs is exactly what I mean in the pattern when I say Madrona is flirty meets feminine.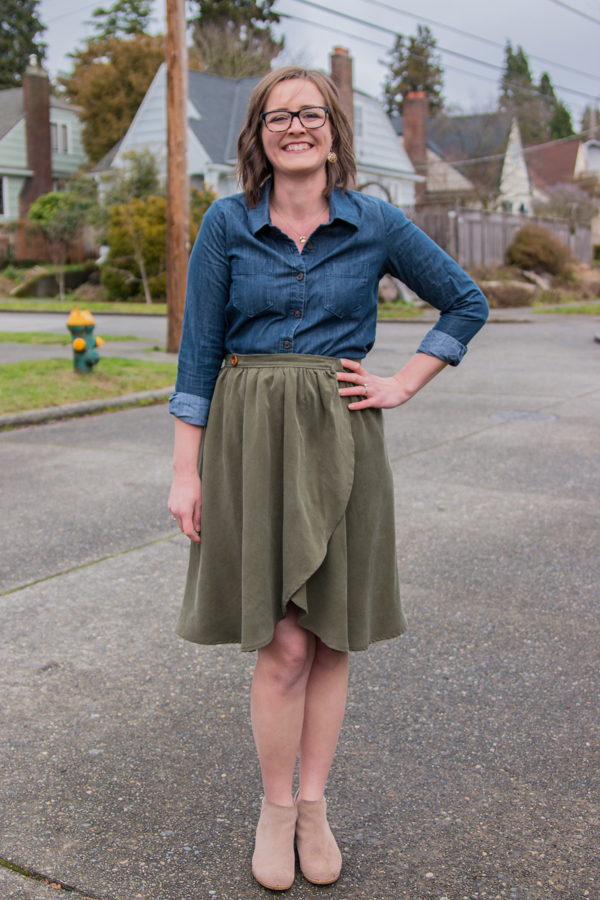 What I love most about this pattern and why I think it is going to be the perfect pattern for spring and summer, there is so much versatility in the pattern.
Maybe you want a skirt that is going to be comfortable and casual for grocery store trips and heading to the park with your kids. And while you love the twill or 'fancy' knit version, you need something a little more every day. Sew it up in a cotton lycra and you have the perfect every day skirt. I like to pair mine with a plain Montlake tee and some converse in the spring or a Greenwood tank and my beloved Birkenstocks in the summer.
I have discovered over the years that I feel much more comfortable in my skin in the warmer months when I am wearing a skirt instead of shorts. But even after realizing that I always felt dressed up when I was wearing a skirt. Over the last year this pattern has really changed how I feel about skirts and makes me want to wear them all the time. Once testing started I began to see that women of all shapes and sizes look amazing in this skirt. And if high waisted skirts isn't your jam then just lower the skirt to where you are comfortable. Once you are wearing it I know you are going to see just how great this pattern is.
Madrona is sewn with french seams on the inside and an alternative way to attach the waistband, and no it is no the 'proper' way but it is my preferred method. Later this week I will be sharing some photos of waistband technique I use, because I know once you try it you will never go back to the traditional way 🙂
Madrona is marked down through Friday so make sure to grab your copy this week. Tuesday on the blog I will be sharing my tester roundup, which is such a great way to get a look at the pattern on all body shapes and sizes.